Crime is down in Flatbush and East Flatbush, and in Brooklyn as a whole.
There has been a 23% decrease in crime reported to Flatbush's 70th Precinct and a 20% decrease reported to East Flatbush's 67th Precinct during the week August 23 to August 29 compared to the same period last year.
Across the two precincts, there have been 70 incidents reported, including reports of rape, robbery, felony assault, burglary, grand larceny and grand larceny auto to both precincts.
During the same period last year, there were 89 incidents reported across the two precincts, including 18 incidents of robbery and 23 of grand larceny.
There have been 10 murders and 37 rapes reported this year in the neighborhood, compared with 16 murder and 40 rapes reported by the same date in 2020.
Looking at the 28-day cycle, there has been a 10% reduction in incident reports at the 70th Precinct and 7% decrease at the 67th Precinct this year on last.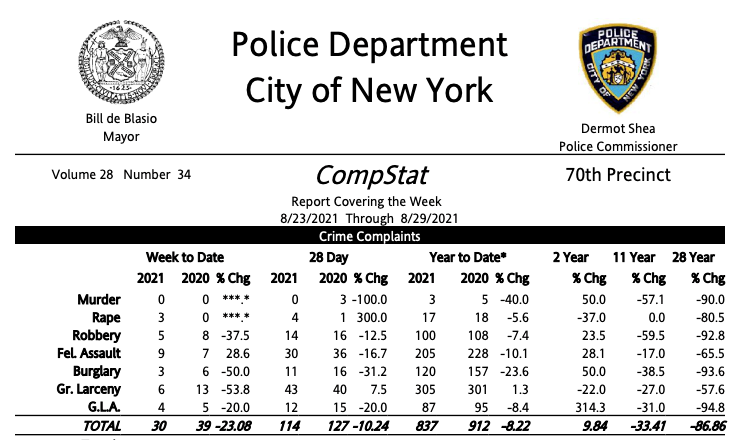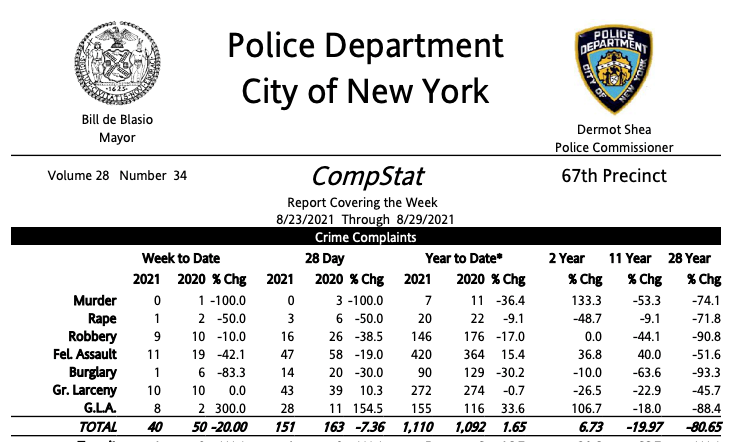 The most common incidents reported over the week-long period were felony assault and grand larceny, with 20 reports of felony assault and 16 of grand larceny.
On Sept. 1, the 67th Precinct tweeted a photo of a loaded firearm a public safety team removed from the streets.
On Aug. 28, the 70th Precinct also tweeted a photo of a gun one of its public safety teams had recovered.
Across Brooklyn:
Across the borough, there have been 563 incidents reported between Aug. 23 and Aug. 29, according to NYPD's CompStat, including one murder in Brooklyn South. There were 11 reported rapes across Brooklyn, 66 robberies and 135 felony assaults.
In the headlines:
A man who broke into three Brooklyn apartments stealing jewelry, electronics and more has been sentenced to up to 12 years in prison. Staten Island man Casey Knight, 53, was sentenced in Brooklyn for the string of residential burglaries of Brooklyn apartments, that took place while owners weren't home.
A woman was killed after after being stabbed in the neck and stomach in Brooklyn. Police say they responded to a call of an assault on the corner of Georgia Avenue and Belmont Avenue in East New York around 2:35 p.m on Tuesday. Officers found the woman lying unconscious and unresponsive on the sidewalk with a stab wound to her stomach and neck.
It's not always obvious, but elder abuse is an increasingly pervasive issue that New Yorkers are being told to keep an eye out for it. A new study by Cornell University and the University of Toronto shows more than 10% of New York seniors are subject to elder abuse, be it financial, emotional, physical or neglect - and the numbers are on the rise. Over ten years, the study tracked 630 older adults who hadn't previously been victims of abuse, and found that abuse was becoming more widespread. In a 2009 survey of the same adults none experienced mistreatment in five categories: financial abuse, emotional abuse, physical abuse, neglect and sexual abuse.
A memorial has been set up at the spot where 70-year-old Brenda Whidbee was hit by a car and dragged several feet. The Brownsville community say she was a pillar in the neighborhood. Neighbors say Whidbee was sitting on the steps of her apartment Tuesday night when a car came up along Thomas S Boyland Street, jumped the curb and struck her.