Overall, crime is up in East New York and in Brooklyn as a whole.
There has been a 33.3% increase in crime reported to East New York's 75th Precinct during the week March 21 to March 27, compared to the same period last year.
There have been 76 incidents reported, including rape, robbery, felony assault, burglary, grand larceny and grand larceny auto. During the same two-week period last year, there were 57 incidents reported, including two murders and 11 robberies.
Looking at the 28-day cycle, there has been a 30.5% increase in incident reports this year on last.
There has been three murders and 14 rapes reported this year in the neighborhood, compared to four murders and four rapes by this time last year.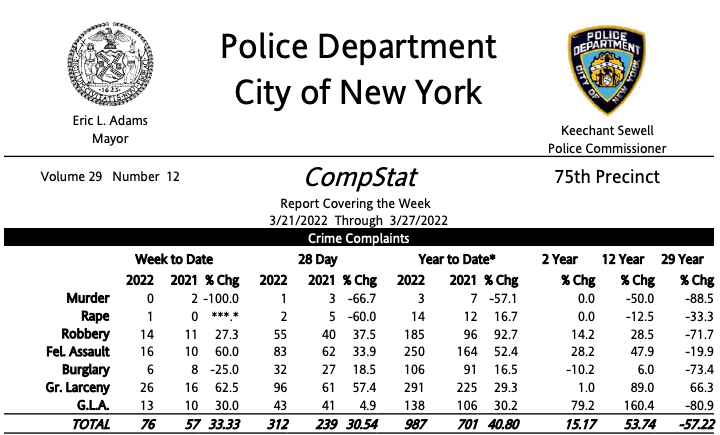 The most common incident reported over the week-long period was grand larceny, with 26 reports of the crime. That is ten more than reported during the same period last year.
The most common incident reported this year is also grand larceny, with 291 reports in the neighborhood, 66 more than during the same period last year.
On March 26, the 75th Precinct tweeted the photo of a young person wanted for an assault in front of 127 Riverdale Ave. in Brownsville. In the photo, the person is seen pointing a gun. The police are calling on the public for information and offering a $3,500 reward.
Across Brooklyn:
Across the borough, there have been 586 incidents reported between March 21 and March 27, according to NYPD's CompStat, compared to 438 during the same period last year. The reports include four rapes in Brooklyn North and two murders and five rapes in Brooklyn South. There were 68 robberies and 142 felony assaults reported across Brooklyn.
In the headlines:
A 12-year-old boy was fatally shot in the head while he was sitting in a parked minivan with two other people in Brooklyn on Thursday night, police sources said. One of the other occupants, a 20-year-old woman, was also shot when gunfire erupted on East 56 Street and Linden Boulevard in East Flatbush just after 7:45 p.m., sources said. A 8-year-old girl was also inside the van and was not injured. The boy was struck in the chest and head and transported to Kings County Hospital where he was pronounced dead, sources said.
An 83-year-old parolee, who has twice been convicted for murder, has been charged with murdering a Brooklyn woman and dismembering her body, Brooklyn District Attorney Eric Gonzalez announced. Harvey Marcelin, 83, is facing the charges after she was caught on video leaving her apartment with 68-year-old victim Susan Leyden's leg and torso in a bag, which she left on the streets of East New York, and later Leyden's head and other limbs were found in her apartment, Gonzalez said. Marceline was arraigned on Wednesday in an indictment in which she is charged with first- and second-degree murder, tampering with physical evidence and concealment of a human corpse. At the hearing, Marcelin's attorney Andrew Friedman entered the plea of not guilty. "My client maintains her innocence," Friedman told Justice Danny Chun.
Disturbing video shows the moment an East New York man was shot in the head in a point-blank killing in Queens, according to police. Peter Panthier, 26, was walking with someone on Grassmere Terrace in Far Rockaway around 8 p.m. on Saturday when the person took out a gun and shot him in the head, according to police and video. He was rushed to the St. John's Episcopal Hospital, where he died from his injuries, police said.
A Brooklyn man who got a light sentence for dragging and crippling an NYPD detective will be sentenced to five years behind bars for a separate car chase. Justin Murrell, 20, was promised the half-decade jail stint by the judge in his Brooklyn Supreme Court case Monday after pleading guilty to assault for fleeing police trying to pull him over for speeding in May 2021. Murrell slammed into three parked cars during the ensuing chase. After entering his plea, Murrell walked out of court only to be immediately arrested for leading Port Authority cops on a February car chase in a stolen car while out on bail for the 2021 case.