Overall, crime is down in East New York, and in Brooklyn as a whole.
There has been an almost 2.5% decrease in crime reported to East New York's 75th Precinct during the week August 2 to August 8, compared to the same period last year.
There have been 78 incidents reported, including murder, robbery, felony assault, burglary, grand larceny and grand larceny auto. During the same two-week period last year, there were 80 incidents reported, including two rapes and eight incidents of robberies.
Between Saturday night August 7 and Sunday morning August 8, three people were shot and killed in East New York. A 25-year-old man was shot and killed on on Pennsylvania Ave. in East New York before midnight on Sunday, and after midnight gunfire broke out at a party at Brooklyn Garden Event Space where two people were killed. A third victim succumbed to his injuries in hospital.
Looking at the 28-day cycle, there has been a 12.9% increase in incident reports this year on last.
There have been 13 murders and 38 rapes reported this year in the neighborhood, compared to 21 murders and 38 rapes by this time last year.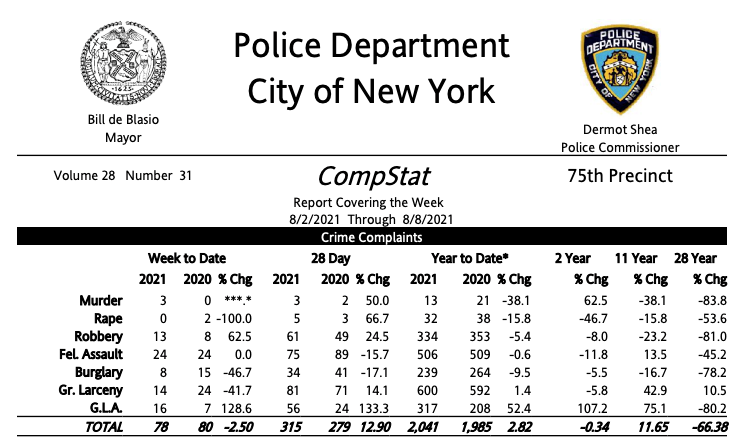 The most common incident reported over the week-long period was felony assualt, with 24 reports of the crime. That the same number as reported during the same period last year.
The most common incident reported this year is grand larceny, with 600 reports in the neighborhood, eight more than during the same period last year.
Across Brooklyn:
Across the borough, there have been 549 incidents reported between August 2 and August 8, according to NYPD's CompStat, including one murder in Brooklyn South and five in North Brooklyn. There were five rapes, 55 robberies and 136 felony assaults reported across Brooklyn.
In the headlines:
A third victim of a chaotic shooting at a Brooklyn party has died, police said Friday. Donald Nash, 32, died Wednesday at Brookdale Hospital, New York Daily News reports. He was shot in the neck and chest — one of five men struck when gunfire erupted Sunday at the Brooklyn Garden Event Space on Wortman Ave. and Sheffield Ave. in East New York. Nash was one of two shot inside the event space. The other victim, 37, was struck in the shoulder and made it on his own to a New Rochelle hospital, where he is in stable condition.
Detectives booked a 22-year-old man who opened fire at a Brooklyn intersection on Saturday night, killing one man and injuring a female bystander, AMNY reports. Elijah Shepp, 22, of Schenck Avenue in Brooklyn was formally charged at 4:30 p.m. on Aug. 8 with murder, attempted murder and criminal possession of a loaded firearm.
After spending 17 years behind bars for a crime he didn't commit, Brooklyn man James Davis is finally coming home. On Monday, the Legal Aid Society announced it had proven to the court that Davis did not shoot and kill a man at a 2004 party in East New York. His conviction was dismissed August 4. The dismissal comes after The Legal Aid Society spent years reinvestigating the case.
A woman who testified against a Brooklyn gang that terrorized the NYCHA complex where she lived was hunted down and killed after being branded a "snitch," federal prosecutors said Monday in revealing chilling details of her execution-style murder, New York Post reports. The victim, 33-year-old Shatavia Walls, was gunned down by two men near a walking path at the Pink Houses in East New York on July 7, 2020, authorities said. She died 10 days later at Brookdale Hospital.