Overall, crime is up in Crown Heights, and in Brooklyn as a whole.
There has been a 11% increase in crime reported to Crown Heights' 77th Precinct, and a 93% increase reported to the neighborhood's 71st Precinct during the week April 4 to 10 compared to the same period last year.
Across the two precincts, there have been 48 incidents reported, including murder, rape, robbery, felony assault, burglary, grand larceny and grand larceny auto. During the same period last year, there were 33 incidents reported.
There have been five murders and nine rapes reported this year in the neighborhood, compared with four murders and nine rapes reported by the same date in 2021.
Looking at the 28-day cycle, there has been an 51.4% increase in incident reports at the 77th Precinct and a 73% increase at the 71st Precinct this year on last.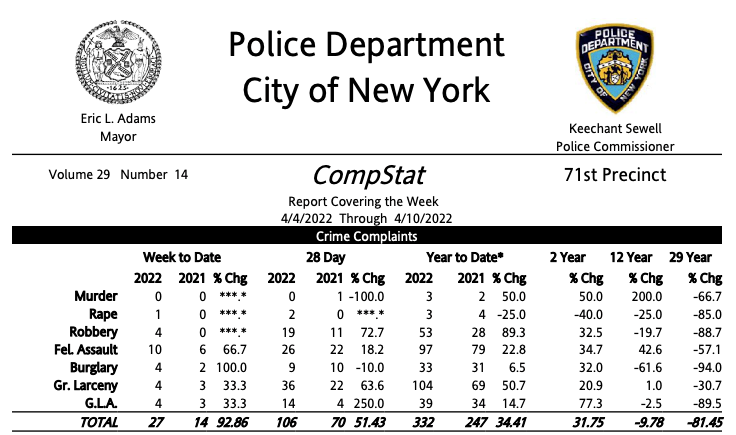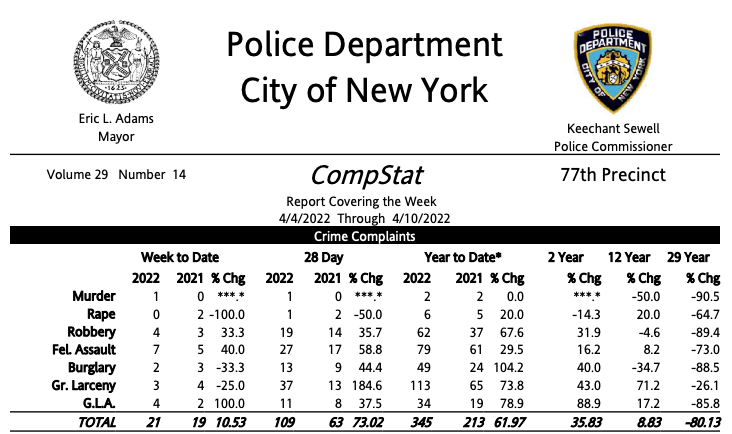 The most common incident reported over the week-long period was felony assault, with 15 reports. That is seven more reports than during the same period last year.
On April 14, the 71st tweeted the video of three men wanted for multiple shootings in Brooklyn that occured on April 12. The police are asking for the public's help in finding the men, and are offering a $3,500 reward for information.
Meanwhile, on April 8 the 71st Precinct tweeted the photos of a group of young men that are wanted in connection with a robbery. It is asking for the public's help identifying the men.
Across Brooklyn:
Across the borough, there have been 598 incidents reported between April 4 and 10, according to NYPD's CompStat, up from the 462 reported during the same period last year. Reports include one murder and seven rapes in Brooklyn South and two murders and three rapes in Brooklyn North. Across Brooklyn, there were 75 robberies and 138 felony assaults.
In the headlines:
Frank James was arrested Wednesday afternoon in New York City's East Village, less than 48 hours after becoming the suspect for the Tuesday morning subway mass shooting that injured 23 people. After NYPD recovered a U-Haul van on Tuesday rented in James's name and following a citywide manhut, the 62-year-old suspect was identified, caught and has been taken into custody. "There was nowhere left for him to run," the police commissioner said. The suspect attacked straphangers on the N train early Tuesday in the tunnel between 59th and 36th Street stations in Brooklyn. When the train stopped in the tunnel, a man in a gas mask unloaded 33 shots, said police, shooting 10 people and injuring 13 more. 
A 24-year-old man has been arrested and charged with starting a fire that injured two people and caused thousands of dollars' worth of damage at Brooklyn LGBTQ-friendly bar, Rash, the US Department of Justice announced Thursday. Police say John Lhota walked into the bar around 9:00pm on Sunday, April 3, poured gasoline on the floor, threw a cigarette on it then lit it with a lighter, before running out. Rash Bar, which only opened five months ago on the corner of Willoughby and Myrtle Aves., had quickly become popular with the LGBTQ community and was often packed with patrons late into the night.
Two teenage boys were stabbed in separate New York City subway stations and a teenage girl was shot outside a transportation hub, just a day after the Brooklyn subway mass shooting. A 16-year-old boy was knifed in his arm while riding a 3 train at the Sutter Avenue-Rutland Road station in Brownsville, Brooklyn, shortly after 8am on Wednesday, police said. He was taken in stable condition to Brookdale Hospital. The suspect fled the scene and remained at large as of Thursday morning, according to the New York Post. Then around 5.30pm on Wednesday, a teenage girl was shot near Atlantic Terminal Mall, which houses Brooklyn's biggest transit hub. She was struck at the intersection of Atlantic and Flatbush avenues, police said.
A Brooklyn man was taken into custody by the NYPD Thursday and is facing hate crime charges for the vicious attack on an elderly Sikh man in South Richmond Hill on Sunday, April 3. Vernon Douglas, 19, was taken into custody at his Watkins Street home in the Brownsville section of Brooklyn and was charged in the unprovoked assault of Nirmal Singh, 70, who was sucker-punched from behind, according to the NYPD. The assault occurred on 95th Avenue and Lefferts Boulevard in Richmond Hill just before 7 a.m. Singh, who was wearing traditional Sikh articles of faith, was walking to the Sikh Cultural Society Temple when he was assaulted.