Overall, crime is down in Crown Heights, but up in Brooklyn as a whole.
There has been a 30% increase in crime reported to Crown Heights' 77th Precinct, and a 69.2% increase reported to the neighborhood's 71st Precinct during the week Feb. 7 to 13 compared to the same period last year.
Across the two precincts, there have been 48 incidents reported, including rape, robbery, felony assault, burglary, grand larceny and grand larceny auto. During the same period last year, there were 33 incidents reported.
There have been two murders and three rapes reported this year in the neighborhood, compared with three murders and two rapes reported by the same date in 2021.
Looking at the 28-day cycle, there has been an 81% increase in incident reports at the 77th Precinct and a 56.1% increase at the 71st Precinct this year on last.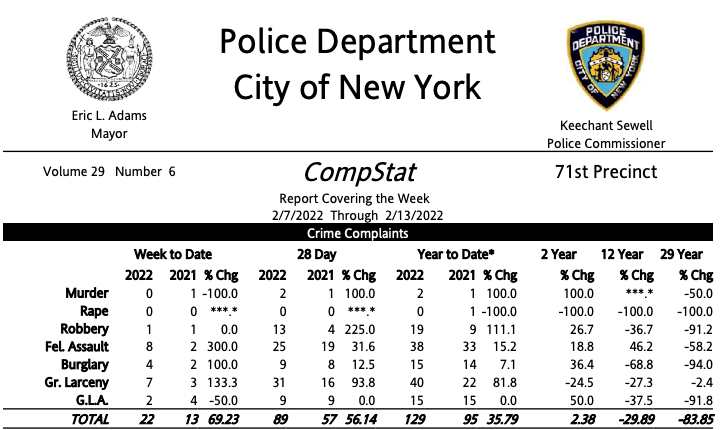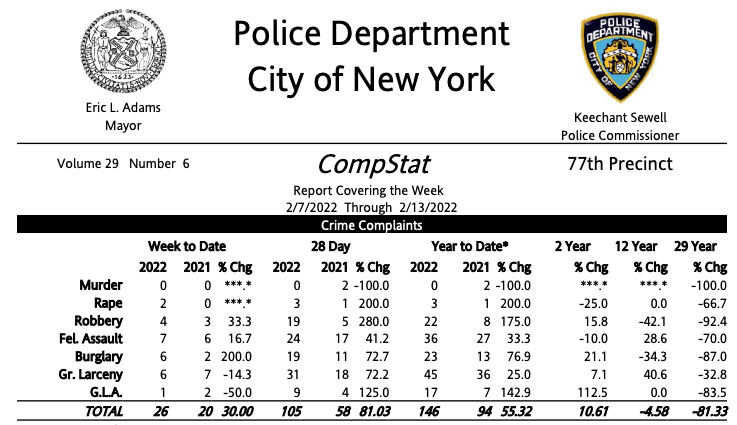 The most common incident reported over the week-long period was felony assault, with 15 reports. That is seven more reports than during the same period last year.
On Thursday night, officers from the 71st Precinct were called to a Crown Heights apartment after a fight between roommates turned deadly, The New York Daily News reports. A 45-year-old man was killed after being stabbed by his 40-year-old roommate, who later surrendered at the 71st Precinct stationhouse, police said. Charges against the suspect were pending early Friday.
Meanwhile, on Feb 10 the 77th Precinct tweeted a photo of a gun that was recovered during an arrest.
Across Brooklyn:
Across the borough, there have been 694 incidents reported between Feb. 7 and 13, according to NYPD's CompStat, up from the 385 reported during the same period last year. Reports include one murder and seven rapes in Brooklyn South and the same in Brooklyn North. Across Brooklyn, there were 93 robberies and 155 felony assaults.
In the headlines:
A group of young men tied to Brownsville's Woo Gang have been charged with stealing millions of dollars in pandemic-related unemployment aid, then "brazenly" flaunting it on social media and rapping about it, according to the U.S. Attorney's Office for the Eastern District of New York. On Thursday, the eleven men, aged between 20 and 23, were charged with conspiracy to commit access device fraud and aggravated identity theft. Ten of the men were arrested and one remains at large, U.S. Attorney Breon Peace said in a statement.
A 52-year-old Crown Heights man has been charged with assault as a hate crime for allegedly attacking a 67-year-old Asian woman in Bed-Stuy, Brooklyn District Attorney Eric Gonzalez said Thursday. On Jan. 19, Mercel Jackson allegedly launched the unprovoked attack on the senior citizen at Classon Ave. and Greene St., Gonzalez said. The woman was walking to the store when she heard yelling and saw the Jackson walking towards her, according to the DA's office. Jackson then allegedly approached the woman and punched her three times in the face, causing bruising and swelling.
New video shows two suspects breaking into a Brooklyn home, where they allegedly stole thousands of dollars. It happened Tuesday afternoon near Avenue I and East 49th Street in the Flatlands neighborhood. Police say the suspects broke in through a window. Clear surveillance video shows them walking through the place. The burglars made off with more than $10,000 in cash, two cameras and two watches.
A recent protest called for justice for a man who was fatally shot in front of his Cypress Hills home Wednesday, Feb. 9. Thousands attended the rally, which was held in front of the mosque of which 36-year-old Modassar Khandaker was an active member. Police say Khandaker was shot around 1:30 a.m. on Glenmore Avenue and Forbell Street. Protesters and elected officials called on Mayor Eric Adams, Gov. Kathy Hochul, the federal government and their own community to stop gun violence. They say they're hoping Adams' blueprint to end gun violence will do exactly that.