Overall, crime is down in Crown Heights, but up in Brooklyn as a whole.
There has been 10% decrease in crime reported to Crown Heights' 77th Precinct, and a 32% decrease reported to the neighborhood's 71st Precinct during the week November 29 to December 5 compared to the same period last year.
Across the two precincts, there have been 44 incidents reported, including rape, robbery, felony assault, burglary, grand larceny and grand larceny auto. During the same period last year, there were 159 incidents reported.
There have been 13 murders and 47 rapes reported this year in the neighborhood, compared with 25 murders and 38 rapes reported by the same date in 2020.
Looking at the 28-day cycle, there has been a 10.5% decrease in incident reports at the 77th Precinct and 26% decrease at the 71st Precinct this year on last.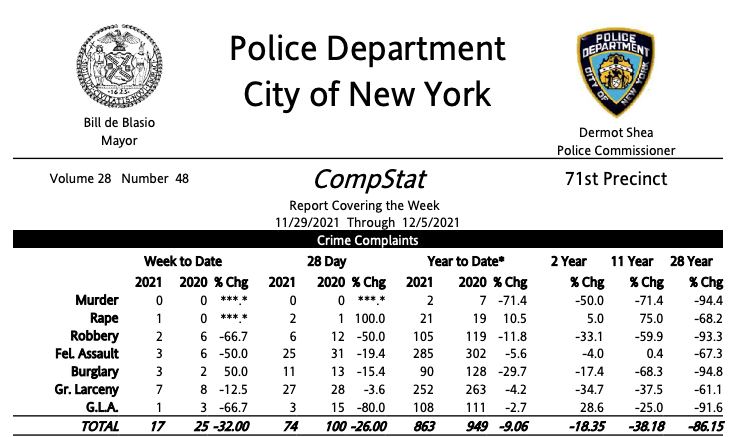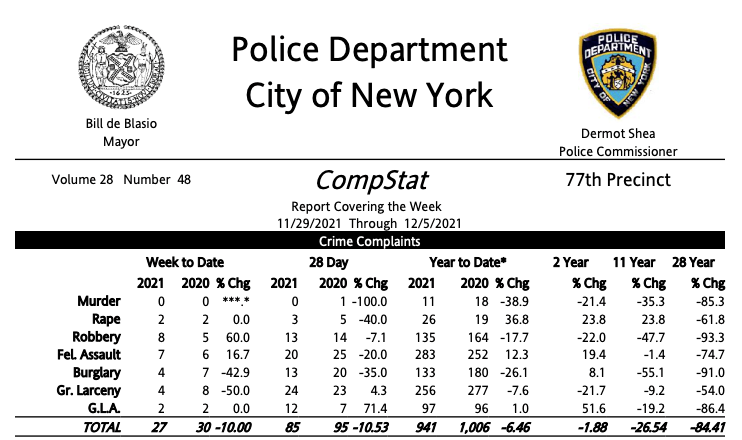 The most common incident reported over the week-long period was grand larceny, with 11 reports. That is five less reports as the same period last year.
On December 14, the 71st Precinct tweeted photos of group of men it is seeking in connection with a robbery. It is calling on the public for help.
The 77th Precinct tweeted on December 17 that it had recovered three guns from the streets of Crown Heights.
Across Brooklyn:
Across the borough, there have been 671 incidents reported between November 29 and December 5, according to NYPD's CompStat, including one murder and five rapes in Brooklyn South and three murders and three rapes in Brooklyn North. Across Brooklyn, there were 68 robberies and 148 felony assaults.
In the headlines:
Police released video footage Wednesday night of the robber who shot a Brooklyn deli worker dead the night before for a little bit of money that he wound up losing while running. The footage shows the suspect fleeing moments after he allegedly shot 20-year-old Fadhl Moosa during a struggle inside the Flatbush Deli, at 803 Flatbush Ave., at about 7:34 p.m. on Dec. 14.  Officers from the 70th Precinct, in responding to a 911 call about the robbery, found Moosa unconscious behind the counter, lying in a pool of his own blood, with a bullet wound to his head. EMS units pronounced him dead at the scene.
A Flatbush man has been charged with arson, attempted murder and aggravated harassment for throwing a Molotov cocktail into a Bed-Stuy deli, attempting to throw a second Molotov cocktail, and then stabbing a deli worker who chased him as he fled the scene, the Brooklyn district attorney has announced. Joel Mangal, 38, was arraigned before Brooklyn Supreme Court Justice Dineen Riviezzo on Monday on a 29-count indictment, in which he is charged with first-degree attempted murder, first-degree arson, first-degree criminal possession of a weapon, second-degree aggravated harassment, second-degree assault and related charges.
The NYPD is calling for the public's help to identify a man who has attempted six robberies in Bushwick over the past three months. The man has confronted his victims on the streets and in their apartment buildings often using a handgun or taser and threatening to shoot or electrocute them if they don't comply to his demands, amNY reports. This weekend, the police released a security camera image of the suspect in hopes of identifying him. The man's robbery attempts date back to Oct. 29 and the most recent attempt reported was Nov. 13, NYPD says.
A 44-year-old man has been sentenced to 11 years in prison for strangling and assaulting a Jewish man as he walked home from his synagogue in East Flatbush. Brooklyn District Attorney Eric Gonzalez said James Vincent was sentenced for strangulation and assault as hate crimes for the unprovoked attack against the man in April 2018, whom he cursed and strangled as the victim was walking home from a synagogue. Gonzalez said a 52-year-old Jewish man was walking home from his synagogue after Sabbath prayers around 1:00pm when he walked past Vincent near Rutland Road and East 46th Street in East Flatbush. Vincent yelled, "You **** Jew, you Jews took my house and mortgage." The victim continued walking when Vincent ran up to him from behind, placed his hands on his neck and applied pressure, according to Gonzalez.