Overall, crime is down in Crown Heights, but up in Brooklyn as a whole.
There has been 11.1% decrease in crime reported to Crown Heights' 77th Precinct, and a 4.4% increase reported to the neighborhood's 71st Precinct during the week October 10 to October 17 compared to the same period last year.
Across the two precincts, there have been 48 incidents reported, including rape, robbery, felony assault, burglary, grand larceny and grand larceny auto. During the same period last year, there were 50 incidents reported.
There have been 13 murders and 38 rapes reported this year in the neighborhood, compared with 22 murders and 32 rapes reported by the same date in 2020.
Looking at the 28-day cycle, there has been a 12.1% increase in incident reports at the 77th Precinct and 2.4% increase at the 71st Precinct this year on last.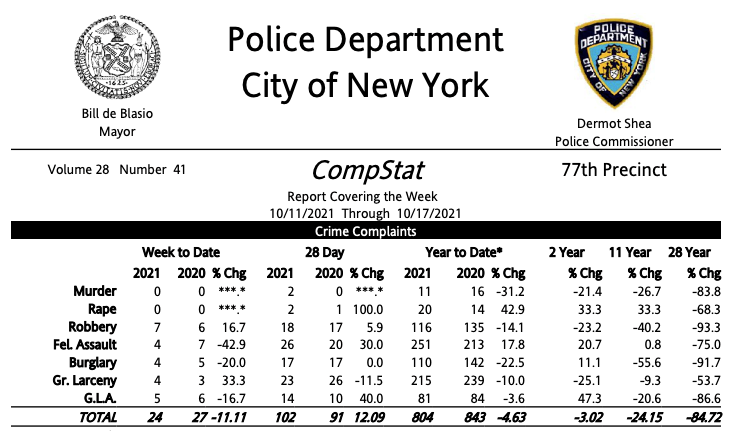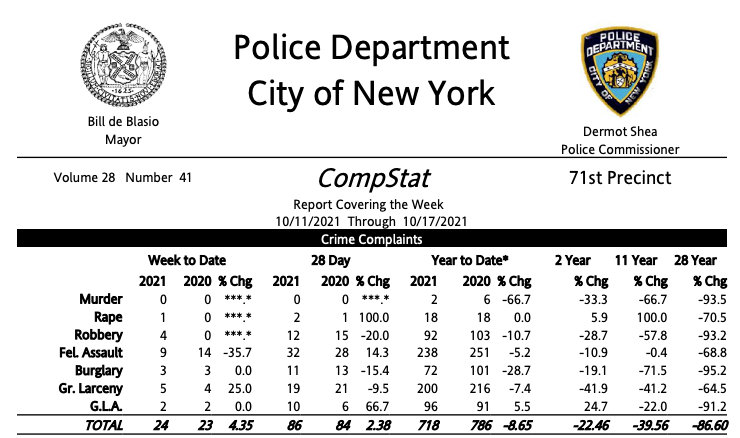 The most common incident reported over the week-long period was felony assault, with 13 reports. That is eight less reports as the same period last year.
On October 18, the 71st Precinct tweeted a photo of a gun its officers had recovered and taken off the neighborhood's streets.
The 77th Precinct tweeted on October 21 that it was seeking the public's help to identify two men wanted for larceny on St. Marks Ave.
Across Brooklyn:
Across the borough, there have been 607 incidents reported between October 10 and October 17, according to NYPD's CompStat, including three murders and five rapes in Brooklyn South and one murder and five rapes in Brooklyn North. Across Brooklyn, there were 92 robberies and 148 felony assaults.
In the headlines:
An East New York man has been indicted and faces charges of robbery, assault and grand larceny for allegedly carjacking a woman in Mill Basin as she sat in her car with her therapy dog, dragging her from the car before stealing it. According to an NYPD investigation, Kamani Romain, 21, approached the 73-year-old woman while she was sitting in her Honda Civic on Mill Avenue in Mill Basin around 1:00pm on June 6. Romain allegedly punched the woman, dragged her from the driver's seat, and drove off with her car. Her credit card, identification card and therapy dog Luna, a toy poodle, were inside the car.
A Brooklyn mom opted to remember her son's happy life rather than his brutal death on the wrong end of a gun. "He was a compassionate dude, everyone loved him," the devastated mother of shooting victim Tevin Samuel recalled Tuesday. "He was always the life of the party. Always vibrant, always smiling. He was loved by the community." The wounded Samuel, 29, was thrown from a passing vehicle early Sunday and left to die on Clarkson Ave. near E. 53rd St. in East Flatbush, according to police. The victim, shot in the left thigh, was pronounced dead at Kings County Hospital following a 5:53 a.m. call to 911, cops said, with the killer still on the loose two days later.
Police are asking the public's help to find six people who stole a taxi after attacking its driver near the Bed-Stuy border earlier this month. The group of six got into the taxi after calling the driver to an address on Fayette Street near Broadway just before 11:30 p.m. on Oct. 10, according to police. Once inside, they hit the 25-year-old driver on the head with an unknown object and threatened him, police said. The group then removed the man from the car, a Nissan Rogue, and drove away in it, according to police.
A daredevil driver pulled a Grand Theft Auto move to escape cops in Brooklyn by driving his car over the hood and bumper of an NYPD vehicle. The bizarre driving maneuver was caught on video and shared on social media, and the wily wheelman remained at large Thursday. The incident began when cops smelled marijuana in a white Hyundai Sonata they approached in a no-parking zone on Troy Ave. by Park Place in Crown Heights, outside the Albany Houses NYCHA complex. Cops asked the 29-year-old driver to get out of the car, which he did. But a male passenger then hopped over to the driver's seat and took the wheel, said police.