On Saturday, a no questions asked gun buyback will be held at an East New York church in an effort to get guns off the streets.
Those handing over any working handgun or assault rifle will be given $200 at the event, being held at St. Paul Community Baptist Church by Brooklyn District Attorney Eric Gonzalez and NYPD Commissioner Dermot Shea.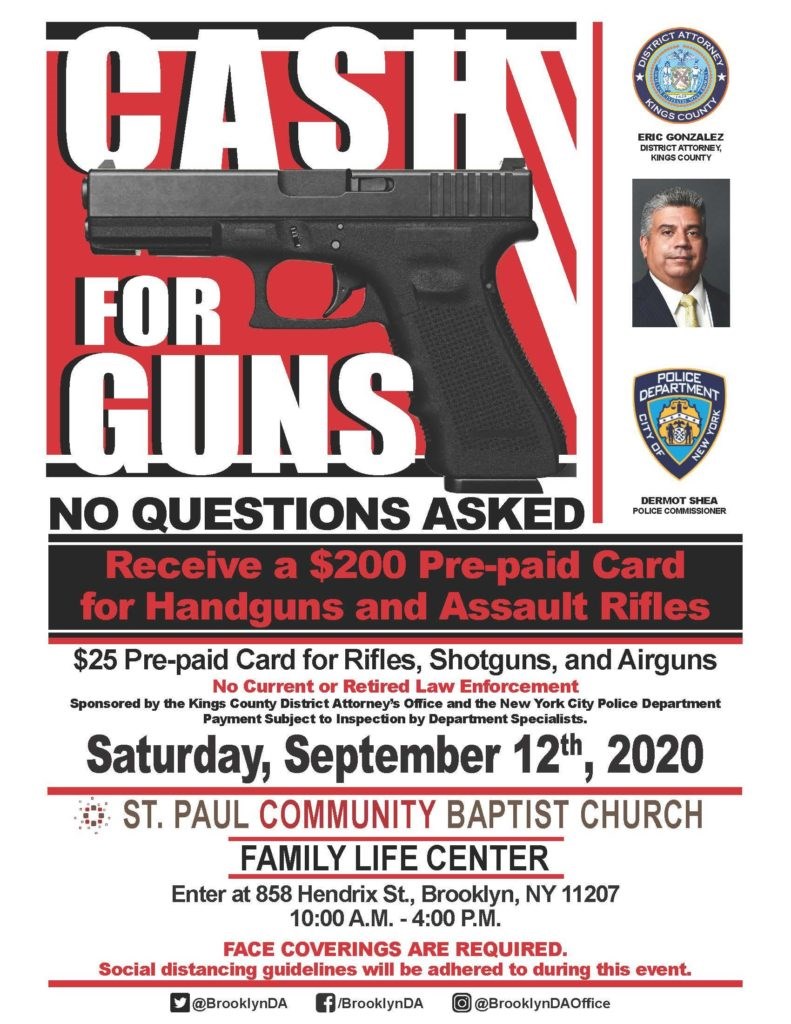 Gonzalez said standing against the uptick in crime in Brooklyn meant engaging every part of the community and using every strategy.
"Saturday's gun buyback event will provide an opportunity for everyone to turn in a firearm and receive cash, a simple action that can help reduce the number of lethal weapons on our streets," he said.
Those who turn in a working gun or assault rifle turned will receive a $200 bank card for each weapon. Gonzalez said all transactions would be anonymous, with no questions asked or ID needed. The bank cards will be issued after each firearm is received and screened by officers on-site.
Shea said NYPD officers were working tirelessly to prevent gun violence and the buyback represented another effort to, "take guns, and the bullets in them, off of our city streets."
The event is being hosted in partnership with Rev. David Brawley of East Brooklyn Congregations and Metro IAF, a national community organizing network. Pastor Brawley said every gun taken off the street was a gun that couldn't do damage to children and other residents.
"But we need to do more, identifying the mostly out-of-state gun dealers who supply these weapons in the first place and pressuring gun makers like Glock to cut off their ties to these dealers of neighborhood destruction," Brawley said.
Guns should be unloaded and packaged in a paper or plastic bag or a box when brought to the event and must be transported in the trunk of the car. Both working and inoperable weapons will be accepted and there is no limit to the amount of guns that be turned in. However, there will be a limit of $600 worth of bank cards per person.
The buyback will be held between 10 a.m. and 4 p.m. at 859 Hendrix Street in East New York.