These days, having internet access is not a luxury but a necessity for work, school, daily communications and so much more. It could mean the difference between employment or unemployment, graduating or being held back.
But, it's still a service that remains inaccessible for people struggling to make ends meet in New York City.
That's why NYC Mayor Eric Adams just announced that residents from 67 more New York City Housing Authority developments — including 20 in Brooklyn — will now receive free broadband internet access as part of his expansion of the 'Big Apple Connect' program. This means a 50% increase in the program, which was started last year and now serves 202 NYCHA developments.
'Big Apple Connect,' the nation's largest municipal broadband program which now serves roughly 300,000 people, provides NYCHA residents with a free bundle that includes a Wi-Fi modem and router and a basic cable TV service with a cable box and remote control.
Additionally, common area Wi-Fi hot spots selected in consultation with NYCHA will be available throughout the complexes, according to the mayor's office.
Adams announced the program's expansion with Chief Technology Officer and New York City Office of Technology and Innovation Commissioner Matthew Fraser at the Bronx River Houses. Representatives from the five boroughs, including the Brooklyn organization BRIC Arts and Media, attended the press conference.
"BRIC applauds Mayor Adams and his administration's 'Big Apple Connect' program, which will deliver essential broadband service to NYCHA residents," Wes Jackson, BRIC president, said.
Jackson said that this program will allow BRIC to create new educational programs and tools for people in NYCHA housing to engage in arts and media.
"Through our community engagement work, BRIC has a long history of serving and working alongside our friends and neighbors in NYCHA housing. This initiative will enable us to take that relationship to the next level by developing a media literacy pipeline and providing residents with tools and resources to grow their skills not only as artists and creatives but as positive members of the community."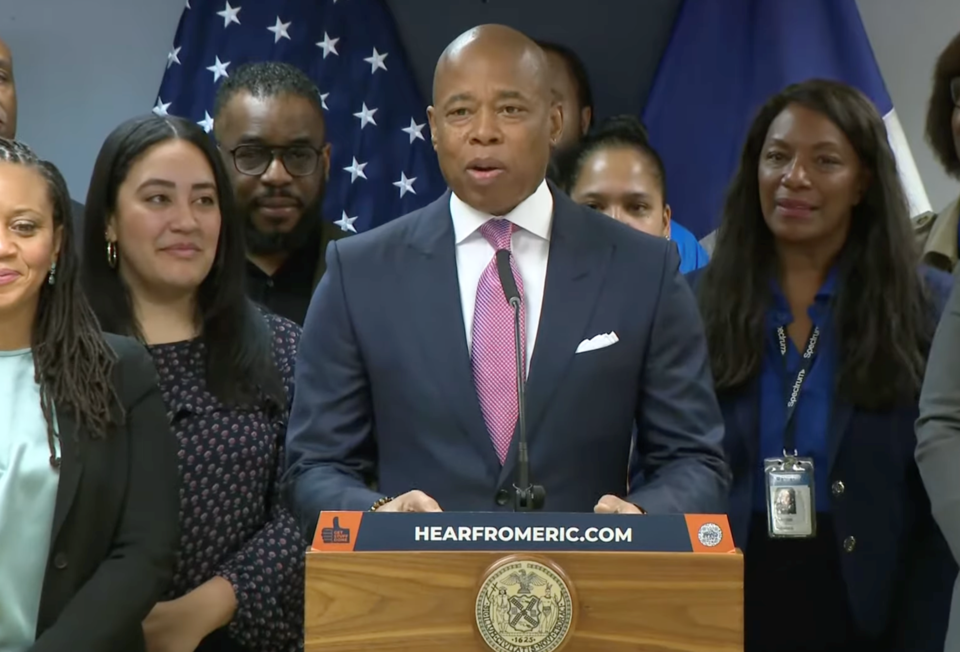 Adams said that initially, he had promised the city to expand the program by the end of 2023, and he is ahead of schedule.
"Six months ago, I promised that we would bridge the digital divide for NYCHA residents, and today I'm proud to deliver on that commitment ahead of schedule," Adams said.
The free Wi-Fi package is hosted through Altice (Optimum) and Charter (Spectrum). Residents will have the opportunity to sign up directly through Optimum or Spectrum or may attend an enrollment event conducted by the companies in partnership with OTI.
"Access to internet is a lifeline for New Yorkers, connecting people and families with educational resources, job opportunities, social services, and more," said Brooklyn Borough President Antonio Reynoso.
"I'm so thrilled that 20 more NYCHA developments in Brooklyn will finally have free internet and basic cable TV within reach, thanks to Mayor Adams and Chief Technology Officer Matt Fraser's expansion of 'Big Apple Connect.' I look forward to continuing to work together to close the digital divide once and for all, in every corner of my borough and this city."
View a full list of 'Big Apple Connect' eligible NYCHA developments here.