Park Slope Assembly Member Jo Anne Simon is urging Park Slope residents to submit a public comment regarding the recent uptick in noise pollution by helicopters, reports Patch. The Federal Aviation Administration and National Park Services are seeking local feedback until December 30 on a proposed new set of rules for New York Harbor tourist flights that many believe only make things worse for city dwellers.
"If HELICOPTERS are driving you CRAZY," Simon wrote on Twitter, "take action NOW," by submitting public comment to the Helicopter Sightseeing Plan for NYC by Dec. 30.
Since 2019, helicopter noise complaints have skyrocketed in Park Slope, peaking at a record-breaking 370 in 2020. And since the pandemic, complaints have spiked from about 3,000 in 2019 to a whopping 25,000 complaints in 2021 and 2022.And now, the Air Tour Voluntary Agreement for National Parks of New York Harbor is hoping to create new rules for flights around federally owned sights, namely by setting a new 1,000 foot arial setback for tourist flights.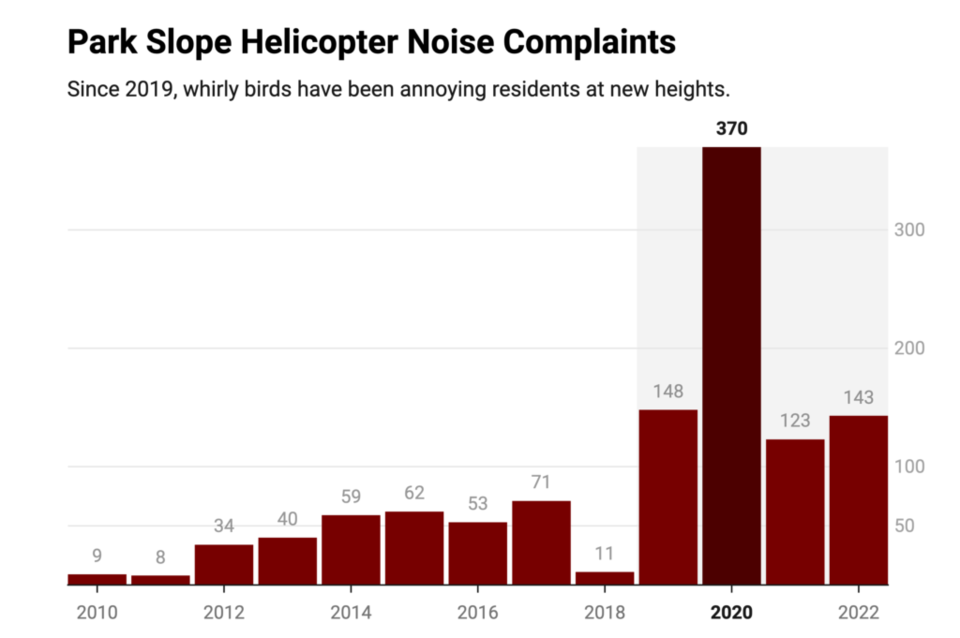 This plan comes in strong opposition for many anti-helicopter advocacy groups. One group, Stop the Chop, is adamant that says the plan will increase noise and helicopter traffic, according to a sample letter the group previously published in the Brooklyn Daily Eagle.
A number of state and city legislators have attempted to curb non-essential helicopter flights, but most have stalled — including a City Council bill that has yet to have a hearing despite 24 sponsors. Despite these fallbacks, advocacy groups remain hopeful that ongoing community engagement will hold some weight in Brooklyn's fight against noise pollution.
To read more about the proposed FAA Helicopter Sightseeing Plan and to submit your own commentary by December 30 please click here.