A recent analysis of petition signers shows that Prospect Heights residents strongly support public space initiatives, including the Vanderbilt Open Streets, Underhill Plaza and the Underhill Avenue Bike Boulevard.
The Prospect Heights Neighborhood Development Council (PHNDC) announced the launch of the Prospect Heights Streets for People petition on September 22, 2023 in response to hearing from Mayor Adams that the Underhill Avenue redesign was under review.
The petition is being used to combat misinformation alleging a lack of local support for these projects. As of today, the petition has received over 2,500 signatures.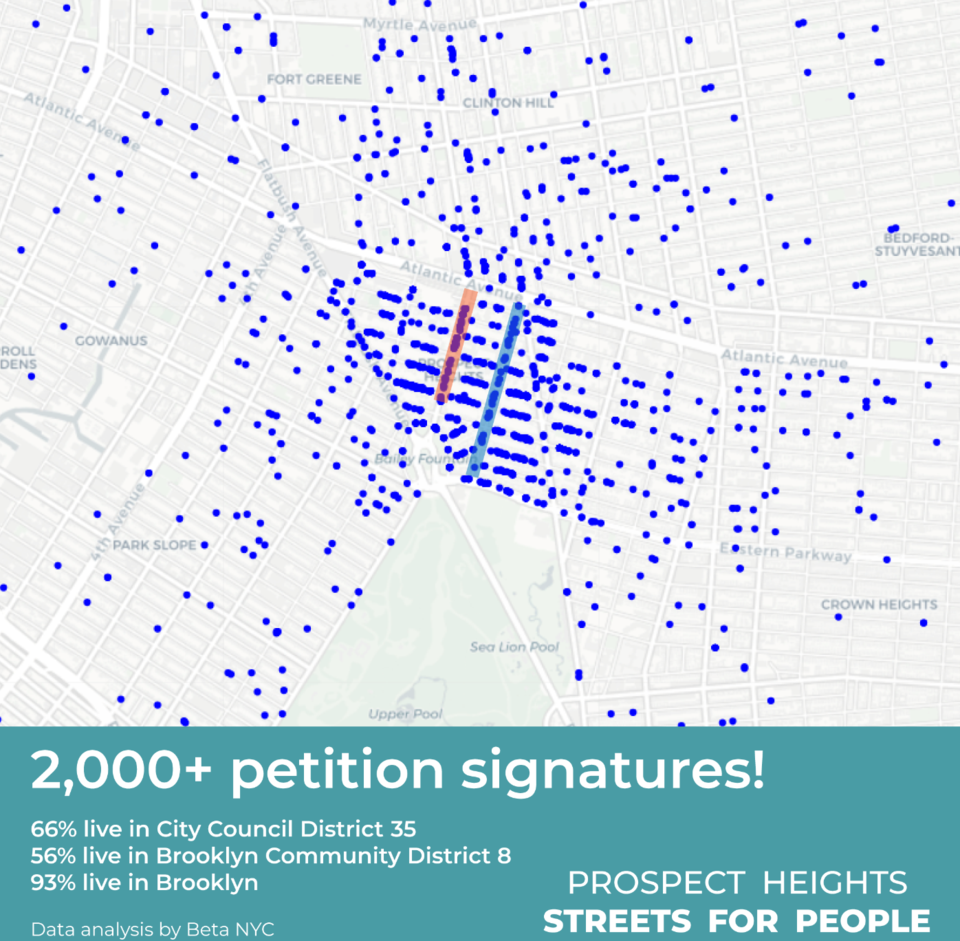 "Early petition results confirm not only that streets initiatives on Underhill and Vanderbilt Avenues are extraordinarily popular among nearby residents, but also that they are important to a larger community from Brooklyn and greater New York City, consistent with our experience and that of local businesses over the last four years," said Gib Veconi, chair of the Prospect Heights Neighborhood Development Council.
The Underhill Avenue bike boulevard and the Vanderbilt Open Streets program are vital public space and economic development initiatives that support local businesses and provide jobs. Restaurants along Vanderbilt's Open Street, which contribute funds to help run the program, have seen a 20% increase in sales compared to pre-pandemic numbers, according to the report.
A new analysis by BetaNYC of the first 2,000 petition signers found that: 66% live in City Council District 35, represented by Council Member Crystal Hudson. Although more than 66% of petition signers live in City Council District 35, Council Member Crystal Hudson has not taken a public stance on these projects and has made no statements responding to the support demonstrated by the petition. "We hope Council Member Hudson and our other elected officials now hear the voices of supporters from every block in Prospect Heights, and we look forward to their response," said Veconi.
NYC Department of Transportation (DOT) has conducted extensive community engagement over the past three years in support of thoughtful and responsive street planning in Prospect Heights.

DOT's own surveys found 86% of residents support permanent changes to make Prospect Heights Open Streets pedestrian and/or cycling priority corridors and only 10% of survey respondents want to drive on the street.