Bed-Stuy community leader and environmental activist Hattie Carthan raised nearly $20,000 in community funding to save a 40-foot tall Magnolia grandiflora tree and three brownstones from demolition 50 years ago.
Today, Carthan's beloved Magnolia, New York City's only living tree landmark, and her legacy are again at stake-- this time to the tune of half a million dollars.
Carthan, affectionately known as "The Tree Lady," pioneered a green movement in Central Brooklyn during the 60s and 70s. Her work launched over 100 block associations, including The Bedford-Stuyvesant Beautification Committee, credited for planting over 1,500 trees during Cathan's senior years.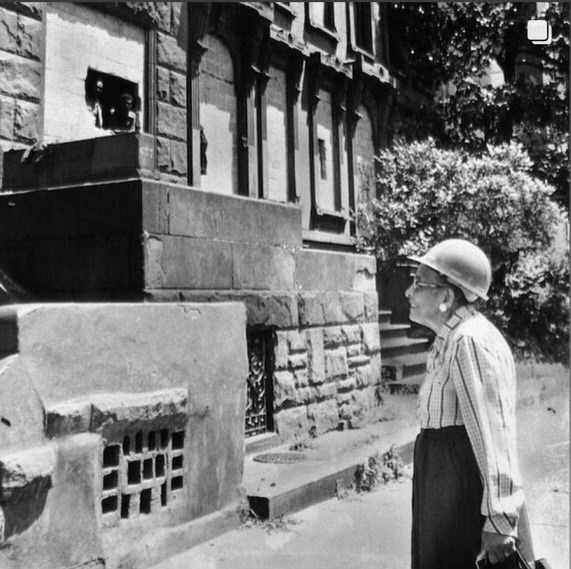 The Magnolia Tree Earth Center Inc., a community environmental learning center she founded and managed until her passing in 1984, now faces closure due to building contractor issues, unfinished repairs and a mountain of fines and building safety violations.
The buildings crumbling exterior, an eyesore and deterrent to neighbors, visitors and agencies, remains barricaded by construction scaffolding.
The deteriorating site significantly impacts the upkeep and vitality of the 138-year-old giant's natural habitat while hindering the services provided to an average of 150 daily visitors. Those services and events include community baby showers that provide supplies to expectant mothers, workplace safety accreditation and workforce development programs, block association meetings, after-school programs, gardening classes and its pinnacle Earth Day celebration.
Wayne Devonish, the Center's chairman, told BK Reader the cultural spot is the latest site at risk of falling to the tide of gentrification in Brooklyn.
"We don't want this to become luxury housing that overlooks the park," Devonish said. "We want this to be a community space that everyone can enjoy, learn about gardening, the environment, take part in our flower show and all the wonderful things we do for the community."
Devonish has enlisted the help of elected officials, celebrities and community leaders with a GoFundMe campaign to raise at least $350,000 for the extensive repairs.
Council Member Chi Ossé's recent press conference led the charge to save the landmark alongside Brooklyn Borough President Antonio Reynoso and Cultural Affairs Commissioner Laurie Cumbo.
Cumbo took her call to action online, urging people to nurture and uphold Carthan's legacy.
"Magnolia Tree Earth Center is a Black-led, community-centered cultural & environmental group established 50 YEARS ago," Cumbo tweeted. "We can't lose this important place - save our center!"
Bed-Stuy resident and actor Gbenga Akinnagbe stars in the fundraiser's promo video which features photos and original video clips of Carthan to showcase the mission's purpose and urgent cause during its 50th anniversary.
Proceeds will enable the Magnolia Tree Earth Center to bring the building up to code through repairs to the front facade, roof, sprinkler system and meeting spaces. At the time of publication, the Center has raised $34,419.