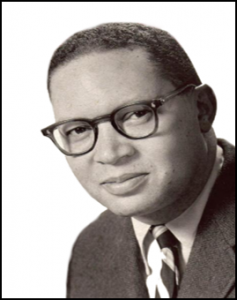 The Legacy of Andrew Cooper, founder of The City Sun Newspaper, will be honored on June 5, at St. Francis College at an inaugural art show and silent auction benefitting The Young Journalists in Training Program.
The YJIT program was founded in 2004 by Cooper's daughter Andrea, after her father passed away and the younger Cooper vowed to carry on his legacy of fearlessness in journalism.
Cooper-- an Emmy-Award winning television producer, educator and theater & film director-- runs the program out of St. Francis College, providing students with an opportunity to explore the world of journalism and consider it as a career through firsthand exposure with experts in media as well as high-profile internships that enlighten and embolden young journalists to "Speak truth to power!"
Cheryle Williams, chair of the YJIT Board of Advisors, said the program is particularly important for young working-class students, as their voices are so often muted and underrepresented in the media.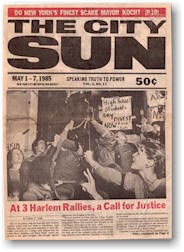 "We want to let the young journalist know that they can create formats that really tell the truth," said Williams. "It only takes one person to step out and really make a difference."
The art show will celebrate the YJIT's 10-year anniversary and raise money for the organization's ongoing efforts to prepare young journalists to excel in the fast-changing digital age of journalism.
The show will take place on Thursday, June 5, from 6:00pm — 9:00pm, at the Callahan Center Art Gallery at St. Francis College, located at 180 Remsen Street in Brooklyn Heights.
Featured artists include Kalif AUSBY, Jamillah JENNINGS, Ramona CANDY, Tommy KWAK, Mary CHANG, Jonathan MANNION, Francks DECEUS Karl McINTOSH, Carol FOY, Tomo MORI, Mario ROBINSON, Otto NEALS, Fedrecia HARTLEY, Donovan NELSON and Diane GRAZETTE-COLLINS.
"The art show will help support young students to learn and thrive in the new journalism that we're experiencing during this important time," said Williams.
"This benefit is for people who are interested in the future of young urban journalists who will report the news the way it should be reported."
To RSVP for the art show, contact Wendy Jones at 917-860-6786 or wcburke@mindspring.com.