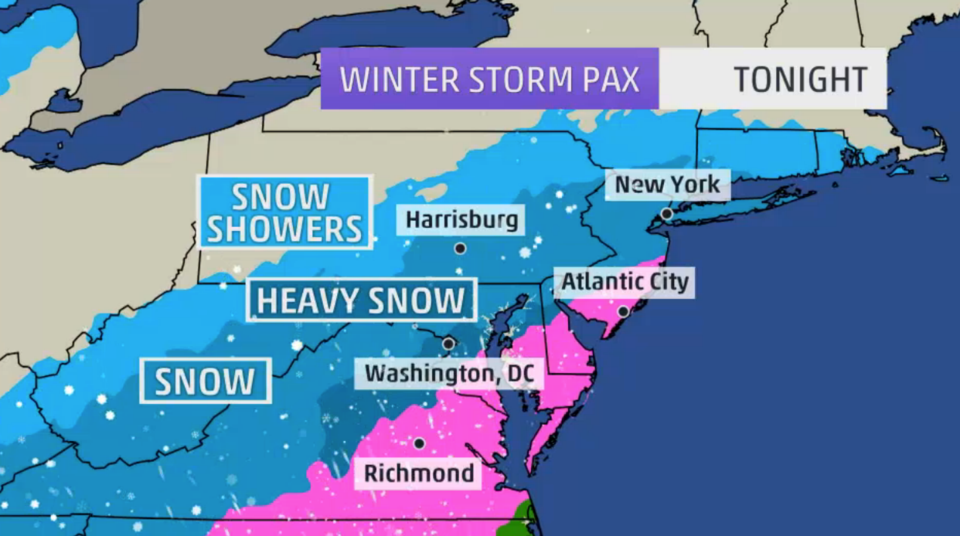 The National Weather Service has issued a winter storm warning is in effect from midnight tonight until 6:00am Friday. Expected effects of Winter Storm Pax include:
Heavy snow.

Snow accumulations of 8 to 12 inches.
Winds: north 15 to 25 mph with gusts up to 40 mph.
Temperatures: Lower 30s.
Visibilities: one quarter to one half mile at times.
Timing: snow will develop late tonight and continue during the day Thursday before tapering off Thursday night. Sleet and rain will likely mix with the snow during the late morning and afternoon hours Thursday.
Impacts: snowfall will make travel treacherous. In addition. Heavy, wet snow may cause some weak, flat roof structures to collapse and tree branches will be susceptible to falling.
Recommended actions
A Winter Storm Warning for heavy snow means severe winter weather conditions are expected or occurring. Significant amounts of snow are forecast that will make travel dangerous. Only Travel in an emergency. If you must travel, keep an extra flashlight, food. And Water in your vehicle in case of an emergenc