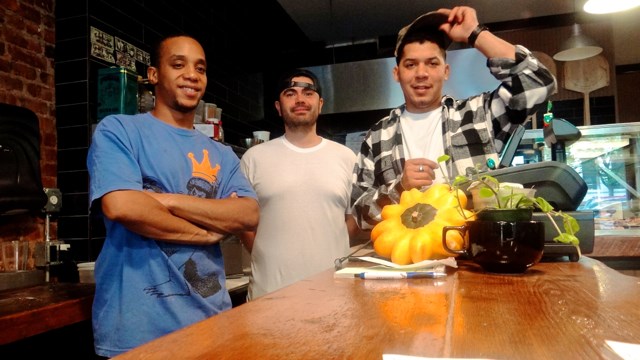 There's a new pizza boss in town, and it goes by the name of "Daddy Green's."
The pizza shop which opened August 17, on 352 Malcolm X Boulevard, by business partners Kolawole Ologundudu and Rodney Davis, is a welcomed addition to the fast-developing Malcolm X Boulevard business corridor.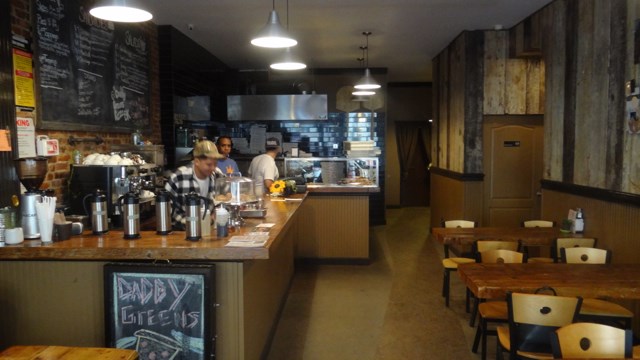 Unlike what its name might suggest, Daddy Green's Pizza is not a vegetarian or vegan pizza shop: It is a bonafide New York pizza joint with bonafide New York-style pizza.
Kola, 31, of Park Slope, borrowed the name Daddy Green's from another pizza shop featured in one of his all-time favorite movies, "The Last Dragon." The father of the main character, Bruce Leroy Green, owned a pizza shop called Daddy Green's.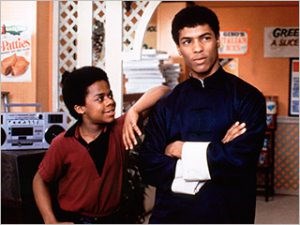 In the movie, Bruce Leroy searches for the "master" to obtain the final level of martial arts mastery known as "the glow." Along the way, he must fight an evil martial arts expert and rescue a beautiful singer from an obsessed music promoter.
The name (and the movie) always stuck with Kola, long before owning his own shop was a notion. But once the notion became a possibility and the possibility became a reality, boom! There he had it: the perfect name.
"We took the shop over from some folks who were here previously," said Kola. "The pizza oven was in place, and it just seemed like a really viable business that we could do really well with."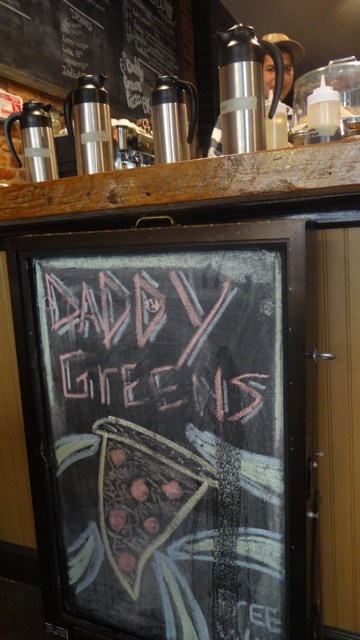 "When I was a kid, I thought the coolest person around was the pizza man," said Rodney, 34, of Far Rockaway, Queens.
A regular cheese slice will run you $2.50. The specialty slices, including yummy add-ons are $3.50, cooked to perfection by pizza-maker and friend, "Super Mario."
"Super Mario makes some of the best pizza I've ever had," said Kola. "As a life-long New Yorker, I've traveled to different boroughs in search of the best pizza. And I was totally blown away when I tasted his recipe."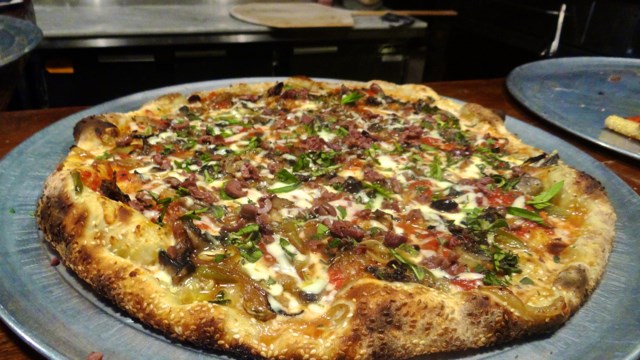 In fact, Kola says his favorite pizza, named after the cook, is the "Super Mario," a white pie with sautéed mushrooms, roasted garlic, spinach and mozzarella.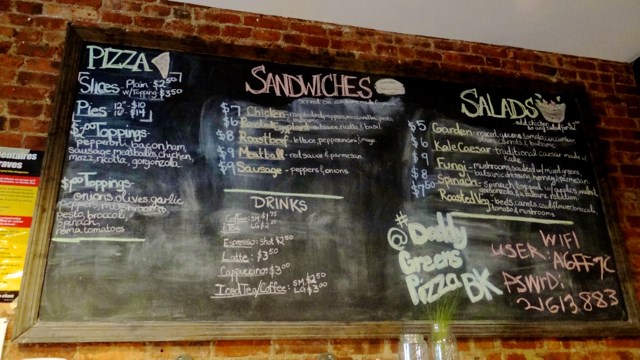 Rodney names the "Do the Wrong Thing" slice as his favorite, which is garnished with bacon, cream cheese and jalapeño peppers on a white sauce.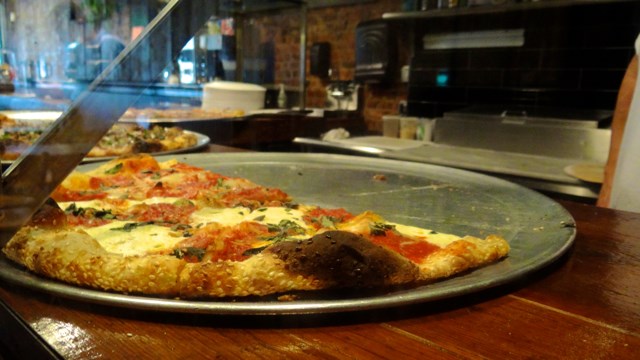 All of the pizzas come on a sesame seed crust. Daddy Green's also offers salads, sandwiches and espresso coffees. And oh, my bad, there is something for the vegetarian: a vegan cinnamon roll, which is delicious and perfectly portioned, topped with icing and walnuts.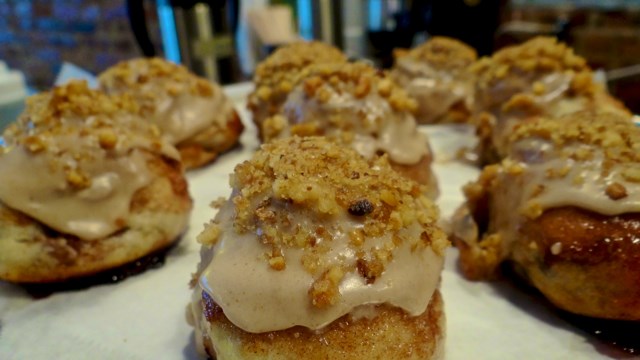 So the next time you're near Malcolm X and Chauncey, "Just direct-a your feets-a to Daddy Green's Pizza" (a famous line in "The Last Dragon")-- the new pizza patriarchs of Bed-Stuy.
"We're the home of the sesame seed crust and we're the best pizza on this side of Brooklyn! We take on all challenges," Rodney said, with a boyish laugh.
"Yes, we'll be waiting for you," said Kola, "with the Ginsu knife and the glow!"