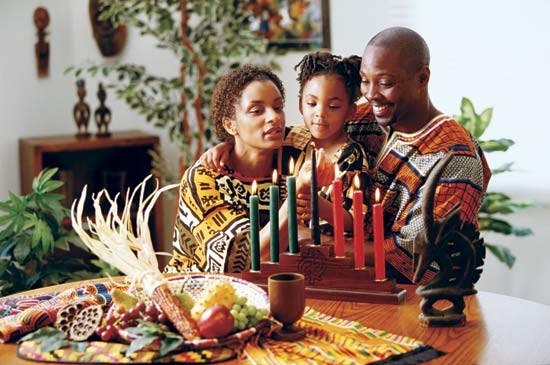 What is Kwanzaa?
Kwanzaa is a week-long holiday honoring African culture and traditions. It falls between December 26 and January 1 every year. Dr. Maulana Karenga first proposed this observance in 1966 to give those of African descent a holiday to celebrate their cultural heritage and the key values of family and community.
In its early years, there was resistance and some opposition to the idea of Kwanzaa's celebration, as it was viewed by some to serve as an alternative to Christmas and thus possibly anti-Christian. However that opinion changed over time once it was learned that the festival has no religious ties, is strictly a cultural affirmation and thus is can be observed simultaneously.
Kwanzaa is centered around The Nguzo Saba (The seven principles in Swahili):
Umoja (Unity)
Kujichagulia (Self-Determination)
Ujima (Collective Work and Responsibility)
Ujamaa (Cooperative Economics)
Nia (Purpose)
Kuumba (Creativity)
Imani (Faith)
In 1997 and 2004, the United States Postal Service honored Kwanzaa by issuing stamps depicting an aspect of the festival. In 1997, the stamp was designed by Synthia Saint James and showed an African-American family observing the celebrations. In 2004, the stamp was designed by Daniel Minter and shows seven figures representing the seven principles of Kwanzaa. Kwanzaa gained popularity quite quickly. It is now estimated that about 13 percent of African-Americans (nearly five million people) celebrate the festival in some way.
Where to Celebrate Kwanzaa
Who: The International African Arts Festival (IAAF)
What: The International African Arts Festival (IAAF) presents The 47th Anniversary of Kwanzaa Celebration-- Celebrating & Living Kwanzaa: Sowing and Harvesting seeds of Good, featuring: Dr. Maulana Karenga, KowTeff African Dance and Drum Troupe , the Donald Smith Trio. Also, Kwanzaa Collective, tribute to: Baba Jitu Weusi, Seydou Njoya, and Atchuda Bakr. Dance, poetry, youth zone, food, and Live Jazz provided by Central Brooklyn Jazz Consortium.
When: December 26, 2013, 3:00pm — 9:30pm
Where: M.S. 35 Stephen Decatur, 272 MacDonough St., btw. Marcus Garvey & Lewis Ave., Brooklyn, NY
How Much: 3:00 — 6:00pm (free); 6:00 — 9:30pm $12 in advance; $15 at the door ; $8 for in advance for seniors and $12 at the door.
Who: The Brooklyn's Children's Museum.
What: Kwanzaa Celebration: It's Kwanzaa time! Explore this popular cultural holiday by learning about its importance around the world to families of African heritage. Decorate a Kwanzaa flag banner to take home; hear holiday stories and share your warm thoughts during this cold season by creating greeting cards to send to family and friends. Events for children 5 and under.
When: Friday, December 27 — Sunday, December 29, 2013, 11:30am — 2:30pm
Where: Brooklyn Children's Museum, 145 Brooklyn Avenue, Brooklyn, NY
How Much: All ages, $9
Who: Forces of Nature Dance Theatre
What: Kwanzaa Celebration "Regeneration Night," featuring the New York-based dance company Abdel Salaam's Forces of Nature Dance Theatre.
When: Friday, December 27, 2013, 7:30pm
Where: The Apollo Theater, 253 West 125th Street, NY, NY
How Much: $18; Tickets are through ticketmaster or call the Apollo box office at 800-745-3000.
Who: American Museum of Natural History
What: Kwanzaa Events: Celebrating the 35th Anniversary of Kwanzaa. Storyteller Linda Humes is the host with youth ensemble — IMPACT Repetory Theatre, Ugandan poet Emilia Ottoo. Restoration Dance Theater performs with mix of African, Caribbean, jazz and modern dances. Balance Dance Theatre led by choreographer Obediah Wright performs. Author and filmmaker MK Asante introduces his film narrated by May Angelou — The Black Candle — A Kwanzaa Celebration.
When: Saturday, December 28, 2013, 12:00 noon — 5:00pm
Where: Central Park West at 79th Street, NY, NY
How Much: Adults are $22, Children 2-12 are $12.50, Seniors and Students with ID are $17. FREE with Museum admission