State Senator Roxanne J. Persaud hosted on Thursday a community forum to discuss how the New York Health Act, a proposed universal health care bill, would affect New Yorkers.
She was joined at the Jewish Community Council in Canarsie by fellow Senator Gustavo Rivera, sponsor of the NY Health Act, and a panel of health care professionals including Dr. Sandra R. Scott, Emergency Medicine physician at Brookdale Hospital; Dr. Donald Moore, a physician at New York Methodist Hospital; Ari Moma, R.N , a member of The NYS Nurses Association; and Velda Jeffrey of labor union 1199SEIU.
If passed, Senator Rivera's bill would establish a single-payer-based, universal health care system in New York State where all citizens would receive comprehensive health care coverage, founded through an equitable new tax structure based on income.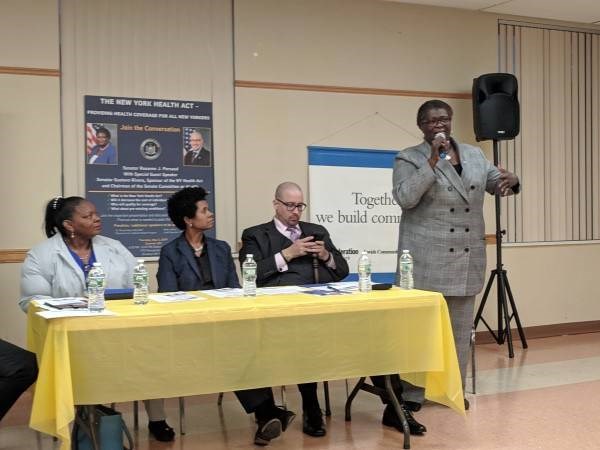 Beyond illustrating how the NY Health Act would improve the state's health care system, the panelists shared their personal and professional frustrations with the current multi-payer healthcare system and its inadequacies, echoing "Wealth should not equal health."
"The first question posed to someone seeking treatment should not be 'What's your health insurance?'" said Senator Persaud. "Our health and well-being should come before the dollar received."
Following brief presentations, audience members had the opportunity to express concerns and ask further questions. Common concerns revolved around the potential financial burden a single-payer system mean for taxpayers as well as health care providers, and who would receive coverage.
The panel clarified that the proposed system would be funded through income tax, or payroll tax, which they explained would better reflect the individual's ability to pay for health care. With a single-payer system, the majority of New Yorkers would end up paying less, while wealthy residents would pay more, the experts added.
And while the new bill would eliminate co-pays, the legislation also proposes to establish a board tasked with creating provisions to ensure that healthcare providers are sufficiently reimbursed for their services.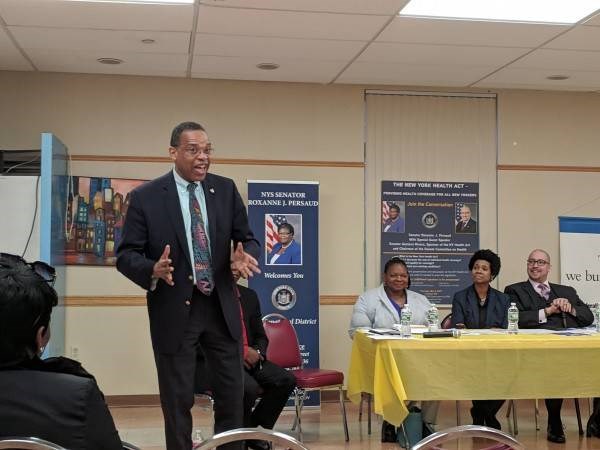 "Health cannot be a simple commodity like gold or oil, exchanged in the marketplace," said Dr. Moore. "Healing cannot merely be a business. The doctor-patient relationship must not be reduced to a simple business contract. The financing of health care should rely on the needs of the people and be for the people. We must return health care to the people."
The new universal health care model would cover all New York residents, including undocumented individuals, New Yorkers with preexisting conditions and those receiving long-term care, panelists added.
"Every New Yorker deserves stress-free quality health care," said Dr. Scott. "The NY Health Act is a solution for closing the gaps in our health care system. It is important for every New Yorker to participate in the conversation and to get involved in this very important legislation."
The support for the bill is steadily growing in the State Legislature, and similar forums and public hearings like Wednesday's gathering will be held in the future, Senator Persaud said.
"It is important that we get it right, and not just quickly. We are having these conversations with the community to make sure their opinions are reflected in the NY Health Act," said Senator Persaud. "In New York, we are now starting that conversation; and where New York goes, the rest of the country follows."