Invoking the urgency of establishing an archive for the Black community to document its legacy, the Weeksville Heritage Center hosted 'Archives for Black Lives' on Saturday as part of its Legacy Project. The initiative democratizes this once exclusionary field and empowers community members to create their own archives through photography and sound recordings.
Touting the call-to-action, "Take charge of your own legacy!" the center invited people to bring photographs, record a 10-minute interview and upload the files to Weeksville's community archives on 5thofJuly.org, an online platform named after the day in 1872 when Black New Yorkers first celebrated their emancipation.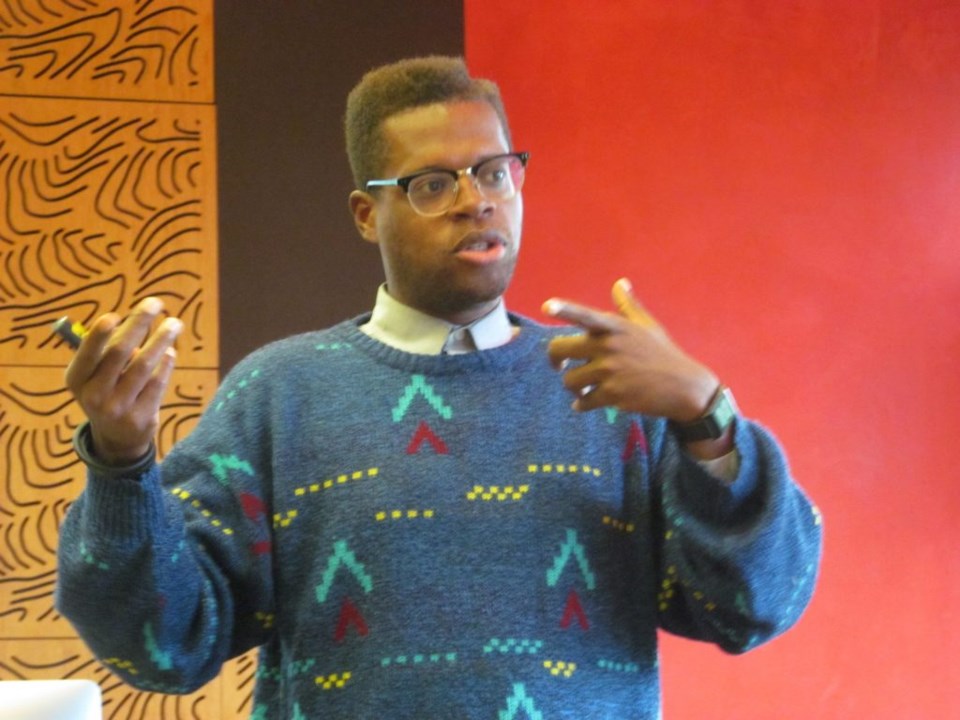 "Communities of color are being displaced and it's really important to document that," said Celeste Â-Re, a recorded sound technician at the National Library of Congress and a Legacy Project consultant. "We need to create solutions to help people resist being pushed out of their communities." An "activist scholar," she sees archiving as a politically-charged undertaking that determines who is included or excluded, which archives are preserved or destroyed.
"If you get rid of the records of a particular group of people, that means you do not value them," agreed Obden Mondésir, oral history project manager at Weeksville Heritage Center.
Mondésir kicked off proceedings with a presentation on the importance of oral history and shared interviewing techniques such as asking open-ended questions and "thinking about the 'third person' in the room so people in the future can use these interviews."
Â-Re led a second workshop showing attendees how to scan photos using smartphones or on one of the center's scanning stations.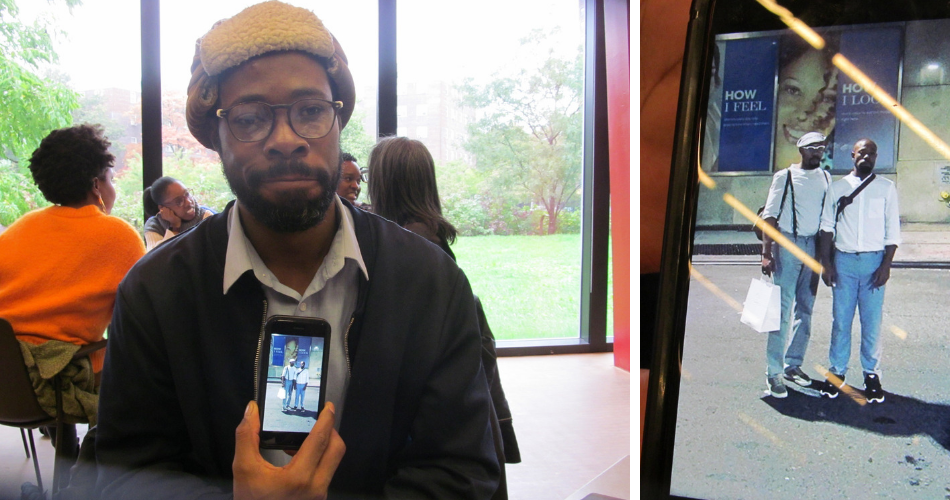 "That's me on the left and that's my husband on the right," said participant Rodney Brown, showing a photo on his iPhone of the two men standing arm in arm in front a storefront, one side bearing an advertisement with the words: How I Look, while the other side reads How I Feel. He loved the dichotomy and insisted on taking a picture.
"How you feel and how you look were sort of two things that were opposite," he explained. "We might look put together on the outside but not so much on the inside."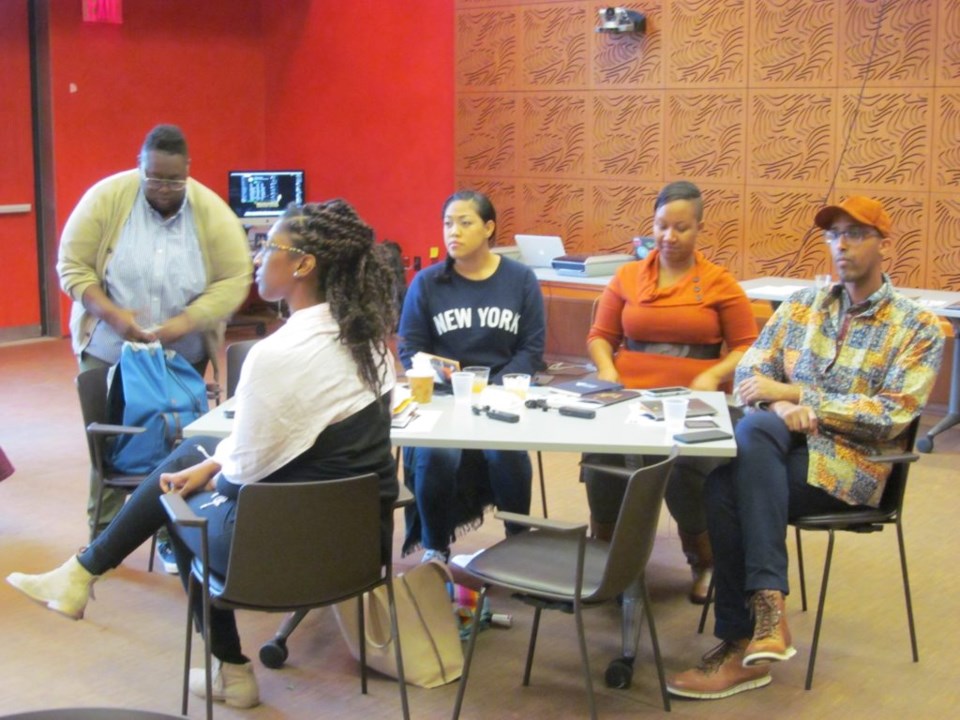 Most people had taken photographs of old Polaroids as a way of archiving family photos. But Paulette Portier, a Bedford Stuyvesant native, brought an entire leatherbound album with black-and-white snaps. One photograph of her mother and grandfather sitting on a sofa in the backyard of her aunt's house in Lake Forest, North Carolina, particularly amused her.
"I never asked about it, but I always thought it was weird that they were sitting outside on that couch like it was lawn furniture." She has about ten more of these albums and is eager to have them digitized for the sake of long-term preservation.
"What will happen to these photos after I'm gone? They can live forever if they're archived." Asked whether she would keep the photos once they'd been digitized, she laughed: "I'll keep the pictures until they disintegrate."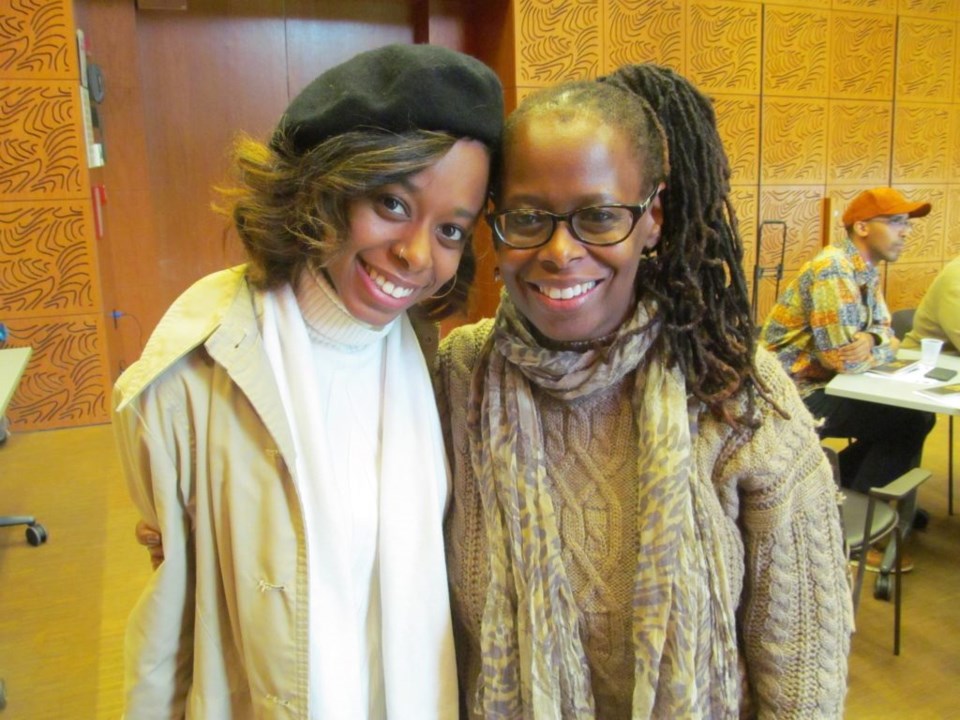 The Legacy Project: Archives for Black Lives, still a pilot project, could spread nationally, said Â-Re. "I would like to see a network develop of cultural heritage workers and memory workers doing research within communities."
Currently, the Weeksville Heritage Center is focused on raising awareness about the importance of oral histories and making the project self-sustaining through its ongoing Public Training Workshop Series.
The next workshop, titled 'Recovering Stories: A Workshop in Active Listening' takes place on Wednesday, November 28, and focuses on the connection between listening and storytelling.