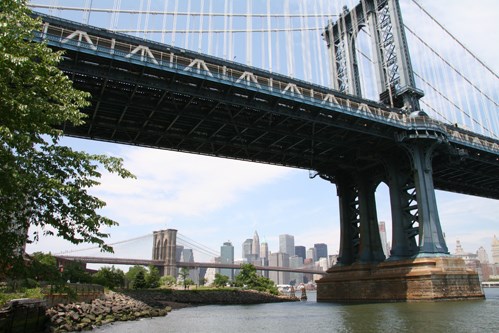 One of four lanes on the Williamsburg Bridge eastbound to Brooklyn will be closed on Saturday from 6 am to 12:30 pm, to facilitate NYCDOT bridge maintenance.
Mulberry Street between Canal Street and Broome Street and Hester Street between Mott Street and Baxter Street will be closed Friday, Saturday and Sunday from 5:30 pm to 9 pm for the Little Italy Pedestrian Mall.
Washington Square East between Waverly Place and West 4th Street will be closedSaturday and Sunday from noon to 6 pm for the Washington Square Outdoor Art Exhibit.
The following locations in Brooklyn will be closed Saturday, Sunday and Monday from noon to 8 pm for the 37th Annual Dance Africa Bazaar:
* Ashland Place between Hanson Place and Fulton Street
* Lafayette Avenue between Flatbush Avenue and Fort Greene Place
* Hanson Place between Ashland Place and St. Felix Street
* Rockwell Place between Lafayette Avenue and Fulton Street
Lexington Avenue between 57th Street and 42nd Street in Manhattan will be closedon Saturday from 11 am to 6 pm for the 17th Precinct Community Council Lexington Avenue Spring Festival.
The following streets in Manhattan will be closed on Sunday:
* Lexington Avenue between 42nd Street and 34th Street will be closed from 11 am to 6 pm for the 13th Precinct Community Council Stuyvesant Park Neighborhood Association Fair.
* Broadway between 72nd Street and 86th Street will be closed from noon to 5 pmfor the 27th Annual Livable West Side Festival.