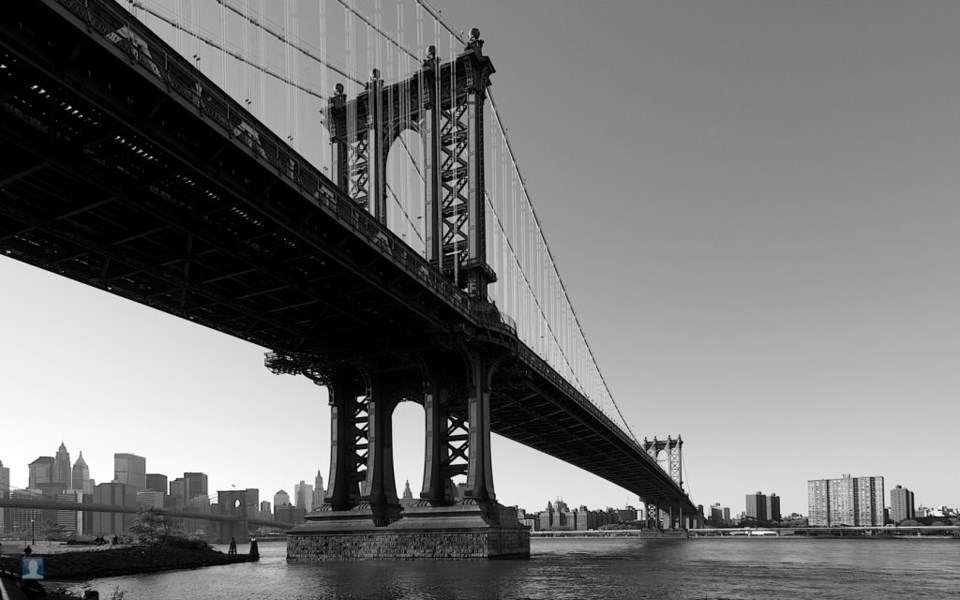 Brooklyn Bridge
Due to the Brooklyn Bridge Ramps Rehabilitation Project, several lane closures may affect motorists travelling between Manhattan and Brooklyn. One of three Brooklyn-bound lanes will generally be closed during weekdays from 6 am to 3 pm in order to facilitate long term bridge construction. Local streets may experience single lane closures as needed and Manhattan-bound lane closures continue overnight throughout the duration of the project. Any other closures, including Manhattan-bound closures that extend into daytime hours during selected weekends, will be highlighted below. Brooklyn-bound traffic will be maintained throughout the project as will the span's pedestrian and cycling path. During Manhattan-bound closures, motorists will be detoured to the nearby Manhattan Bridge or may choose other crossings.
Unless otherwise notified of specific occurrences, nighttime closures are as follows:
Overnight Detours for Manhattan-Bound Traffic
Friday night/Saturday morning Midnight* to 7 am
Monday - Thursday night: 11 pm* to 6 am
* To allow traffic to clear before the reversal begins, the eastbound BQE exit onto the bridge closes 30 minutes earlier, the northbound FDR Drive exits close up to an hour earlier, and other Brooklyn ramps onto the bridge shut down 5-15 minutes earlier.
Manhattan Bridge
There are four lanes from 6 am to 10 am Monday to Friday westbound (Manhattan-bound) of which two are on the north upper roadway (the left lane HOV2+) and two on the lower roadway; two lanes are maintained on the south upper roadway eastbound (Brooklyn bound). Two of three lanes on the lower roadway are closed 10 am to 3 pm Monday to Friday. No trucks are permitted on the North Upper westbound roadway from 5 am to 10 am Monday to Friday. Overnight Monday to Friday from 3 pm to 9:30 pm, there are four lanes eastbound and two lanes westbound. To support Brooklyn Bridge closures, the lower roadway will be Manhattan bound westbound from 9:30 pm to 10 am weekdays. There are four lanes westbound to Manhattan and two lanes eastbound to Brooklyn over the weekend from 9 pm Friday to 10 am Monday. Lane closures occur on off peak hours weekdays, weekends and overnight for maintenance and reconstruction construction activity for NYCDOT bridges as needed basis through January 2014.
Williamsburg Bridge
There are four lanes of traffic in each direction on the bridge. Trucks are allowed on the outer roadways only. A single lane in each direction may be closed off peak hours as needed to facilitate NYCDOT bridge inspection and maintenance work.
Ed Koch/Queensboro Bridge
The North Inner Lower Roadway is Manhattan-bound with access from Queens Plaza North to Second Avenue and East 60th Street. The South Inner Lower roadway is Queens-bound with access from 2nd Avenue to Queens Plaza South. Trucks are allowed on the lower inner roadways only. Trucks are prohibited from the upper and outer roadways. The North Upper Roadway is Manhattan-bound at all times. Access is to East 62nd Street/East 63rd Street in Manhattan from Thomson Avenue, 21st Street at Queens Plaza North, and 11th Street at Queens Plaza South in Queens. The South Upper Roadway is Queens-bound except Monday to Friday from 6 am to 9:30 am when the roadway is reversed and accommodates the Manhattan bound high occupancy vehicle (HOV) lane containing two or more people. Access is to East 58th Street/East 57th Street in Manhattan from Thomson Avenue or 21st Street at 43rd Avenue in Queens. The South Outer Roadway of the lower level is open to passenger cars only with access from westbound 59th Street off of 1st Avenue to Queens Plaza South (except 9 pm-6 am nightly when roadway is closed to traffic). One of two lanes may be closed on the westbound upper level from 12:01 am to 5 am weeknights (as needed) for NYCDOT in-house roadway repairs late March 2014.