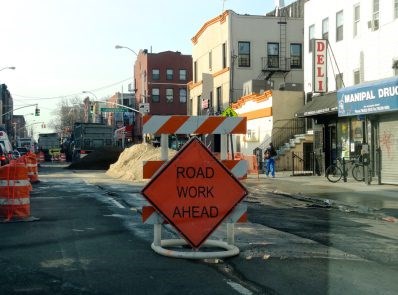 Work Continues on the Nostrand Avenue Project, running from Flushing Avenue to Atlantic Avenue.
After a grueling summer for motorist convinced that the road had been hijacked straight out of a third-world country, pavement finally was laid from Dekalb Avenue to Clifton Place, offering a whopping four-block reprieve.
But there's still six months remaining before the projects planned completion, summer 2014.
Construction goals have included:
Distribution of water main and combined sewer replacement
New pavement, curbs and sidewalks
New catch basins, chute connections, ADA compliant pedestrian ramps, manholes, and fire hydrants
New street lighting and traffic signs
New trees, installation of a bioswale, bus pads and neckdowns
Work Completed/In Progress for September/October 2013: The installation of the water main, curbs/sidewalks/roadway, the SBS Bus bulbs and sewer.
Work Scheduled/In Progress for November/December 2013: The installation of the water main, asphalt roadway pavement and sewer.
For more information and to follow the progress of the reconstruction of Nostrand AVenue (Project ID: HWK1129), visit the New York City Design and Construction website.