Qualifying New Yorkers are still eligible to enroll in affordable health care throughout the year; the city is hosting free GetCoveredNYC enrollment events to assist in the enrollment process.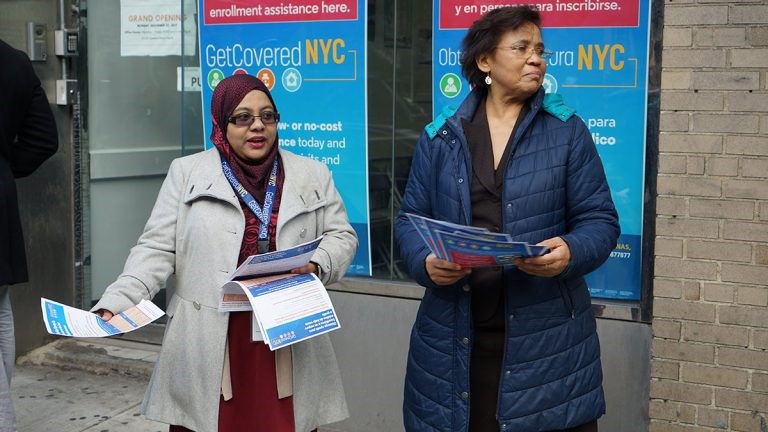 In an effort to bring affordable health care to uninsured New Yorkers, the city's GetCoveredNYC initiative is currently hosting enrollment events all across town - and in Brooklyn - until the end of the month. GetCoveredNYC, the citywide program, provides free live support to help uninsured New Yorkers understand their eligibility and the enrollment process.
"Access to affordable healthcare is a fundamental right," said Mayor de Blasio. "In the face of federal disinvestment and misleading rhetoric, GetCoveredNYC continues to enroll New Yorkers to make that right a reality for all."
At the end of the open enrollment period last January, more than 2,267,000 city residents were insured through the New York State health insurance marketplace established under the Affordable Care Act (ACA), according to observer.com. Since February 2017 through January, GetCoveredNYC enrolled more than 75,600 New Yorkers in new health insurance plans, representing more than 28 percent of enrollments in the city during that period.
Tens of thousands of New Yorkers are still eligible to enroll in health insurance throughout the year. New Yorkers who meet the income requirement for Medicaid or the Essential Plan's low or no-cost health insurance, as well as those with a qualifying life event, can enroll year-round.
GetCoveredNYC is a citywide program that provides free live support to help applicants to understand their eligibility and assists them throughout the enrollment process on more than 40 sites all across the city. Thanks to the initiative, New Yorkers — regardless of income or immigration status — can enroll in low- or no-cost quality insurance through the New York State of Health marketplace.
Brooklynites can attend events at the following Central and East Brooklyn locations to learn more about GetCoveredNYC and to get enrolled:
East New York Diagnostic and Treatment Center | April 14, 21 & 28, 9:00am — 1:00pm | 2094 Pitkin Avenue, Brooklyn, NY 11207
Office of Assemblymember Williams | April 19 & 26, 10:30am - 2:30pm | 5318 Avenue N, Brooklyn, NY 11234
Brooklyn Family Justice Center | April 19, 9:00am — 5:00pm | 350 Jay St, 15th floor, 350 Jay St, Brooklyn, NY 11201
NYC Health + Hospitals/Kings County | April 21, 9:00am - 12:00pm | 451 Clarkson Avenue, Building E, Brooklyn, NY 11203
Office of State Senator Persaud | April 26, 2:00pm — 5:00pm |1222 E 96th Street, Brooklyn, NY 11236
New York City Department of Health and Mental Hygiene — Bushwick | April 21, 9:00am — 1:00pm | 335 Central Avenue, Brooklyn, NY 11221
New Yorkers can also call 311 to speak with a GetCoveredNYC enrollment specialist or text CoveredNYC to 877877 to begin their enrollment.