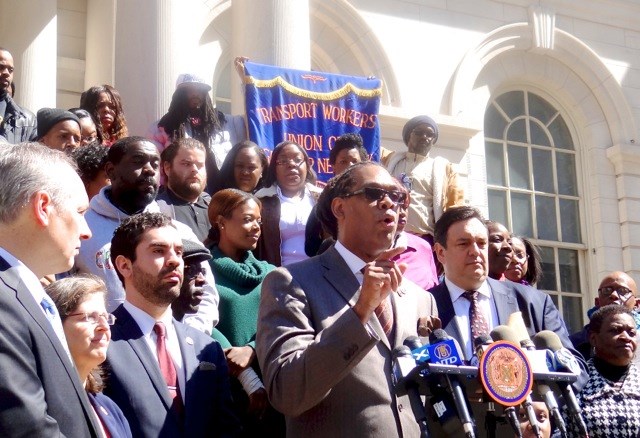 In a rare and refreshing show of solidarity, charter school and UFT advocates stood together on the steps of City Hall with City Councilmember Robert Cornegy on Thursday in support of a new bill Cornegy introduced in March that aims to have alarms installed inside the exit doors of every New York City public school building.
The new legislation, called the Audible Alarms Bill (Intro. 0131-2014), comes on the heels of six incidents within the last year alone where young children have left NYC school buildings without the school's knowledge— specifically the incident surrounding the tragic death of Avonte Oquendo, who went missing last year after he left school unnoticed, as well as Symeir Talley-Jasper, a 4-year-old who resides in Cornegy's district of Bedford-Stuyvant.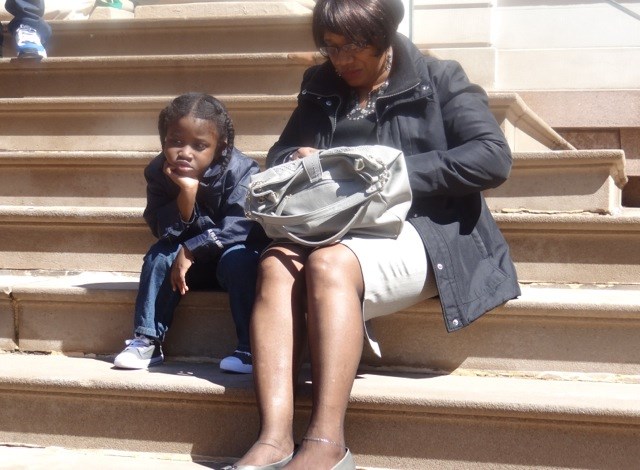 Symeir walked out of his school building unnoticed on January 23. With no coat on and in the dead of winter, the 4-year-old left the school and found his way home. Horrified about what could have happened to their son during his unchaperoned journey and the possibility that other young children might do the same, Symeir's parent's reached out to Councilmember Cornegy and asked for help.
Cornegy responded a month later introducing the Audible Alarms Bill, which would require the Department of Education install audible alarms on the exterior doors of all public school buildings that house elementary-aged children.
Symeir and his parents joined Cornegy at the press conference in support of the bill, along with a representative from the Oquendo family.
"While we're celebrating Universal Pre-K, we're going to have an influx of 4- to 5-year-olds by the thousands who will be entering these school buildings in the fall," said Cornegy. "And we want to make sure that they're safe. Because some of those children have never been a school building before; they're not accustomed to what happens in a school building.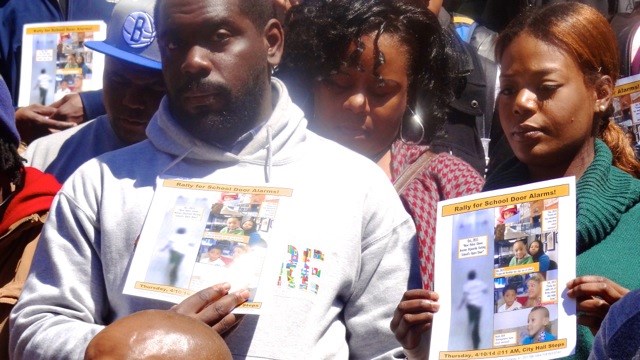 "So we want to make sure that we put the safeguards in place to protect the most vulnerable among us which are the youngest and those with special needs.
"Improved training and procedures are important, but they are not enough," said Cornegy, who expressed concern the DOE would say the alarms were too expensive to install.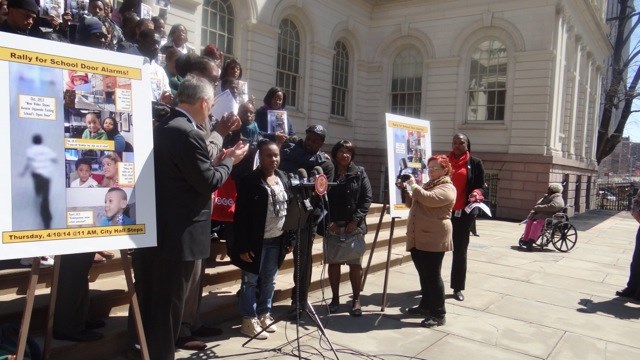 Also in attendance were Assemblywoman Annette Robinson, City Councilmember Carlos Menchaca and members of the Teamsters Union, who represent school safety agents. The Teamsters said the bill will serve as an extra set of eyes and ears— something they said safety agents have needed for a while.
Currently, the bill has 46 sponsors. Cornegy said next, the bill will go to committee, and once approved, up for a final vote.