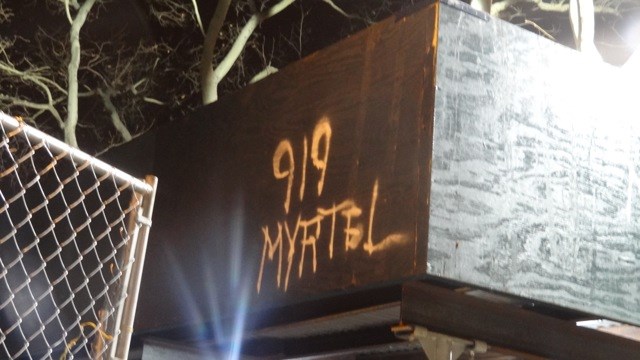 Two NYPD officers were shot dead Saturday afternoon in the Tompkins Houses in Bedford-Stuyvesant, before the suspected gunman turned the gun on himself.
The officers, identified as Wenjian Liu and Rafael Ramos, were sitting in their patrol car outside of 96 Myrtle Avenue, near the intersection of Tompkins Avenue at around 2:15pm when the shooter, identified as Ismaayil Brinsley, 28, ran up to the cops from behind and shot them both in the head. He then ran up Myrtle Avenue into the subway and shot himself.
Liu and Ramos were rushed to Woodhull Hospital where, despite aggressive efforts to save their lives by hospital staff, the officers were pronounced dead.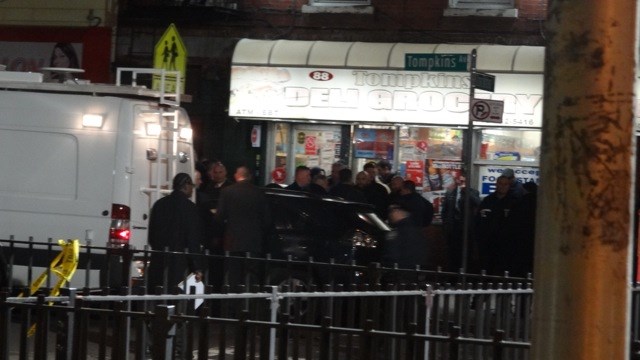 "They were assassinated," said NYC Police Commissioner William Bratton at a press conference at Woodhull Hospital at 8:00pm. "They were targeted for their uniform and for the responsibility they embraced to keep the people of this city safe."
The officers who were killed worked out of the 84th Precinct and were within the confines of the 79th Precinct as part of an anti-terrorism drill.
"We lost two good men who devoted their lives protecting all of us, protecting the city they love," said Mayor Bill de Blasio. "Although we are still learning the details, it's clear that this was an assassination. These officers were shot executions- style.
"Particularly despicable act, which goes at the very heart of our society, our democracy. When a police officer is murdered, it tears at the foundation of our society. It is an attack on all of us; it is an attack on everything we hold dear.
"When they are attacked, it is an attack on the very concept of decency," said de Blasio.
According to one law enforcement source, Brinsley who was from Baltimore, posted a threatening message on his social media account before the shooting, showing a very strong bias against police officers. In a Twitter message he posted before the incident, Brinsley wrote: "I'm putting wings on pigs today. They take one of ours; let's take two of the theirs #shootthepolice #ericgarner #restinpeacemikebrown. This might be my final post." There was an emoji of a gun with bullets coming out of it.
He also faxed a warning flyer to the Baltimore police department regarding his intention. Unfortunately, the flyer was forwarded to the NYPD at the same time that the shooting took place, said officials.
De Blasio emphasized how warning messages on social media, such as the one the shooter posted, serve as as critical opportunities for people to alert the police and potentially avoid any such future incidents.
"If anybody knows [anything], it has to be reported right away so we can protect our officers, protect our entire civilization," said de Blasio.
Brinsley also, allegedly arrived in Bedford-Stuyvesant after shooting and killing his girlfriend in Baltimore.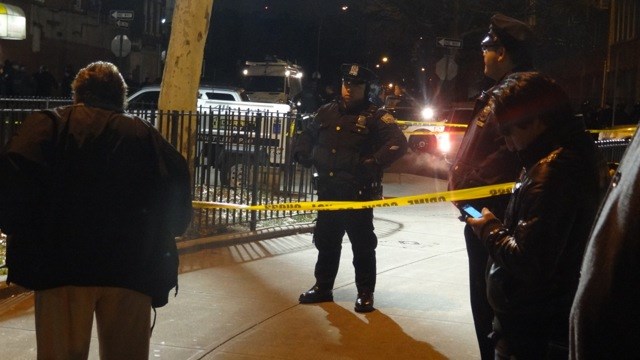 Residents of Tompkins Houses said they are worried the shooting will only escalate the tension between police officers and young black males.
Residents in the neighborhood are in shock and nervous about what this shooting will mean for future police relations.
"When I heard the news, my first thoughts were, 'Oh God, two cops got shot. What's going to happen to the neighborhood?'" said Lafayette Wells, 41, a resident of Tompkins Houses.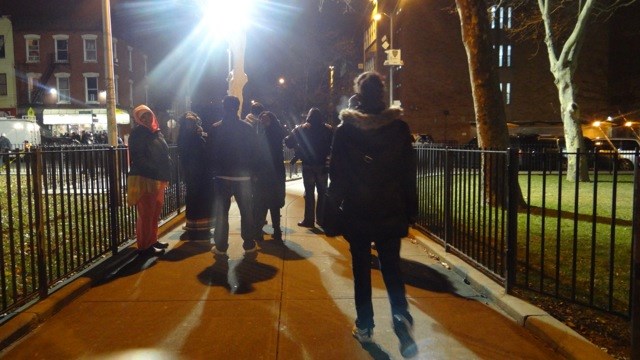 Wells first heard the news as she was leaving the subway station at Myrtle And Willoughby. She said her son, who is 15, called her and told her two cops were just shot and killed near their home.
"I said to myself, I hope [the cops] are okay, because at the end of the day, even though there's a fear of the cops in the neighborhood, I don't believe all cops are bad. I really don't," said Wells.
"I just hope the cops don't take this out on us now, because this guy wasn't even from here," said a young male resident. "This was not us. This was not us... And honestly, I think the guy was crazy, because supposedly he ended up killing himself."
Nirmele Vidal, 40, said her 15-year-old son has been afraid of the cops since he was around 12 years old.
"My son is afraid of the cops, I see it," said Vidal. "I'm not saying it makes it okay to shoot cops, that's not what I'm saying. But he's been afraid of the cops since he was 12. They make you feel that way by the way they walk up to you. They've stopped my son and harassed him a few times for walking through the park at night on his way back from church."
Wells said she's worried about what will happen next:
"In an ideal world, our kids wouldn't be profiled. In an ideal world, everybody would love the cops. In an ideal world, all the cops would respect our neighborhood," said Wells. "Everybody in the neighborhood is not against cops. And nobody's out to get them. We're just upset about how we're being treated."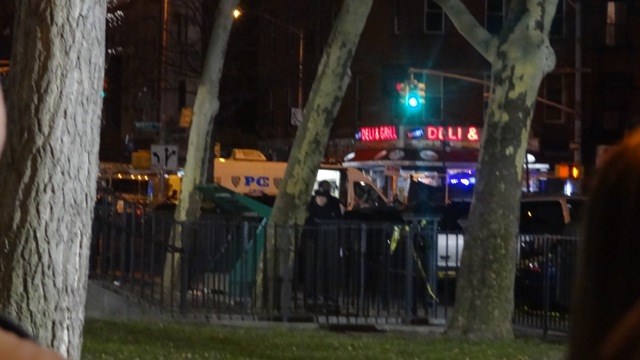 Although the incident appears to be a "lone wolf" attack and the shooter took his own life, the mayor said the police department will be "vigilant for any information about anyone else who might be involved."
"This is a time of great emotion and great passion. So please bare with us as we try to bring some sense to the madness that occurred in Brooklyn," said Bratton at the press conference.
Hours after the incident, the streets remained full of residents who were standing around in the cold, shaking their heads, clearly unsettled about what entire thing would mean, moving forward. "I don't know, it just makes me nervous," said Wells. "My nerves are shot right now, just thinking about it."
However, De Blasio pointed out at the conference, now is the time to think about the families and not personal feelings or politics: "It's the time for us to think about how to support these families," said de Blasio.