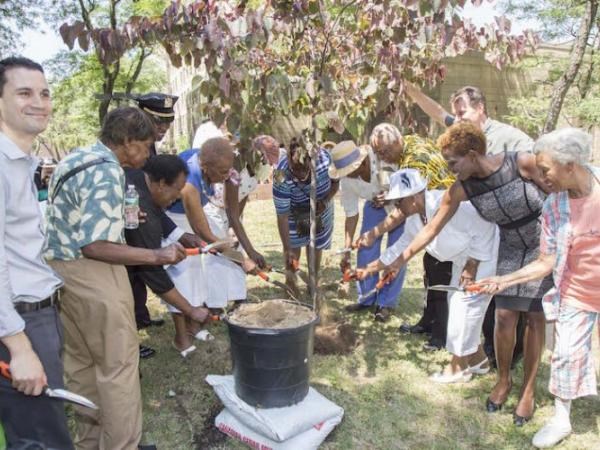 This past spring Susannah "Miss Susie" Mushatt Jones celebrated her 116th birthday, holding strong to the world record for the oldest living person as well as the record for being the last living American that was born in the 19th century. According to a recent article, she boasted a daily regimen that included a good nights sleep, a few strips of bacon and a lot of love.
On May 12, 2016 Miss Susie died in her sleep, leaving behind a legacy that is still recognized today. In continuing that memory, East New York-area elected officials, New York City Housing Authority (NYCHA) Chair and CEO Shola Olatoye, came together to plant a tree on the grounds of the city's public Vandalia Senior Center in her honor.
In her younger years, Miss Susie worked as a housekeeper and often was employed as a nanny for various families. Through her years of hard work and dedication, she was able to help send her nieces to college and even funded The Calhoun Club, a college scholarship for African-American students. During her life, she received tributes from the United States House of Representatives and from the Alabama House of Representatives "for a remarkable lifetime of exceptional achievement lived during three centuries."
Brooklyn Borough President Adams took time to comment on the celebration of Miss Susie, explaining that "In her 116 years, Miss Susie lived a chronicle of American history, from her birth in 1899 to tenant farmers in Jim Crow-era Alabama to voting for the first black president of the United States, twice," Adams said.
Just two months away from her 117th birthday, Miss Susie's death was felt by many who regarded her as an authority on living a good life. Over the years as interviewers came and went, they all took note of a sign in her kitchen that read "Bacon makes everything better," while discussing her accomplishments over the years.