Which is the greenest block in all of Kings County? That question was laid to rest on Thursday when the Brooklyn Botanic Garden named the residents of Lincoln Place between Nostrand and New York Avenues as the winners of the 2019 Greenest Block in Brooklyn Contest.
The block's horticultural efforts were led by the block association Preserving Lincoln's Abundant and Natural Treasures. Althea Jones, a member of P.L.A.N.T.S, said the resident are on "cloud nine about winning."
"Two words that come to mind about the experience of working with our neighbors to become the 2019 Greenest Block in Brooklyn are 'plants' and 'people,'" said Jones. "We did not know how much these two could go hand in hand—we planted plants and flowers but harvested beautiful friendships with beautiful people."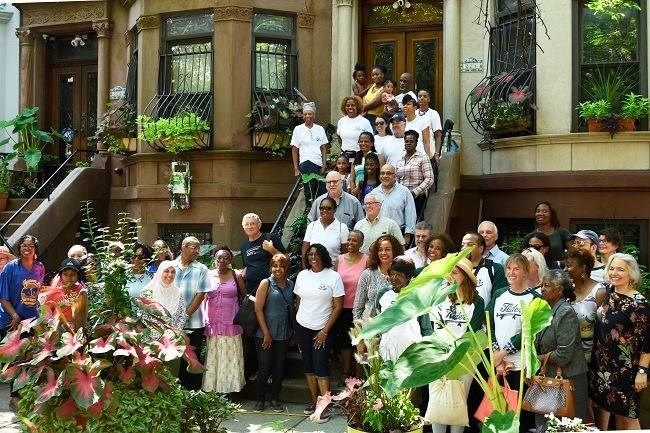 Now in its 25th year, the contest calls on Brooklynites to collaborate in greening efforts and to pass along horticultural knowledge among neighboring communities as well as to the next generation. The contest not only promotes streetscape greening, it supports communities in coming together to address issues unique to living in a densely populated urban environment: greening in limited streetscape spaces, street tree care, use of smart, sustainable horticultural practices and water conservation.
"We honor Greenest Block veterans and new participants for their continuous efforts to make their blocks and neighborhoods healthier and more connected, walkable and resilient," said Scot Medbury, president of Brooklyn Botanic Garden. "The remarkable Greenest Block entries this year are evidence of sustained commitment to horticultural best practices and community involvement."
From mid-June throughout July, Brooklyn Botanic Garden's horticulturists visited the competing blocks to judge them on a variety of criteria ranging from vibrant use of color and greening effort to resident involvement, plant sustainability, soil and mulch maintenance, street tree bed care and most efficient gardening practices. In addition to finding Brooklyn's greenest block, the judges were also tasked with determining the winners of other categories such as Best Community Garden Streetscape, Best Window Box, Best Street Tree Beds and Greenest Storefront.
"Congratulations to Preserving Lincoln's Abundant Natural Treasures on being named this year's Greenest Block," said Brooklyn Borough President Eric Adams. "When communities come together to beautify their streets and improve their environment, it brings our borough closer together as One Brooklyn. By working together, we are planting solid roots that will produce healthy communities and families."
To see a complete list of all 2019 winners, go here.