Lisa Fernandes was six months old the first time she tried dim sum. By kindergarten, she was munching on fiddleheads and Mongolian beef. Before Fernandes even hit puberty, she was a young foodie with an adventurous palate.
And so in 2000, at age 20, after graduating from Johnson & Wales University, it made perfect sense she would set out to do two things: cook and eat good food!
For seven years, Fernandes worked as a chef at some of NYC's top eateries, including Asia de Cuba, Rain and the Michelin-starred Public, before gaining the attention of a few head chefs who recommended her for the wildly popular television cooking show Top Chef. Her talent was her flare for taking traditional cuisines and adding her own original twist to create a flavor profile that is both distinct and delicious.
"Chef Lisa" finished as a runner-up in the fourth season of Top Chef in 2008: "But that was a looong time ago," she says, laughing. "I had a lot more hair and a lot less belly."
She's slow to say the show so much propelled her career as it did prep her to compete in a restaurant industry that can be at once highly competitive, fast-moving and short-lived.
"I think, more than anything, what I learned from that experience was how to cook on my feet very quickly … just come up with something out of nowhere," said Fernandes, "like 'Hey go make a special,' and I just bang out a dish. I became even more creative and very quick on my feet."
Over the next ten years, she was caught in a whirlwind of more challenges, from working in a restaurant group on the corporate side, to serving as the executive chef for the midtown Manhattan Dos Caminos, a 550-seat restaurant and where she met her business partner Sean Flaharty.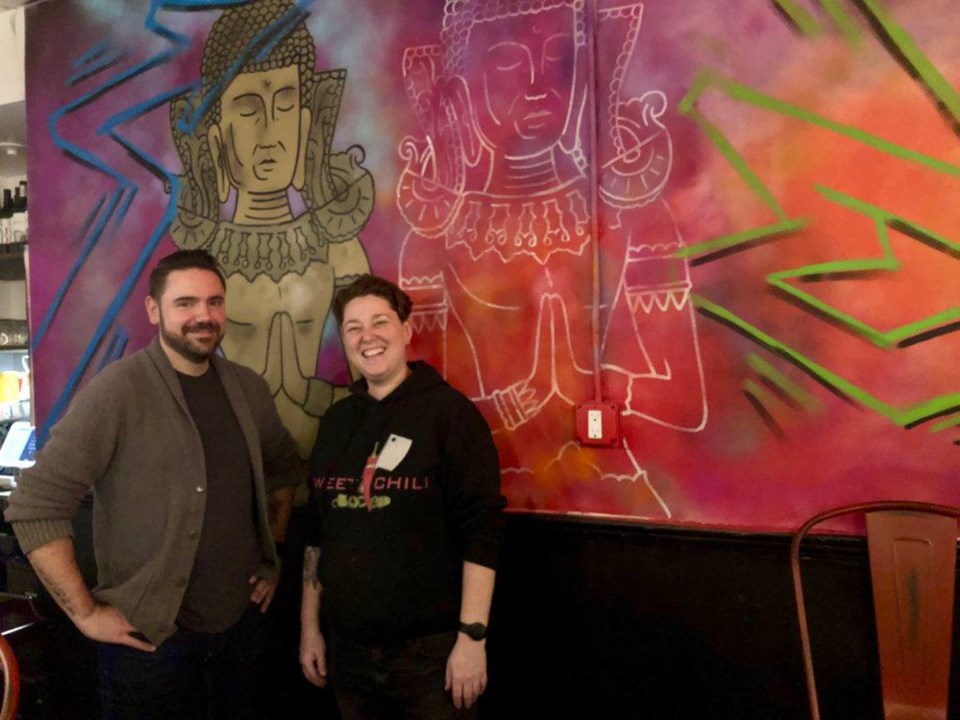 Her ability to successfully marry opposing flavors and acidities (like how peanut butter complements jelly) was evident. She became a skilled conductor of flavor melodies, creating a chorus of tastes that sounds like it might even be humming Handel's "Messiah." That talent eventually led her to opening a "Thaietnamese" food truck, Sweet Chili, which she ran for five years, building a cult following of other flavor foodies and eventually landing her where she is today: in Bushwick, as head chef and co-owner of the Sweet Chili brick and mortar location, which opened on November 15.
Located at 1045 Flushing Avenue-- off a bustling little corridor trademark of Bushwick's gritty-yet-gentrified identity-- Sweet Chili is poised to become the new, go-to spot for fine Asian dining at damn-near diner prices. The menu is divided into small, medium and large bites and sides. So your chance of finding a dish that matches either your adventure, mood or pocketbook is greatly increased.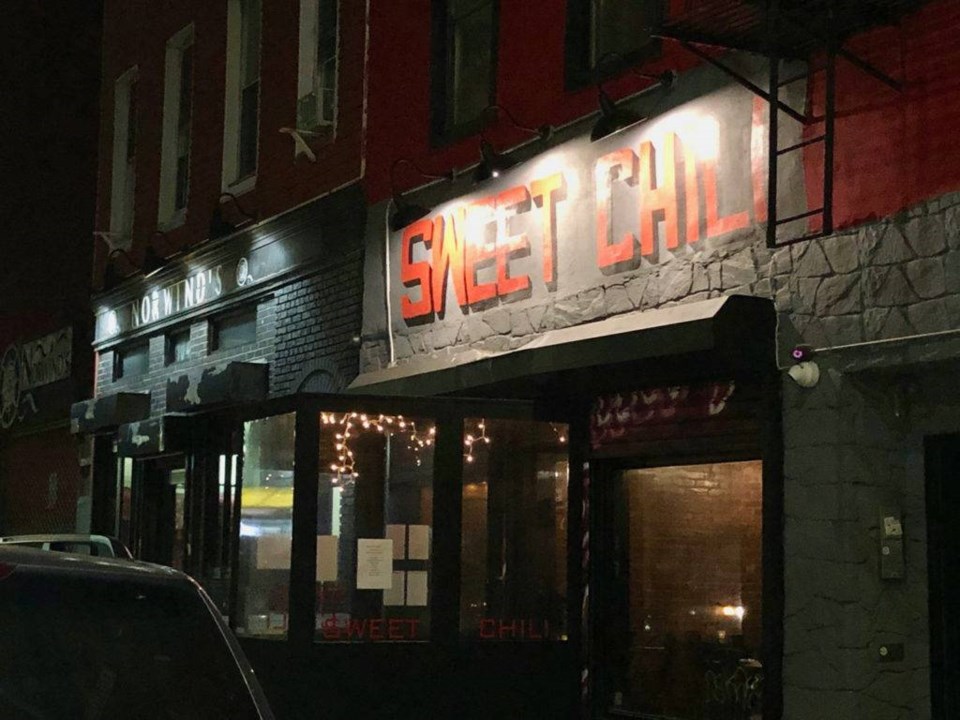 Take the spicy bacon & peanut caramel bites, for example, for $7; or the maple miso tofu, pickled chili and Japanese eggplant for $11; or the yellow curry fried rice-pineapple, Chinese sausage for $13. These same creative items on a Manhattan menu would sell for more than twice the price.
For $19, there's the coriander marinated New York strip steak with a green papaya salad over peanut butter mashed potatoes.
Wait, what? Peanut butter mashed potatoes?
"Yeah, it throws people for a second," says Fernandes. "What I did was deconstructed a traditional Thai dish of coriander beef jerky, sticky rice and green papaya salad; I removed the sticky rice and put it back together in my own way.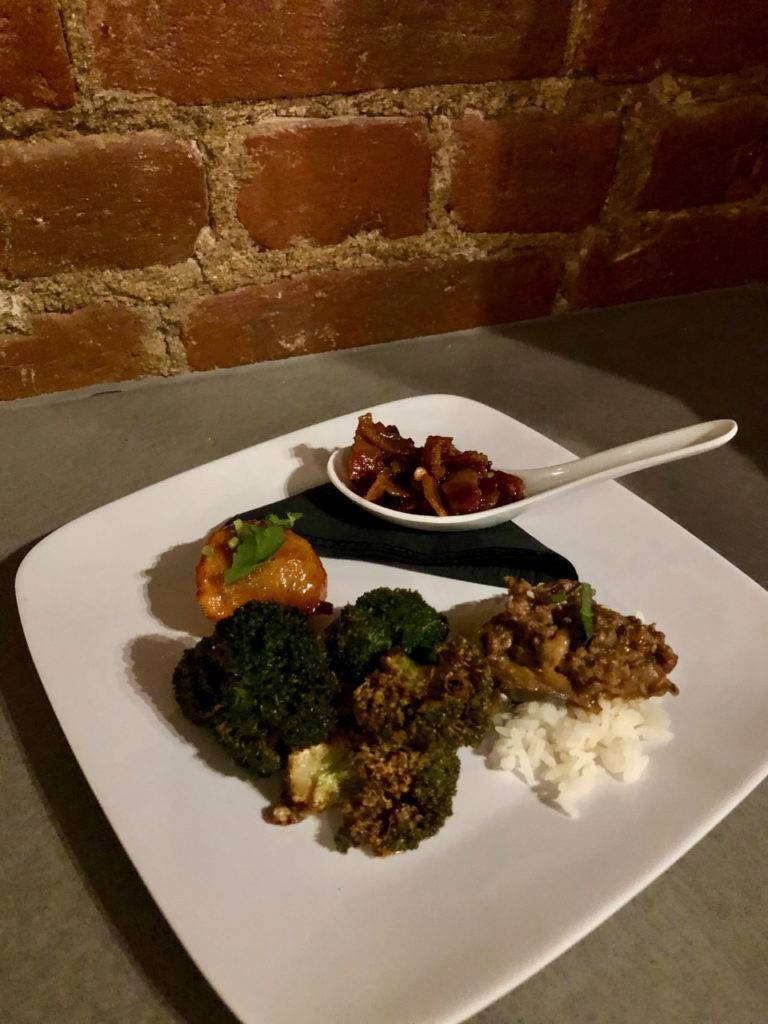 "But that's how I like to cook. I like to take traditional flavors and traditional dishes and then do what I want to do with them. I'm not a Thai chef. I'm not a Vietnamese chef. I do me. And this is me: these flavors, the sweet/salty/spicy/sour."
However, everyone's taste and tolerance for food adventure differs. And the menu respects that, with not only a list of fancy favorites but also a few familiars. But also take note: Get ready to stretch a bit more than you are probably used to with Sweet Chili's cocktails, which also mimic the sweet/salty/spicy/sour profile.
Take the Liquid Pad Thai, for example. It's a savory drink made with peanut butter whiskey and tamarind (peanut butter and jelly again), orange bitters and basil, with a splash of Sriracha! The drink finishes with a clean and delicious kick.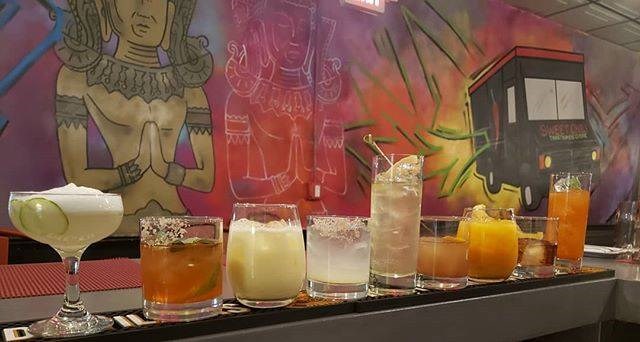 There's also the Pho Mo which pretty much tastes like Beef Pho, made with tequila, Sriracha, Thai basil, agave, lime and a smoked salt that mimics a unique beef flavor. Another popular drink, the Painkiller, is a creamy cocktail made with plantation dark rum, coconut, pineapple, egg and lime. With all of the drinks, you can expect layers, textures and "nice touches," such as the homemade salted coconut rim that frames the Tom Kha Margarita, a Chef Lisa original.
"I tried to make the drinks the way we do food, so that you go through the different experiences on your taste buds," Fernandes said. "Our painkiller has a whole egg that is shaken dry so that it gets foamy and essentially almost doubles in size. It's like a cocktail cloud. I just love the way the texture changes it. It's velvety and adds a richness to it. It might be a little excessive. But I like to play with food, I like to play with drinks, and I get how flavors work."
All of the cocktails are between $10 - $12. And they do not skimp on the alcohol. Not long after you've successfully parsed out the individual layers of flavors in your drink, the alcohol begins to do what it does.
"I don't drink to get drunk; I drink to enjoy the flavor," said Fernandes. "But I also want to make it so that you don't feel like you've wasted your money… We want affordable but amazing."
Get your time in now at Sweet Chili while it's still newly opened, still intimate and still one of Bushwick's best-kept secrets. There's a bar and a happy hour and an amazing brunch.
By the summer, the word surely will be out about that yummy Asian fusion restaurant on Flushing with the Liquid Pad Thai cocktails and the hearty Tom Kha.
It will be packed with all of the gentrifiers complaining about all the gentrifiers who are crowding out their favorite underground eatery they discovered first.