There's activated charcoal, fig leaves, dried thyme and stainless steel on Greenpoint resident Alli Gelles' Instagram-famous cakes.
The cakes, which Gelles described as "maximalist, chaotic and a renaissance-version of grotesque," recently trailblazed a new baking trend that favors excess giddiness over buttoned-up precision and it has caught the attention of Gelles' 20,000+ Instagram followers.
On her Instagram, aptly titled Cakes4Sport, some of Gelles' latest flavor notes include coconut sponge, earl grey buttercream and maple miso, with wry cake titles like 'Health Snacks' and 'Proverbial Circus.' Each cake, she said, takes 10-12 hours to make, over the course of several days.
Gelles finds the inspiration for her ingredients from the wide variety of unique, culturally-specific Brooklyn supermarkets and bodegas.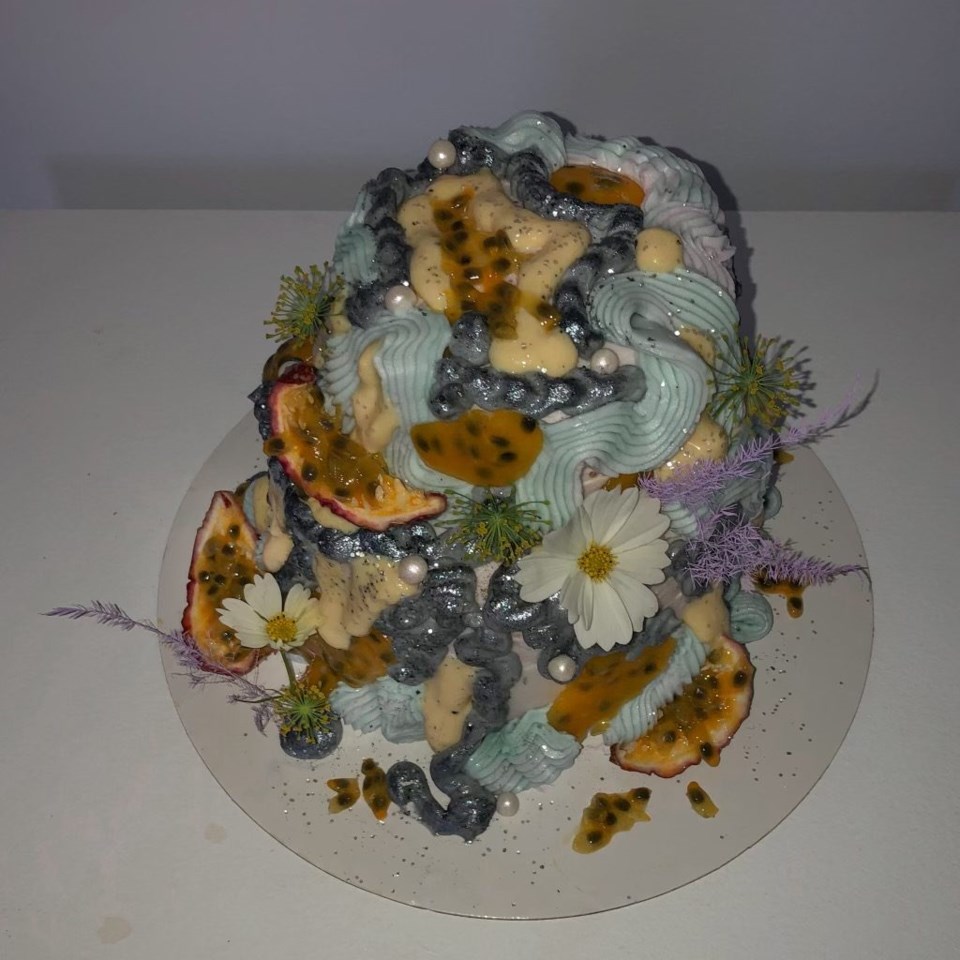 "In almost every store in Brooklyn, you can find something that you haven't seen before," Gelles said.
"You can find such an array of ingredients from neighborhood to neighborhood which is really cool. Like, for example, living in Greenpoint there are a lot of Polish ingredients, like rosehip jam, which I noticed last time. I'll be using that next."
These on-trend cakes are somehow both nostalgic and futuristic, with flavors and textures that recall childhood memories (think: slime, frilly socks, pop rocks, wildflowers) and a post-modern presentation that gives the cake an extravagant, hyper-original internet-age glitchiness.
For Gelles, both her aesthetic inspiration and love of baking come from her family, with her grandma and mom being her biggest tutors.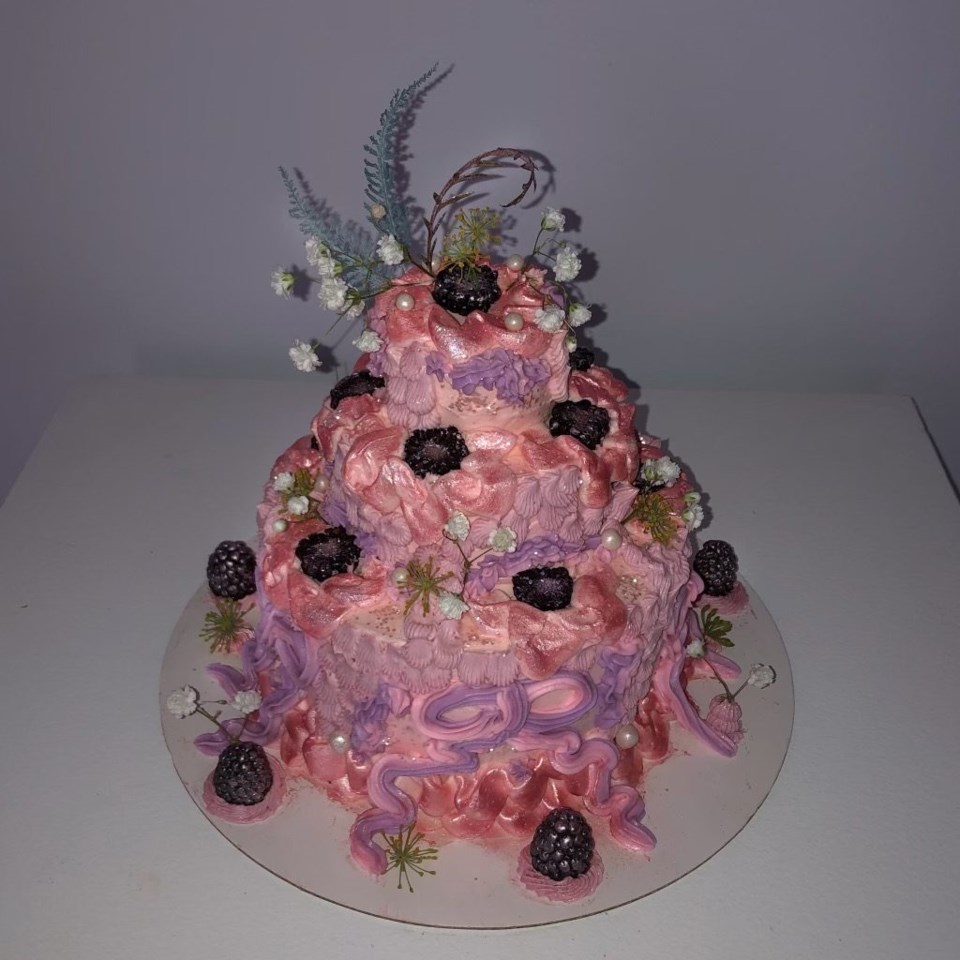 "When making cakes, I lean into what I'm using: I think about how the materials move and how to highlight their different properties. A lot of my visual inspiration comes from my y2k childhood and certain tactile memories, like my grandmother's sewing trimmings."
Gelles, who is also a ceramicist, pivoted to baking when she got fed up with the permanent landfill waste and energy use pottery requires. "With ceramics, I came to a point where I was just really frustrated with it," Gelles said. "It's not a very sustainable practice due to the power that a kiln takes and the fact that glazed ceramics don't decompose. Sustainability was important to me."
Besides sustainability, the accessibility of baking drew Gelles in.
"It starts with basic ingredients, an oven and a pan," Gelles said. "So it feels very approachable and attainable."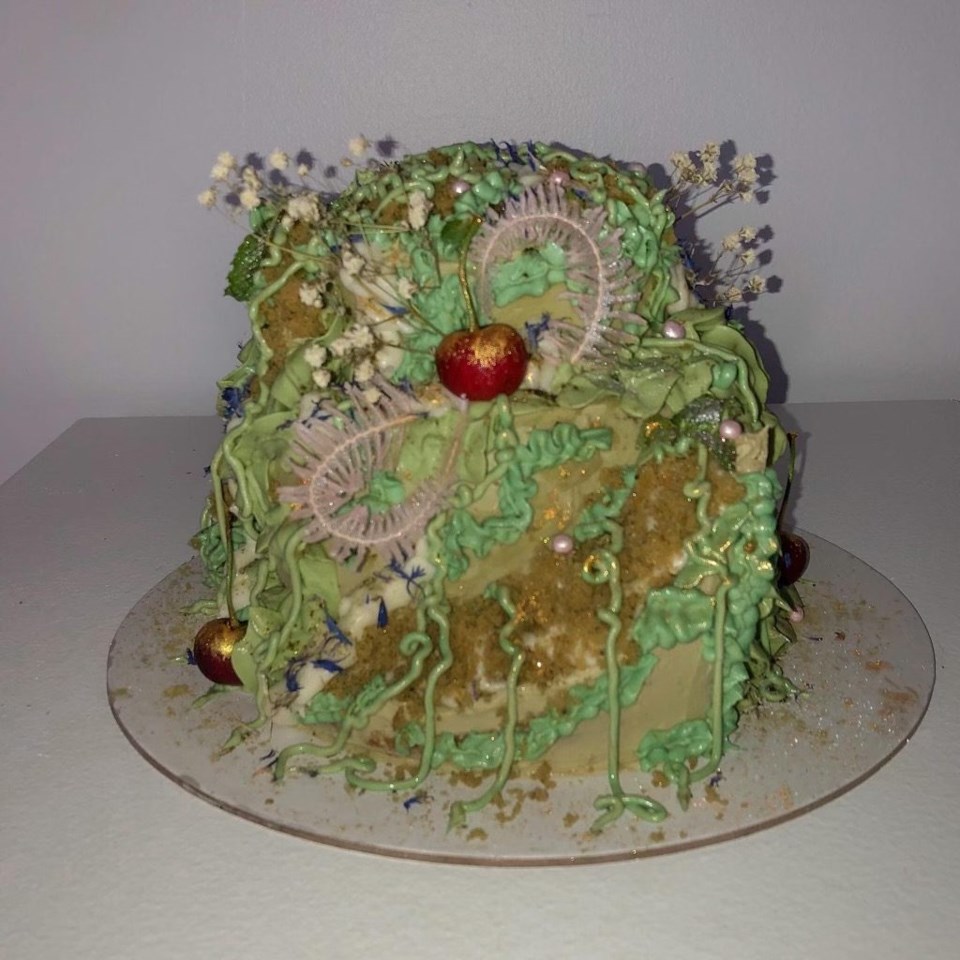 When not baking, Gelles works full time for Brooklyn-based ceramic artist Stephanie Shih, who specializes in whimsical recreations of popular grocery foods of the Asian diaspora, like spam or condensed milk.
Gelles said though she sells most of her cakes, she considers them part of her art practice rather than her business, which includes fabrication projects and production for other artists.
"I see cake-making as something I do in tandem with my other work," she said. "Something that's been particularly interesting is the concept of ephemeral art, which is anything that is fleeting and does not have a lasting physical impact. I'm finding value in that and analyzing the existing value systems we have for art."
Gelles exclusively sells her delightfully over-the-top cakes on her Instagram, starting at $150.
So far, she's made more than 70 creative confections. However, due to the holiday rush, she is not taking commissions at the moment.