Overall, crime is up in Bushwick, and in Brooklyn as a whole.
There has been a 88% increase in crime reported to Bushwick's 83rd Precinct during the week March 14 to 20, compared to the same period last year.
There have been 32 incidents reported, including rape, robbery, felony assault, burglary, grand larceny and grand larceny auto.
During the same period last year, there were 17 incidents reported, including nine incidents of grand larceny.
There has been one murder and eight rapes reported this year in the neighborhood, compared with no murders and six rapes reported by the same date in 2021.
Looking at the 28-day cycle, there has been a 16.8% increase in incident reports this year on last.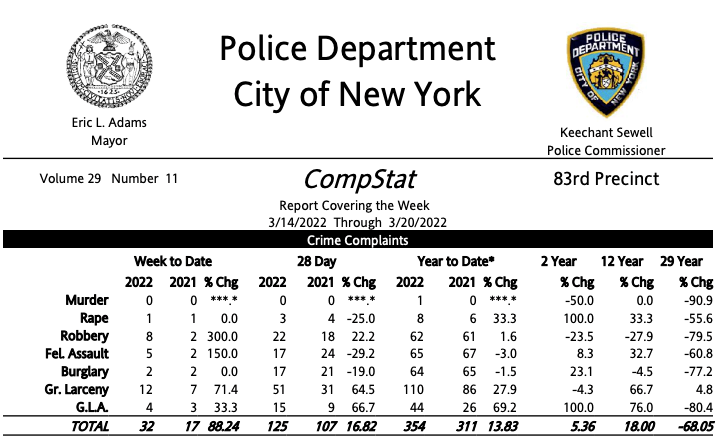 The most common incident reported over the week-long period was grand larceny, with 12 reports of the crime. That is one more than the number of incidents reported during the same period last year.
On March 24, the 83rd Precinct tweeted the photo of a broken-down car that was taking up a parking space on Dekalb Ave. warning car owners that derelict vehicles would be towed for taking up public parking spots.
Across Brooklyn:
Across the borough, there have been 596 incidents reported between March 14 and 20, according to NYPD's CompStat, compared to 449 during the same period last year. There was one murder and four rapes reported in Brooklyn North and one murder and three rapes reported in Brooklyn South. Across Brooklyn, there were 90 robberies and 111 felony assaults.
In the headlines:
The owner of  a Nassau County construction company has been charged with manslaughter after a wall he built in Bushwick collapsed on a 5-year-old girl and killed her, Brooklyn District Attorney Eric Gonzalez announced. Nadeem Anwar, 46, of Valley Stream and his company, City Wide Construction and Renovations, Inc., also of Valley Stream are facing an indictment in which they are charged with second-degree manslaughter, criminally negligent homicide, second-degree reckless endangerment, first-degree offering a false instrument for filing, and second-degree falsifying business records. The charges come after Alysson Pinto-Chaumana, 5, was killed when an outdoor wall at 444 Harman St. collapsed one her on August 29, 2019.
Gangs of marauding teens have stormed six NYC pharmacies over the past month and made off with a stash of prescription drugs — and police sources say the heists may all be linked. The teens have raided five Duane Reade outlets in Manhattan and one Brooklyn pharmacy since Feb. 28, jumping the counters, snatching codeine and other prescription narcotics before running off, according to law enforcement sources. The loot has included oxycodone and promethazine, an antihistamine that contains codeine, the sources said. In the most recent grab-and-run heists, the brazen thieves struck two Duane Reade pharmacies on Wednesday — just 12 minutes and 2 miles apart, law enforcement sources said.
Police are looking for a light gray Infiniti driver in connection with what appears to be a deadly case of road rage in Brooklyn, authorities said Thursday. Authorities discovered the victim, 30-year-old Jose Flores of Brooklyn, dead in his car on Tapscott Street with a gunshot wound to his torso shortly before dawn on Sunday, March 13. An investigation revealed Flores had been in a collision with a light gray Infiniti at the corner of Tapscott Street and Blake Avenue and the two drivers started arguing, police said. The Infiniti driver allegedly flashed a gun, at which point Flores drove off, in fear of his life. Police say the Infiniti driver followed him.
A man tried to kidnap a 13-year-old in broad daylight on the streets of East New York earlier this week, according to police. The teenage girl was pushing a laundry cart down Pitkin Avenue near Ashford Street around 2:20 p.m. on Sunday when a dark-colored SUV began following her, according to police. Soon, the car pulled over and a man jumped out and ran after the girl, according to police and video. The man grabbed at the teen's laundry cart and tried to persuade her to come with him multiple times before the teen was able to escape, police said.