Overall, crime is up in Bushwick, and in Brooklyn as a whole.
There has been a 50% increase in crime reported to Bushwick's 83rd Precinct during the week Jan. 17 to 23, compared to the same period last year.
There have been 30 incidents reported, including rape, robbery, felony assault, burglary, grand larceny and grand larceny auto.
During the same period last year, there were 20 incidents reported, including nine incidents of grand larceny.
There has been one murder and two rapes reported this year in the neighborhood, compared with no murders and two rapes reported by the same date in 2020.
Looking at the 28-day cycle, there has been a 14.9% decrease in incident reports this year on last.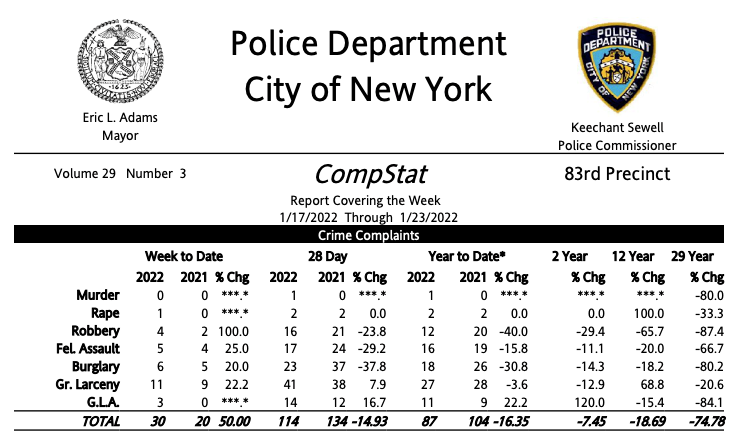 The most common incident reported over the week-long period was grand larceny, with 11 reports of the crime. That is two less than the number of incidents reported during the same period last year.
On Jan. 21 the 83rd Precinct tweeted the photo of a man wanted in connection with a robbery on Palmetto St. in Bushwick. The police are asking the public for help identifying the man, and offering a $3,500 reward for information.
Across Brooklyn:
Across the borough, there have been 616 incidents reported between Jan. 17 and Jan. 23, according to NYPD's CompStat. There was one murder and five rapes reported in Brooklyn North and three rapes reported in Brooklyn South. Across Brooklyn, there were 90 robberies and 128 felony assaults.
In the headlines:
The second NYPD officer shot in Harlem last Friday passed away Wednesday. "Wilbert is 3 times a hero," Commissioner Sewell wrote on social media. "For choosing a life of service. For sacrificing his life to protect others. For giving life even in death through organ donation. Our heads are bowed & our hearts are heavy." Officer Wilbert Mora, 27, was taken off life support at NYU Langone hospital in Manhattan, Jan. 25. Mora underwent two surgeries after he was shot in the head and a bullet lodged in his brain, authorities said.
A woman was sucker-punched in the face and became the victim of a hate crime while walking down a street in Brooklyn. It happened last week by 360 Classon Avenue in Clinton Hill, Brooklyn. Hoa Nguyen has lived in this country for 40 years. She is not unfamiliar with hate, but this was the first time that hate became violent. The 67-year-old grandmother says she was a block away from home during her weekly routine to go to the grocery store for a senior discount when she was attacked and punched repeatedly in the head and neck.
An attacker punched a 21-year-old man in the nose in what police are investigating as a possible hate crime, officials said Sunday. The victim, who was dressed in traditional Hassidic clothing, was walking near Troy Avenue and Carroll Street early on Saturday when another man crossed the street and attacked. Police said the victim was treated at the scene for his injury. No arrests have been made. The NYPD's Hate Crimes Unit launched an investigation into the assault. They asked for help identifying the attacker.
Plain clothes NYPD officers could be coming back to a number of Brooklyn precincts in just three weeks as part of Mayor Eric Adams revival of the controversial "anti-crime" unit, one part of his efforts to tackle gun violence. Adams announced Monday as part of his "Blueprint to End Gun Violence" that the officers would be concentrated in the 30 precincts where 80% of violence occurs, and police sources told Brooklyn Paper those precincts would likely include the 67th precinct in East Flatbush, the 73rd in Brownsville, the 75th in East New York, the 77th in Crown Heights and the 79th in Bedford-Stuyvesant. According to a police memo obtained by the New York Post, officers will also be stationed in the 69th precinct in Canarsie, the 71st precinct in PLG and southern Crown Heights, the 81st precinct in Bed-Stuy, and the 83rd precinct in Bushwick, and at a number of Brooklyn's NYCHA developments. Adams did not confirm which precincts the officers will be deployed in.