Overall, crime is down in Bushwick and in Brooklyn as a whole.
There has been a 28% decrease in crime reported to Bushwick's' 83rd Precinct during the week July 26 to August 1, compared to the same period last year.
There have been 28 incidents reported, including robbery, felony assault, burglary, grand larceny and grand larceny auto.
During the same period last year, there were 39 incidents reported, including 10 felony assaults burglaries and 15 incidents of grand larceny.
There has been five murders and 20 rapes reported this year in the neighborhood, compared with three murders and 12 rapes reported by the same date in 2020.
Looking at the 28-day cycle, there has been a 10% increase in incident reports this year on last.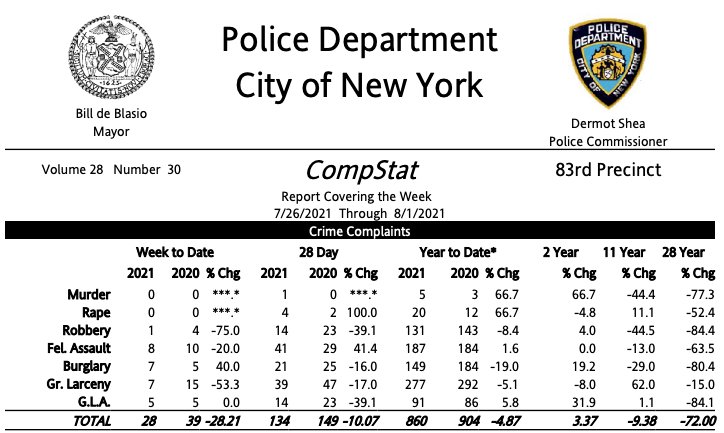 The most common incident reported over the week-long period was felony assault, with eight reports of the crime. That is two less reported incidents than the same period last year.
On August 1, the 83rd Precinct tweeted a photo of individuals wanted for stealing an electric scooter on Cedar St. Officers are calling on the public for information.
Across Brooklyn:
Across the borough, there have been 559 incidents reported between July 26 to August 1 according to NYPD's CompStat, including one murder in both Brooklyn South and Brooklyn North. There were seven reported rapes across Brooklyn, 67 robberies and 128 felony assaults.
In the headlines:
A day after he was freed without bail on drug-dealing charges, a Queens man stomped a mugging victim into unconsciousness in a caught-on-video Brooklyn robbery, authorities said. Zemori Gibbons, 21, was charged Thursday in the brutal mugging at 9 a.m. July 24, which put the 68-year-old victim in the hospital with a broken nose and wrist.
The New York attorney general's investigation into sexual harassment allegations against Democratic Gov. Andrew Cuomo found that Cuomo sexually harassed multiple women, Attorney General Letitia James announced Tuesday. The office found that Cuomo harassed current and former state employees, as well as a number of women outside of state government, James said, as the office released a lengthy report on the investigation.
A shocking attack late Saturday night in Queens saw two men stride up to a crowd outside a barbershop open fire, wounding 10 people before fleeing on mopeds, police say. According to the NYPD, the shots rang out in the North Corona neighborhood at around 10:40 p.m.
Three men were targeted in an anti-gay hate crime attack in Brooklyn in May, and police were still searching for the suspects on Monday, according to the NYPD. Police released surveillance images on Monday of two men in connection with the unprovoked attack, which took place on Myrtle Avenue in Bedford-Stuyvesant on May 2.