Overall, crime is up in Brownsville, and in Brooklyn as a whole.
There has been an 88.9% increase in crime reported to Brownsville's 73rd Precinct during the week Jan. 31 to Feb. 6, compared to the same period last year.
There have been 34 incidents reported, including one rape, five robberies and nine felony assualts. During the same two-week period last year, there were 18 incidents reported.
There have been no murders, but three rapes reported this year in the neighborhood, compared to one murder and sevens rapes by this time last year.
Looking at the 28-day cycle, there has been a 56.7% increase in incident reports this year on last.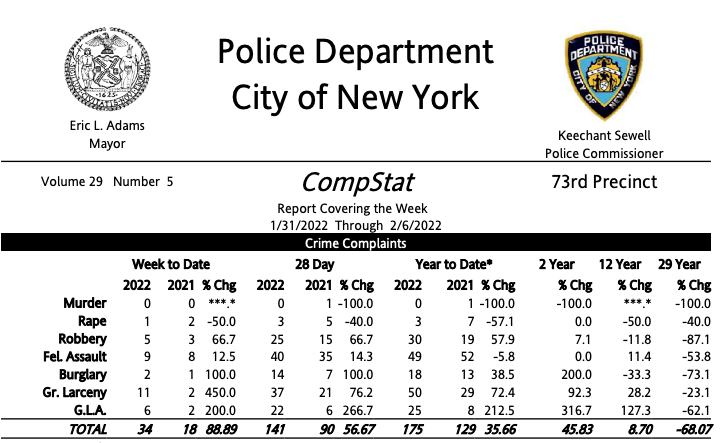 The most common incident reported this year is grand larceny, with 50 reports in the neighborhood, 21 more than during the same period last year.
On Thursday, officers from the 73rd Precinct responded to a shooting on Willmohr St. by E. 98th St. One man day and another was wounded after a gunman fired at least 30 round, The New York Daily News reports.
One of the victims, a 40-year-old man, was shot several times in the chest. Medics rushed him to Brookdale University Hospital, but he couldn't be saved. The second victim had multiple gunshots to his leg and arm and was in stable condition in Brookdale Hospital. Police have not yet released the victim's name, and have made no arrests.
Across Brooklyn:
Across the borough, crime reports are up 50% in Brooklyn North and 51.9% in Brooklyn South compared to the same time last year. There have been 554 incidents reported between November Jan. 31 and Feb. 6, according to NYPD's CompStat, including four murders and three rapes in Brooklyn South and one murder and five rapes in Brooklyn North. There were 68 robberies and 112 felony assaults reported across Brooklyn.
In the headlines:
A slew of anti-Semitic incidents occurred this past week in Brooklyn, two of which occurred in Bed-Stuy on February 4. CNN reports that "[i]n the first incident, at around 10:15 p.m. Friday, a 44-year-old Jewish man was attacked at the corner of Myrtle Avenue and Marcy Avenue, police said." CNN says that there were no injuries reported. Only minutes later near the same location, an unknown assailant attacked a 24-year-old man dressed in traditionally Hasidic attire. The NYPD's 79th Precinct reported that the attack occurred near 104 Stockton Street at about 10:26 p.m.
A man with dozens of prior arrests was apprehended Wednesday morning for kicking an 89-year-old woman, according to police. Thirty-nine-year-old Semen Tetruashvili approached the elderly woman standing on a sidewalk in Flatbush, Brooklyn and kicked her in the back causing her to fall to the ground. The victim suffered bruising to her head and body.
A woman on her way to work in East Flatbush was stabbed to death in what police sources say was a random attack. CBS2's Alice Gainer spoke with her heartbroken sister, who says she wasn't even supposed to be at work that day. Myrtle Clarke-Avis says her sister 50-year-old, Dorothy Clarke-Rozier, likely never saw her attacker coming. "I'll never see her anymore. He took her away," Clarke-Avis said. Clarke-Rozier was walking to her nearby job at Pathmark on Sunday morning around 5:30 when she was stabbed in the back. A worker opening up the food store told Clarke-Avis her sister managed to make it to the store. "They said Dorothy was actually running until she got slow and then she came up to them with a slow speech and said, oh, somebody assault me, I'm hot, I'm cold, and she collapsed right there," she said.
A transgender teenager was attacked in broad daylight on a street in Brooklyn earlier this year, according to police. The 15-year-old girl was on Pennsylvania Avenue between Glenmore and Liberty avenues around 3:15 p.m. on Jan. 18 when someone came up and began punching her and hurling anti-transgender insults, according to police. The girl was left with minor injuries to her face, police said. Police released photos this week of the suspect.