Overall, crime is up in Brownsville, and in Brooklyn as a whole.
There has been an 3.5% increase in crime reported to Brownsville's 73rd Precinct during the week October 4 to October 10, compared to the same period last year.
There have been 29 incidents reported, including five robberies, 13 felony assaults and five reports of burglary. During the same two-week period last year, there were 28 incidents reported, including one murder .
There has been 14 murders and 28 rapes reported this year in the neighborhood, compared to 22 murders and 25 rapes by this time last year.
Looking at the 28-day cycle, there has been a 12.2% increase in incident reports this year on last.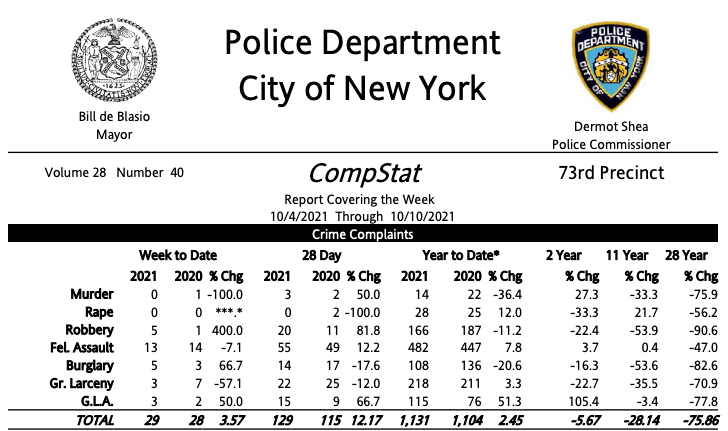 The most common incident reported this year is felony assault, with 482 reports in the neighborhood, 35 more than during the same period last year.
On August 13, the 73rd Precinct tweeted a video of a two people assaulting and robbing a 30-year-old woman on Powell Ave. Officers are calling on the public for information.
Across Brooklyn:
Across the borough, there have been 643 incidents reported between October 4 to October 10, according to NYPD's CompStat, including one murder in Brooklyn South. There were 11 rapes, 75 robberies and 151 felony assaults reported across Brooklyn.
In the headlines:
Brooklyn man Tyrik Mott, 29, has been charged with first-degree assault, second-degree manslaughter and numerous other charges after he allegedly drove against traffic on a one-way street and collided with another vehicle, striking a family that was crossing the street with a stroller. A baby, 3-month-old Apolline Mong Guillemin, died and her mother sustained serious injuries.
Police in Brooklyn are searching for a woman who was caught on camera lighting a Jewish school on fire. It happened on Thursday at 7:27 p.m. at the Yeshiva of Flatbush on Avenue J. The woman can be seen dressed all in black and carrying a red gasoline can. Police say she walked up to the Yeshiva, doused the area in gasoline, and lit it on fire. A security guard inside the school saw what was going on and he was able to put out the fire with water. He immediately called police who are now investigating this incident as a hate crime. The woman is described as approximately 5'4″ tall, with an average build, dark hair and wearing all dark-colored clothing, black shoes, and carrying a red gasoline canister.
Yet another argument in Brooklyn ended in bloodshed Thursday when a twenty-something man was gunned down following a street feud, police reported. Detectives continue to search for the shooter responsible for the murder, which occurred just before 10:55 a.m. on Oct. 14 in front of a bakery at 1096 Rutland Road in Brownsville. Law enforcement sources said the male victim had been engaged in a dispute with the suspect moments before he took the fatal bullet to the chest.
Police are searching for the man and woman behind a brutal attack and robbery in Brooklyn. This video is hard to watch but the victim will recover. It happened on Wednesday, October 6 at 3:14 a.m. on Powell Street in Brownsville. Surveillance video shows one of the suspects knocking the 30-year-old woman to the ground where she slams into a planter. That's when the female attacker starts punching and kicking her while she's on the ground, knocking her out.