Overall, crime is down in Bed-Stuy, but up in Brooklyn as a whole.
There has a 24% decrease in crime levels reported to Bed-Stuy's 79th Precinct, and a 62.5% decrease reported to the neighborhood's 81st Precinct during the week Jan. 10 through Jan. 16, compared to the same period last year.
Across the two precincts, there have been 25 incidents reported, including rape, felony assault, burglary, grand larceny and grand larceny auto.
During the same period last year, there were 41 incidents reported, including two incidents of rape.
There has been one murder and four rapes reported this year in the neighborhood, compared with one murder and two rapes reported by the same date in 2021.
Looking at the 28-day cycle, there has been a 15.7% decrease in incident reports at the 79th Precinct and 18.8% increase at the 81st Precinct this year on last.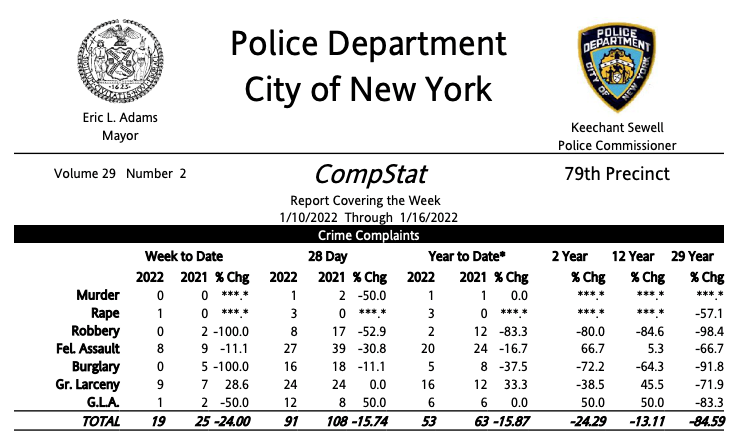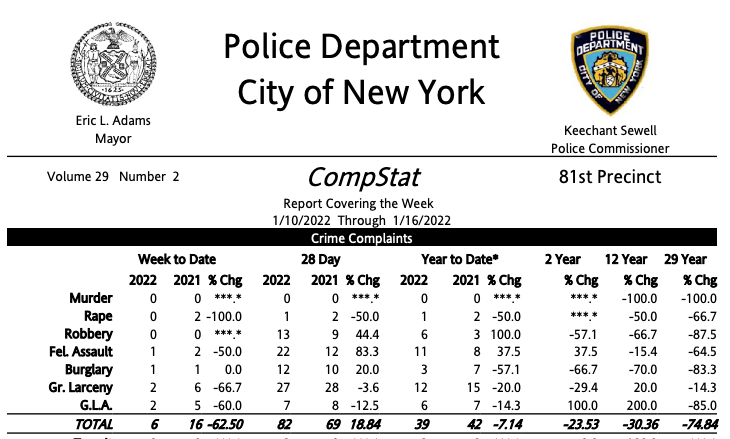 The most common incident reported over the week-long period was grand larceny, with 11 reports of the crime. That is two less than during the same period last year.
On Jan. 21, the 79th Precinct tweeted photos of people wanted in connection to a robbery that occurred on Franklin Ave. They are seeking help from the public to identify the group.
Also on Jan. 21, the 81st Precinct retweeted a photo of a loaded Smith and Wesson gun that officers recovered during an arrest.
Across Brooklyn:
Across the borough, there have been 592 incidents reported between Jan. 10 and Jan. 16, according to NYPD's CompStat, including one murder and three rapes in Brooklyn North and three rapes in Brooklyn South. There were 56 robberies and 110 felony assaults reported across Brooklyn.
In the headlines:
The Bed-Stuy community is rallying around the family of 36-year-old Jennifer Ynoa, who was tragically killed with her dog Blue in a shooting in a Bed-Stuy bodega on January 2. A friend of Ynoa's family has launched a GoFundMe page to raise funds for the family of the mother of four, after she was killed while standing at the register of the Salim Smoke Shop with her 1-year-old pit bull. According to security footage, a man, who had pulled his car over outside the bodega, walked in and started shooting, striking Ynoa in the stomach and also shooting Blue. They made their way outside the store, but collapsed on the sidewalk, the footage shows.
A club promoter shot in the head as he tried to calm an angry gunman during a Brooklyn hip hop party last week has died of his wounds, police said Thursday. Shawn Jeffrey, a local DJ who goes by the handle Shawn J, was one of four victims wounded at the weekly "Dream Wednesdays" party inside the E&R Rental Hall on E. 92nd St. near Remsen Ave. in Canarsie on Jan. 13. Jeffrey died of his injuries at Brookdale University Hospital on Saturday, cops said. The shooter has not been caught.
New York City Mayor Eric Adams has vowed to combat the rise in gun violence by reinstating a controversial plainclothes police unit. Past complaints included racial profiling and excessive force. This time it's going to be different – that's the message Eric Adams has delivered when he talks about reinstating the plainclothes police. "We're going to use precision policing to identify the gang members, the crews. We're going to target them," Adams has said.
A baby girl just two days shy of her first birthday was shot in the head and critically injured by a stray bullet on a Bronx street Wednesday night, police sources said. The 11-month-old baby — who turns 1 on Friday — was sitting in the backseat of a car parked on Valentine Ave. near E. 198th St. in Bedford Park about 6:45 p.m., accompanied by her mother, when a gunman started shooting at someone nearby, police said. The tot, who was shot in the left cheek, was intubated and rushed to St. Barnabas Hospital, then diverted to New York-Presbyterian Hospital Columbia, where she was in critical but stable condition. Police sources described the wound as life-threatening.