Overall, crime is up Bed-Stuy, but down in Brooklyn as a whole.
There has a 9.4% decrease in crime levels reported to Bed-Stuy's 79th Precinct, but a 14.8% increase reported to the neighborhood's 81st Precinct during the week Nov. 8 through Nov. 14, compared to the same period last year.
Across the two precincts, there have been 60 incidents reported, including robbery, felony assault, burglary, grand larceny and grand larceny auto.
During the same period last year, there were 59 incidents reported, including two incidents of rape and five of robbery.
There have been 17 murders and 24 rapes reported this year in the neighborhood, compared with 15 murders and 41 rapes reported by the same date in 2020.
Looking at the 28-day cycle, there has been a 12.6% increase in incident reports at the 79th Precinct and 13.7% decrease at the 81st Precinct this year on last.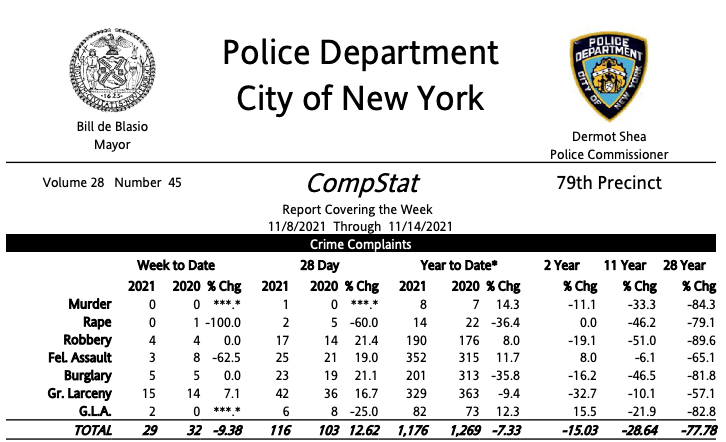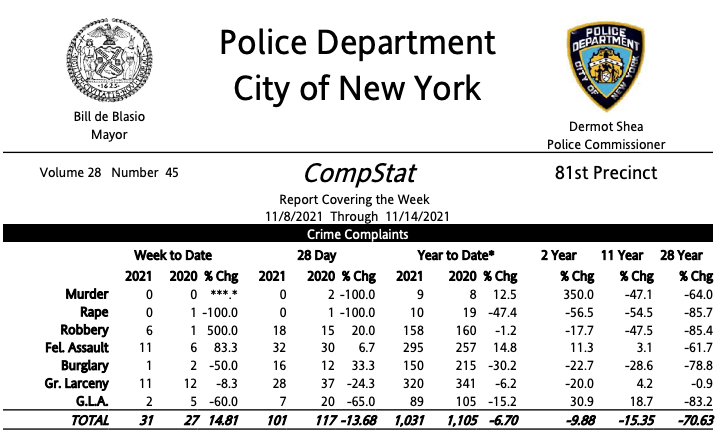 The most common incident reported over the week-long period was grand larceny, with 26 reports of the crime. That is the same number as during the same period last year.
On Nov. 18, the 79th Precinct tweeted that they were seeking help from the public in finding the driver of a vehicle who fired a shot on Lexington Avenue following an argument with another man.
On Nov. 17, the 81st Precinct retweeted a video of a group of men involved in a physical dispute, when one man open fires striking two victims. The precinct is calling on the public for tips identifying the men.
Across Brooklyn:
Across the borough, there have been 560 incidents reported between Nov. 8 and Nov. 14, according to NYPD's CompStat, including seven rapes in Brooklyn North and four rapes in Brooklyn South. There were 66 robberies and 116 felony assaults reported across Brooklyn.
In the headlines:
The woman arrested in Florida in the execution-style shooting of a Brooklyn woman over the summer has been extradited to New York City to face criminal charges. Police charged 42-year-old Claudia Banton of Georgia on Thursday with murder and criminal possession of a weapon for allegedly shooting Delia Johnson in the back of the head as she chatted with people by a stoop in August. 
A Brooklyn man accused of shooting a rival in the jaw in January could face murder charges now that the victim has died after traveling to California â€" because the wounded man, left unable to speak, identified his killer in a note to cops, authorities said Wednesday. Victim Arturo Scott was inside the Lincoln Towers in East New York about 7:25 p.m. Jan. 23, a day before his 42nd birthday, when he was blasted in the jaw during a dispute over drugs, according to cops. EMS rushed him to Brookdale University Hospital in critical but stable condition, police said. Scott couldn't talk because of his wound but he wrote down the name of the man who allegedly shot him: Douglas Pugh.
An NYPD officer who recently retired after 20 years on the force, the last year's of which she spent protecting Mayor Bill de Blasio, opened up about her own experience with domestic violence on the last day in the job in an effort to help other victims who keep their abuse secret. Katrina Brownlee explained to the mayor how she was a single mom on Jan. 9, 1993, who had finally worked up the nerve to leave her abusive boyfriend with her two little girls and moved into a shelter. She returned to his home to pick up clothes for her daughters when he opened the door. "As I came out the room, he pointed a gun and said, 'This is the day you die.' And he shot me in my stomach one time, and he shot me again, and he shot me the third time and I fell on to the couch." In all, her ex-boyfriend shot her 10 times.
A man is under arrest in connection to the deadly shooting of a mother of four in Brooklyn over the summer. Oliver Case, 29, is facing multiple charges, including murder, attempted murder and criminal possession of a weapon. He was arrested in Brooklyn on Monday night after police received an anonymous tip. Police say Case had just been released on parole weeks before he shot and killed 54-year-old Limose Dort in August outside a barbershop in Crown Heights.