Overall, crime is down Bed-Stuy, and in Brooklyn as a whole.
There has a 14.7% decrease in crime levels reported to Bed-Stuy's 79th Precinct, and a 33.3% decrease reported to the neighborhood's 81st Precinct during the week Sept. 13 to Sept. 19, compared to the same period last year.
Across the two precincts, there have been 49 incidents reported, including murder, rape, robbery, felony assault, burglary, grand larceny and grand larceny auto.
During the same period last year, there were 64 incidents reported, including one incident of rape and 12 of robbery.
There have been 15 murders and 17 rapes reported this year in the neighborhood, compared with ten murders and 33 rapes reported by the same date in 2020.
Looking at the 28-day cycle, there has been a 20.3% decrease in incident reports at the 79th Precinct and 13.3% decrease at the 81st Precinct this year on last.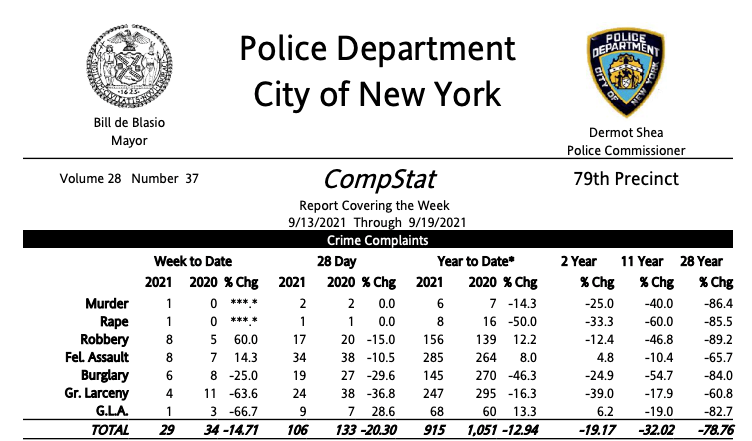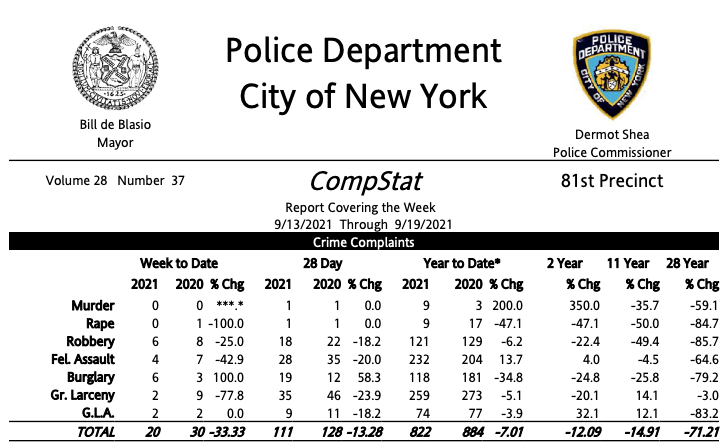 The most common incident reported over the week-long period was robbery, with 14 reports of the crime. That is one more than during the same period last year.
On Sept. 23, the 79th Precinct tweeted that they were investigating a shooting on Gates Ave. between Tompkins and Throop Avenues, and advised people ot avoid the area.
On Sept. 22, the 81st Precinct tweeted a video of a man wanted in connection to a robbery on Reid Ave on August 7. Officers are calling on the public for information.
Across Brooklyn:
Across the borough, there have been 556 incidents reported between Sept. 13 to Sept. 19, according to NYPD's CompStat, including two murders and two rapes in Brooklyn North, and six rapes in Brooklyn South. There were six reported rapes across Brooklyn, 77 robberies and 127 felony assaults.
In the headlines:
Nine contractors have been indicted for bribery, giving unlawful gratuities, and conspiracy for allegedly offering NYCHA employees bribes in exchange for "micro purchase" contracts. Brooklyn District Attorney Eric Gonzalez announced the indictment with New York City Department of Investigation Commissioner Margaret Garnett on Monday.
A Brownsville grandfather has succumbed to his injuries after being beaten into a coma while he was on his way to work. Moses James was found lying on the ground near Belmont Ave. and Watkins St. around 4:30am on Sept. 13, the New York Daily News reports. The 58-year-old was walking to his construction job that morning when he was beaten by the group, who ran away, police said. He was taken to Brookdale Hospital in critical condition and passed away on Friday. His death has been ruled a homicide.
A Brooklyn man was formally hit with murder charges a week after allegedly killing a rival during a shootout, police reported. Authorities said Christopher Mackins, 30, of Riverdale Avenue was wounded in the shootout with Russel Hazelton, 29, in front of an apartment house at 44 Lewis Ave. in Bedford-Stuyvesant at about 5:15 a.m. on Sept. 16. Sources familiar with the investigation said that Mackins allegedly got into a dispute with Hazelton, who lived on Vernon Avenue, at the location moments before the gunfight erupted. 
A Brooklyn man was indicted on murder charges after allegedly causing the death of his girlfriend's 4-year-old son through repeated abuse, prosecutors said. Jerimiah Johnson was arraigned in Brooklyn Supreme Court Wednesday afternoon, facing two counts of second-degree murder, one count of first-degree manslaughter and one count of endangering the welfare of a child, Brooklyn District Attorney Eric Gonzalez said.