Overall, crime is up Bed-Stuy, and in Brooklyn as a whole.
There has been a 15% reduction in crime reported to Bed-Stuy's' 79th Precinct, but a 26.6% increase reported to the neighborhood's 81st Precinct during the week March 29 to April 4, compared to the same period last year.
Across the two precincts, there have been 30 incidents reported, including robbery, felony assault, burglary, grand larceny and grand larceny auto.
During the same period last year, there were 28 incidents reported, including 10 incidents of felony assault and nine of grand larceny.
There has been three murders and seven rapes reported this year in the neighborhood, compared with three murder and ten rapes reported by the same date in 2020.
Looking at the 28-day cycle, there has been a 22.4% increase in incident reports at the 79th Precinct and 26.9% increase at the 81st Precinct this year on last.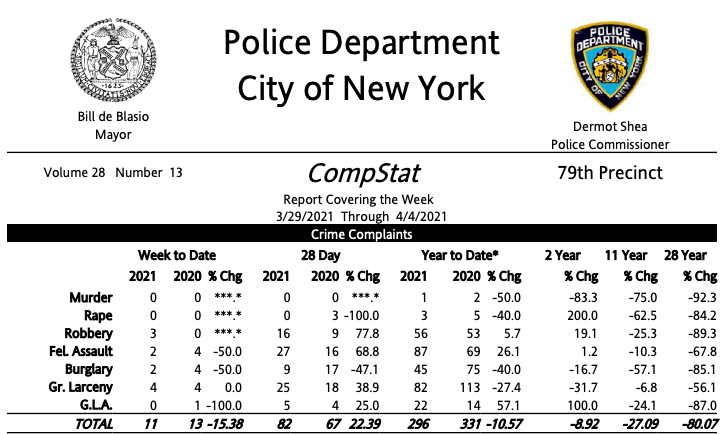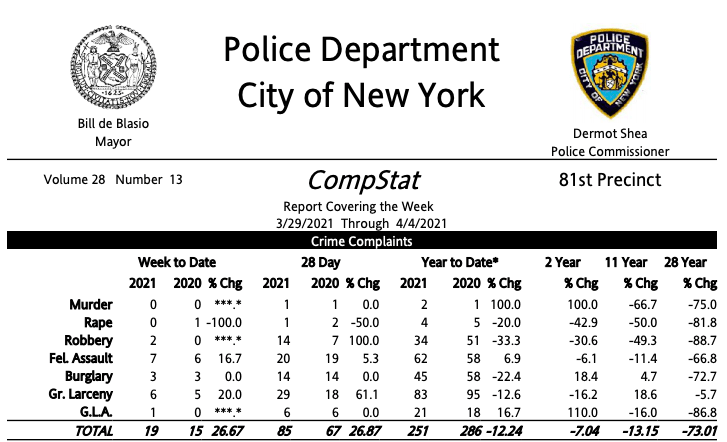 The most common incident reported over the week-long period was grand larceny, with 10 reports of the crime. That is one more reported incident of grand larceny than the same period last year.
On April 9, the 79th Precinct tweeted that officers were calling on the community for information to help locate a shooting suspect.
On April 8, the 81st Precinct tweeted a photo of a car that is wanted in connection with a homicide in Bed-Stuy. Police are calling on the community for information.
Across Brooklyn:
Across the borough, there have been 380 incidents reported between March 29 and April 4, according to NYPD's CompStat, including one murder in Brooklyn South. There were eight reported rapes across Brooklyn, 50 robberies and 87 felony assaults.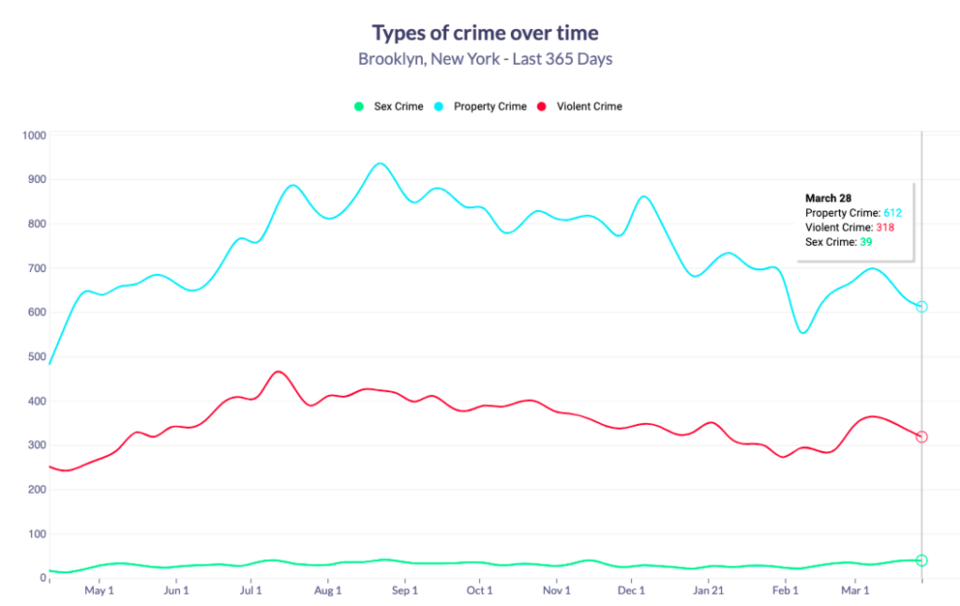 Between March 29 and April 4, there were 318 violent crimes reported, 612 property crimes and 39 sex crimes. Data collected by NYPD shows violent crimes in the borough typically occur between 4pm and 5am and high time for property crimes is between 10am and 10pm.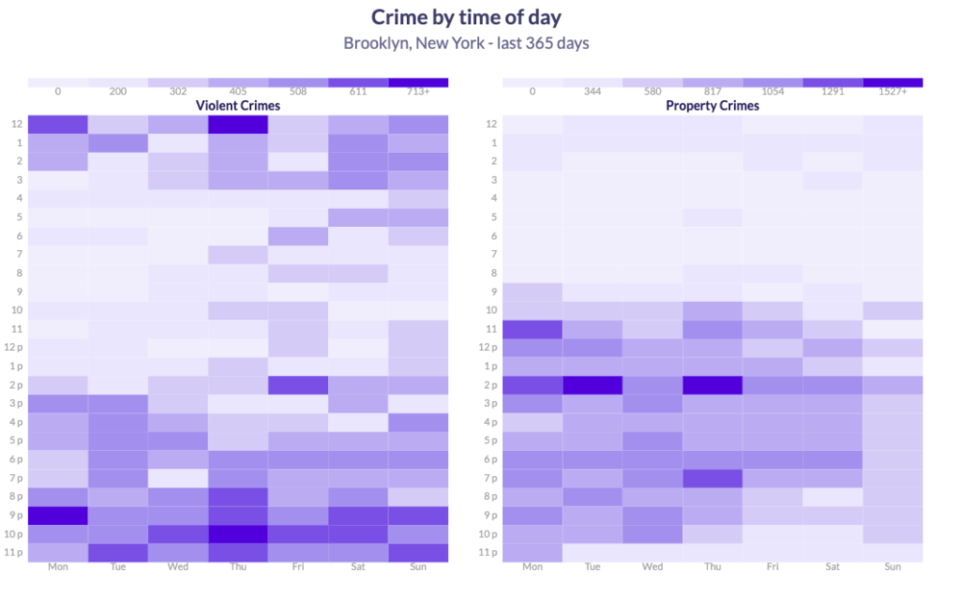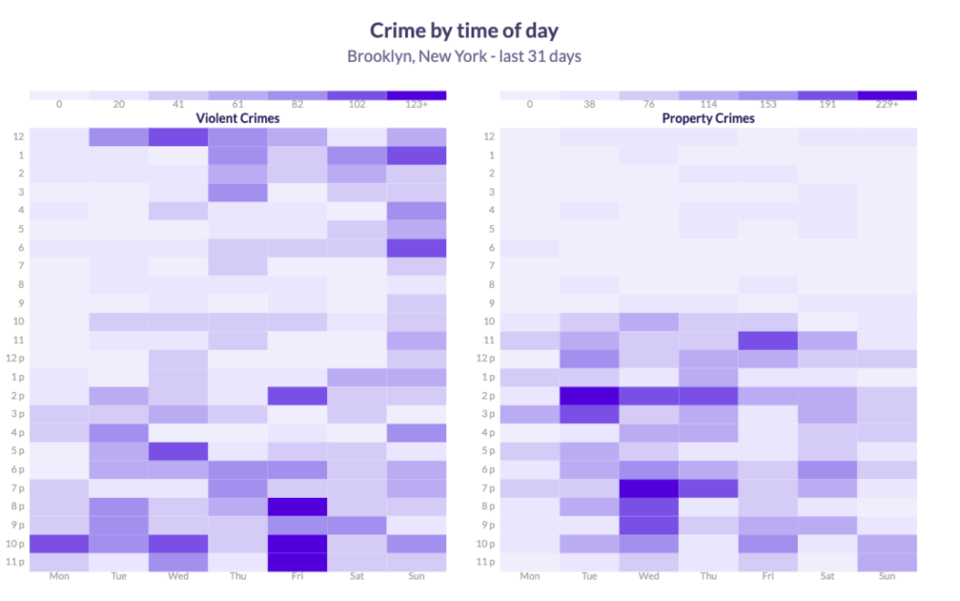 In the headlines:
On Monday, a man attending his daughter's birthday party in Brooklyn turned the celebration into a scene of carnage when he shot and killed her mother and two sisters, New York Times reports. Joseph McCrimon left his 8-year-old daughter inside the fourth-floor apartment in a public-housing project in Brownsville and shot himself in the head on a nearby sidewalk, the police said.
A Brooklyn man accused in three anti-Asian hate crimes is mentally ill and off his medication, his siblings told the New York Daily News . Joseph Russo, 28, is accused of pinning an Asian woman to a storefront and yanking her hair, and of shoving an elderly Asian man to the ground as he shopped for groceries.
A stay-at-home mother of three daughters Wednesday called it "insane" that her young child who just turned 5 last week was grazed by stray bullet in broad daylight in front of their Brooklyn home.
A 5-year-old child was grazed by a stray bullet in her Brooklyn home last week. Her 32-year-old mother told the New York Daily News her little girl was "fine" — but lamented a worsening climate of crime that threatened innocent children.
District Attorney Eric Gonzalez this week moved to dismiss old convictions in which a former narcotics detective, accused of perjury in Manhattan, played a key role, The New York Time reports. Over nearly two decades as a police officer and narcotics detective, Joseph E. Franco made thousands of arrests, many for the possession and sale of drugs. Mr. Franco often worked undercover, and his testimony secured convictions for prosecutors around the city.
BK Reader's crime tracker has the latest information and statistics on crime and policing in the borough.