Brooklyn
As of Monday, December 27, the 7-day positivity rate for COVID-19 is 11.5% in Brooklyn, up from 6% one week ago.
Some neighborhoods in the borough are returning positive COVID-19 tests at rates far above the average, including Brownsville's 11212 ZIP code where the 7-day positivity rate is 15.28%.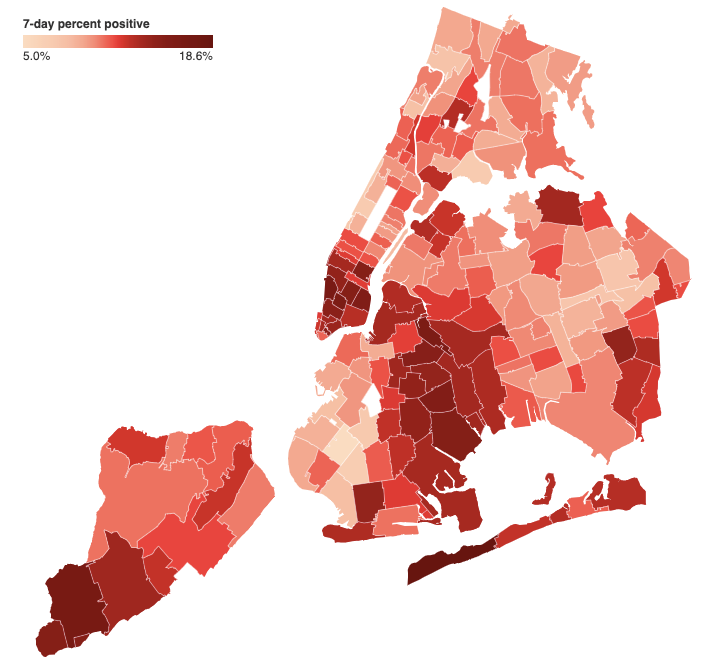 There have been 414,808 confirmed COVID-19 cases in Brooklyn and more than 11,000 deaths.
The new Omicron variant is spreading rapidly throughout the borough and city, leading to a number of disruptions across industries. The MTA has announced that trains will run less frequently than usual from Monday through Thursday because of the COVID surge and riders should expect to wait longer for a subway.
"Subway service is running on a normal schedule with some exceptions. The winter surge of the omicron variant is affecting businesses across New York City, and that includes the MTA," NYC Transit Senior Vice President for Subways Demetrius Crichlow said in a statement Monday morning.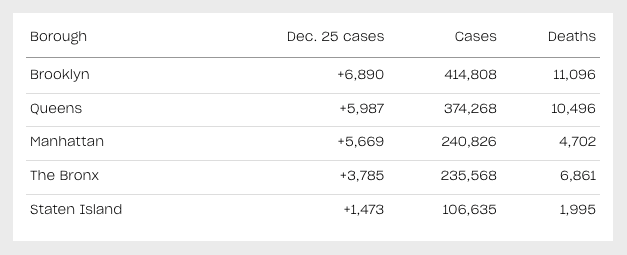 CityMD has temporarily closed 19 of its 150 locations in New York and New Jersey due to staffing shortages amidst the outbreak, the company announced; three of those locations are in Brooklyn.
A number of the borough's hospitals are reaching capacity in their ICU wards as caseloads rise. Woodhull is reporting 103% capacity, up from 96% seven days ago; Interfaith Medical Center is at 97% up from 89%; NewYork-Presbyterian Brooklyn Methodist is at 89% up from 85%, Brookdale Hospital Medical Center is at 92% up from 89% and Kings County Hospital Center is at 83% up from 82%, according to The New York Times.
The City is struggling to keep up with the demand for COVID-19 testing, but has promised increased capacity at current City-run sites, the establishment of new sites and through increased availability of at-home rapid result tests. To find a testing site near you, click here.
As of Dec. 26, 65% of eligible Brooklyn residents are fully vaccinated. To find a vaccination site near you, click here.
NYC
On Dec. 26 reported 19,268 new cases, up from 5,976 reported just seven days earlier. Daily positive cases have increased by 644% over the past two weeks, The New York Times reports.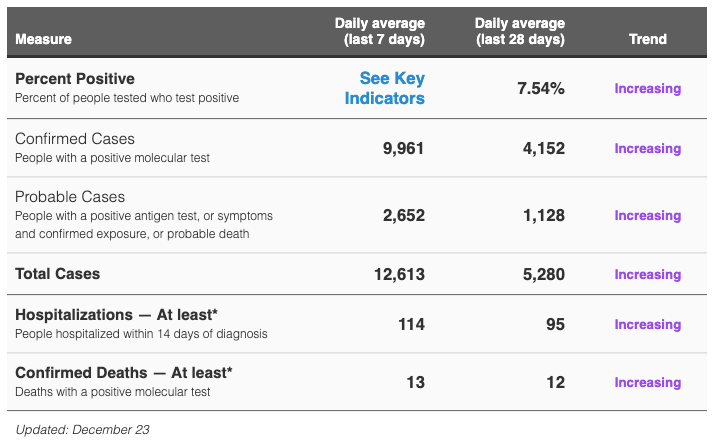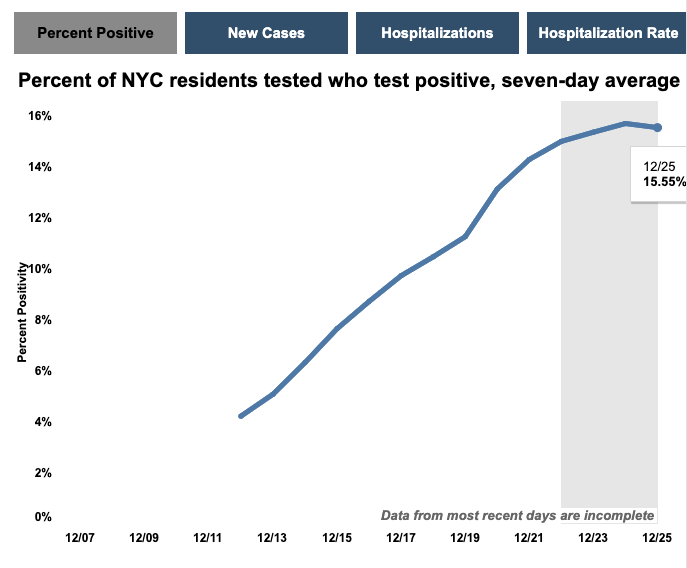 Since the beginning of the pandemic, at least one in six New York City residents have been infected and to date, and to date December has been the month with the highest average cases in the city.
On Monday, the City's private-sector vaccine mandate goes into effect, affecting about 184,000 businesses. The mandate will see private-sector employers requiring proof-of-vaccination documentation and follow-up for those who haven't had a 2nd dose. Proof of full vaccination is also now required for customers age 12 and up for a range of indoor activities
The City announced last week that it would start giving $100 payments to people who receive their booster at a City-run site before Dec. 31, in an attempt to get more New Yorkers boosted.
Within 5 days of completing the booster dose, a virtual debit card will be sent to the email you provided when making an appointment or registering as a walk-up. If you do not have a valid email on file a physical card will be mailed to the mailing address on file.
New York State
As of December 26, the daily positivity average for New York State was 14.17% up from 6.88%, according to state data. 4,891 New Yorkers were hospitalized with COVID-19.
Governor Kathy Hochul said advised New Yorkers to "wear your mask, wash your hands, and if you haven't yet, get vaccinated and boosted."
"The vaccine is the best tool we have to keep ourselves and our loved ones safe as we head into the new year. Take advantage of having it readily available and get yours today."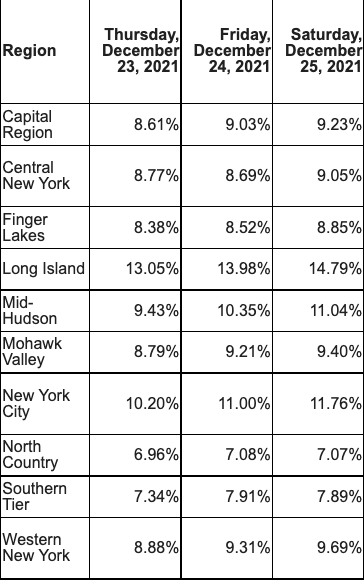 According to the CDC as of December 26, 69.4% of eligible New Yorkers are fully vaccinated. The state has partnered with local health departments and community partners to launch over 40 new pop-up vaccination sites across the state. Learn more and find a pop-up site.
Now through January 15, businesses must require either proof of vaccination or mask-wearing indoors for everyone on their premises due to a statewide mandate. Find answers to frequently asked questions about the temporary requirement.
Hochul said for those wondering how long to wait to get a COVID-19 vaccine after having the virus, the CDC advised that those who had recovered from their illness, met the criteria for discontinuing isolation and were without symptoms could be vaccinated.