Brooklyn
As of Monday, December 20, there have been 369,169 confirmed COVID-19 cases in Brooklyn and more than 11,000 deaths.
The 7-day positivity rate in the borough has been increasing each day for the past week and currently sits at 6%, with some neighborhoods returning positive COVID-19 tests at rates above 10% including Bushwick's 11221 ZIP code where the 7-day positivity rate is 10.62%.
The new Omicron variant is spreading rapidly throughout the borough and city, leading to a number of restaurant and small business closures in the lead up to Christmas. In Brooklyn, Bar Meridian, Daughter, For All Things Good, Lowerline, Ops and Winona's, amongst a number of others, have closed.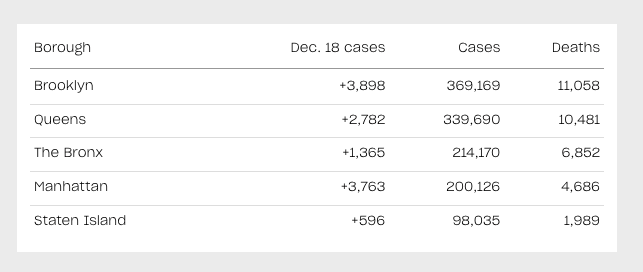 A number of the borough's hospitals are reaching capacity in their ICU wards as caseloads rise. Woodhull is reporting 96% capacity, Interfaith Medical Center is at 89%, NewYork-Presbyterian Brooklyn Methodist is at 85%, Brookdale Hospital Medical Center is at 89% and Kings County Hospital Center is at 82%, according to The New York Times.

The City is struggling to keep up with the demand for COVID-19 testing, but has promised increased capacity at current City-run sites, the establishment of new sites and through increased availability of at-home rapid result tests. To find a testing site near you, click here.
NYC
New York City is dealing with a surge in COVID-19 cases, with the number of daily positive cases nearing rates last seen in January 2021. Over the past week, hospital admission and death rates have also risen.
An average of 5,976 cases are being reported each day in New York City, which is a 246% increase on two weeks ago, The New York Times reports.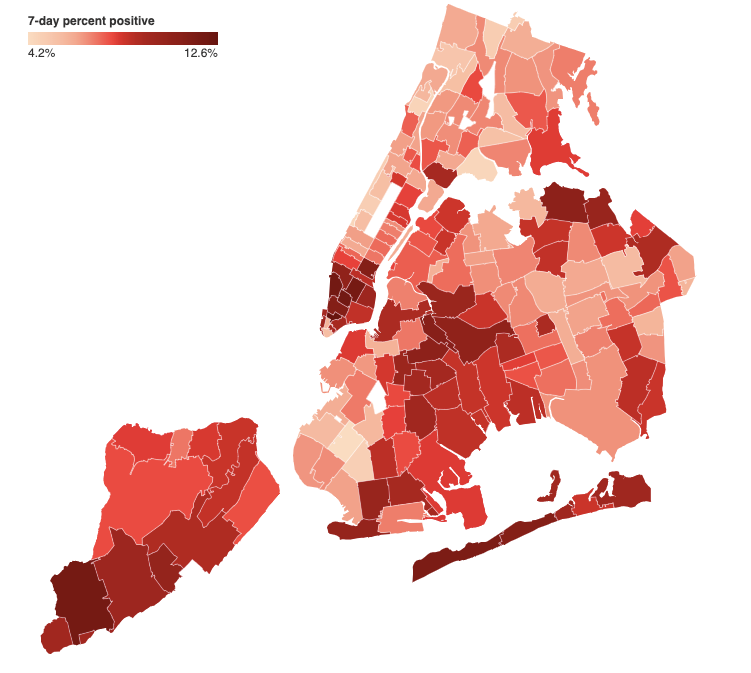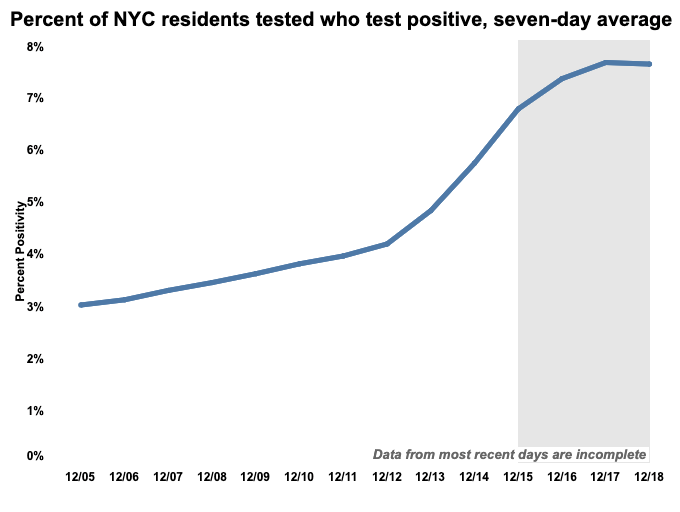 Mayor Bill de Blasio urged New Yorkers to get a booster vaccine if they hadn't yet, and reiterated that vaccines were the best way to combat spread of the virus.
He said Monday that the surge would be large, but temporary, and that another shutdown would not be necessary if the city moved fast on vaccination, testing and freeing up hospital beds.
"Another shutdown would have horrible impacts on the people of this city," he said. He added that the City has added 89 testing sites and will be adding 23 more by the end of the week, including 20 mobile testing units.
New York State
As of December 18, the daily postivity average for New York State was 6.88%, up from 4.61% last week, according to state data. 3,880 New Yorkers were hospitalized with COVID-19.
According to the CDC as of December 18, 94.3% of adult New Yorkers have received at least one vaccine dose.
On Sunday, Governor Kathy Hochul said the sharp increase in COVID cases over the last week was not surprising. "Once omicron hit the shores of this country and we learned about how fast it spread, we knew we'd see cases rise," she said. "But let me be clear: This is not March of 2020. We have defenses."
She urged all New Yorkers to get vaccinated, get boosted and wear their masks, on top of getting tested when necessary. "I don't want to lose one more New Yorker to this virus. We need to take these variants seriously and do everything we can to slow the spread, save lives, and get through this winter surge," she said.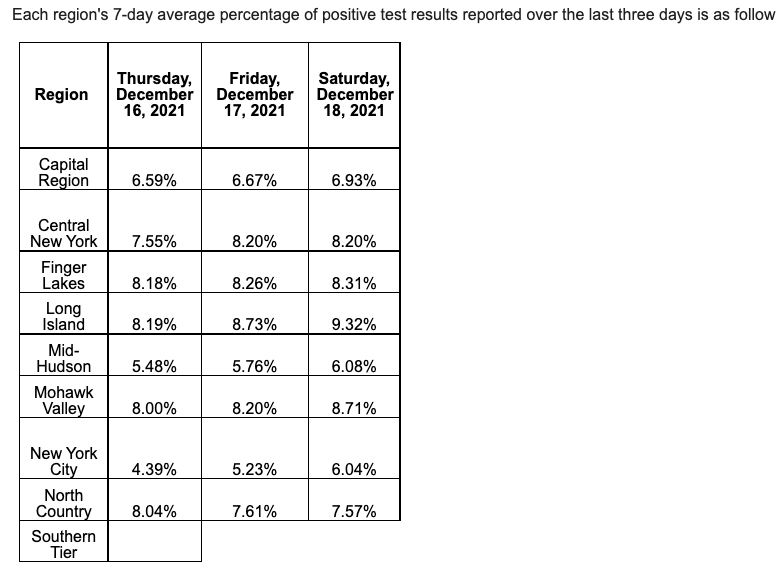 The state has partnered with local health departments and community partners to launch over 40 new pop-up vaccination sites across the state. Learn more and find a pop-up site. And as of Dec. 17, you can get vaccinated from one of over 5,600 active providers across the state. Find a site near you.
Now through January 15, businesses must require either proof of vaccination or mask-wearing indoors for everyone on their premises due to a statewide mandate. Find answers to frequently asked questions about the temporary requirement.   
Hochul said for those wondering how long to wait to get a COVID-19 vaccine after having the virus, the CDC advised that those who had recovered from their illness, met the criteria for discontinuing isolation and were without symptoms could be vaccinated.