1. Alternate side of the street parking is suspended on Tuesday, November 11, in recognition of Veterans Day.
2.Weather:
A high of 62 on Tuesday. Rain predicted for Wednesday. Temperatures will be cool Thursday and Friday with a high in the mid-40s.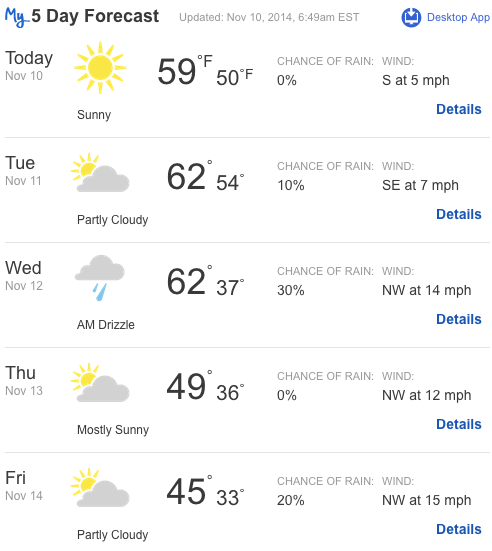 3. Tonight! Monday, November 10, 6:00pm at Restoration Plaza, located at 1368 Fulton Street, Omega Psi Phi fraternity, in conjunction with Jack and Jill of America and the office of City Councilmember Robert E. Cornegy are hosting an educational forum for concerned parents, educators and students of District 36, covering the public schools of Bedford-Stuyvesant and Crown Heights.Topics of discussion will include the school-to-prison pipeline, access to testing and test preparation, and the lack of available gifted and talented schools in the area.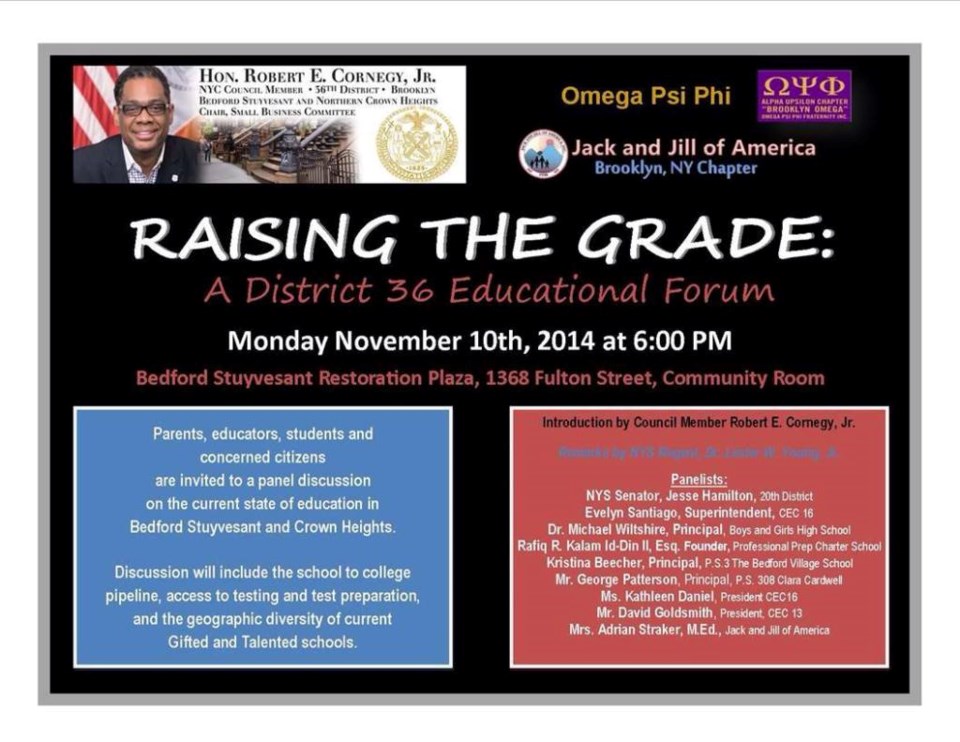 4. Don't forget to check out our next Trivia Night on Wednesday, November 12, at 7:00pm, where Bed-Stuy Gateway BID, in conjunction with the Reader will offer diners a chance to win a free meal and drink by answering Brooklyn-specific trivia questions. The next event will take place at Bushbaby, located at 1197 Fulton Street between Franklin and Bedford.
5. The second in a three-part series of workshops on affordable housing will take place this Thursday, November 13, 6:30pm, at the Hanson Place 7th Day Adventist Church, located at 88 Hanson Place. Space is limited, so if you are interested, make sure you RSVP to FACHousing@fifthave.org. The last event, the line was around the corner and many people did not make it in. Be sure to make this one!
6. Also on Thursday, November 13, from 11:00am — 12:00pm, Bridge Street Development Corporation will hold a roundtable discussion: "How Older Adults Handle Stress." The talk is on stress management for older adults! The presentation and discussion will be led by Mr. Raphael Perez from Preferred Homecare of New York! The event will take place at Quincy Senior Residences, located at 625 Quincy Street - between Lewis and Stuyvesant Avenues, Bklyn.
7. On Friday, November 14, from 6pm — Midnight, joint the Haiti Cultural Exchange at The Carlton Hotel , located at 88 Madison Ave, in New York, NY, for a fun evening of music, mingling, and dancing. Featuring DJ Jephté Guillaume, Live Drumming, & Special Guests. For more information, click here.