1. Alternate side parking regulations are in effect the entire week.
2. Temperatures will be in the high 60s and low 70s all week, with rain predicted to begin on Wednesday and continuing with a few scattered thunderstorms through Friday.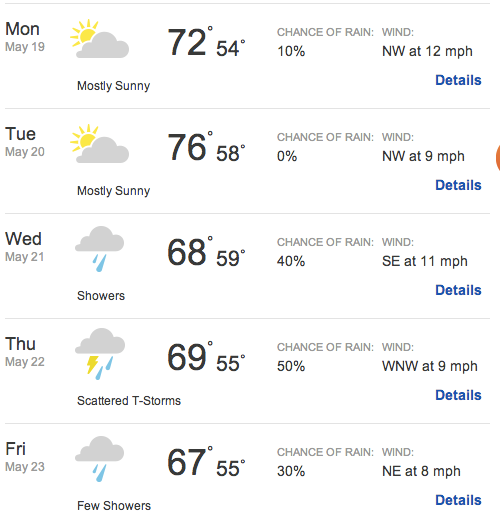 3. On Tuesday, May 20, Councilmember Robert E. Cornegy, Jr., his wife Michelle and the "First Ladies of Brooklyn" will host the First Food Festival for nursing and expecting mothers. The festival will take place from 11:00am to 3:00pm, at Restoration Plaza, located at 1360 Fulton Street in Brooklyn, and featuring breastfeeding experts, vendors, games and giveaways to the public.
4. On Tuesday, May 20, Therapy Wine Bar and author Nubia DuVall Wilson will present a Rosé Tasting entitled, "Travel Therapy in a Glass," from 7:00pm - 9:00pm at 364 Lewis Avenue. Come sample refreshing spring-inspired wines, learn about indie writer Nubia DuVall Wilson's humorous new book, "Encounters with Strangers," inspired by her international travel experiences. She will also reveal travel tips that you can use when planning your next vacation. A signed copy of the book is included with the purchase of a ticket. Price: $20.00, which includes wine tasting, snacks and the book.
5. On Wednesday, May 21, from 7:00pm - 10:00pm at Brooklyn Moon Cafe, The Frank White organization will hold the Frank White Awards honoring residents who have become local trailblazers in arts and culture. They'll also be celebrating the 42nd birthday of The Notorious B.I.G aka Frank White with a Biggie Tribute Mix from Paris' Finest, GROOVE DELUXE DJ TEAM. Live performance from Thomas Piper/People's Republic of Sound. Brooklyn Moon Cafe is located at 745 Fulton Street in Brooklyn.
6. On Thursday, May 22, from 6:30pm - 9:30pm, the Crown Heights Community Mediation Center will present the opening of "Arts to End Violence" gallery, an annual art contest and festival focusing on community peace and featuring some amazing art from the kids and adults of Brooklyn. The Mediation Center is home to the anti-violence programs Save Our Streets Crown Heights (S.O.S.) and Youth Organizing to Save Our Streets (YO S.O.S.). These programs work extremely hard to combat gun violence in Crown Heights, a neighborhood with a history of violence. The contest will be displayed at the Ron Taylor Gallery, located at 1160 St. Johns Place. Members of the community are invited.