1. Weather: Highs will be in the upper 70s, low 80s all week with a chance of showers on Thursday
2. Subway Changes:
Ozone Park/Far Rockaway-bound platform at 88 St is closed for renovation
Ozone Park-bound platform at 104 St is closed for renovation
Inwood-bound trains skip Spring St, 23 St and 50 St
Flatbush Av-bound trains run via the
after Chambers St to Franklin Av
No trains between Nassau Av and Court Sq
3. Parking: Alternate side parking regulations, including metered parking are in full effect all week.
4. Employment Opportunity: The Jobs Center at Restoration Plaza will hold another job screening for DollarTree this Thursday, August 21, beginning at 2:00pm. There are various positions available, from manager, assistant managers, cashiers, stock and greeters. Come on out and have your resume ready.
5. MoCADA kicked off (on Sunday) its 5th Annual Soul of Brooklyn Festival, a weeklong series of events celebrating African diasporan arts and culture while promoting partnerships between local arts organizations and Black businesses. Check back to the Reader for the full lineup for the week!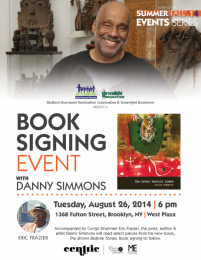 6. On Tuesday, August 19, 6:00pm, at Restoration Plaza, come check out Brooklyn's own, Danny Simmons, who will be having a book signing for his new book of poems, The Brown Beatnik Tomes. Danny Simmons will be reading select pieces from his book, accompanied by congo drummer, Eric Frazier.