Bushwick resident Kathy Kim is tired of stepping in dog poop... and she's not alone.
Over the past month, Kim says her block has had a dramatic increase in pet waste on the sidewalk. So she had made it her mission to get her neighborhood-- especially the newer residents and dog owners-- to clean up their streets.
"It's just frustrating when I see my neighbor who has been living here forever cleaning up the block," Kim said.
"I thought: it should be my turn. So I got myself a garbage picker, an industrial poop scooper, and have started encouraging others to do the same."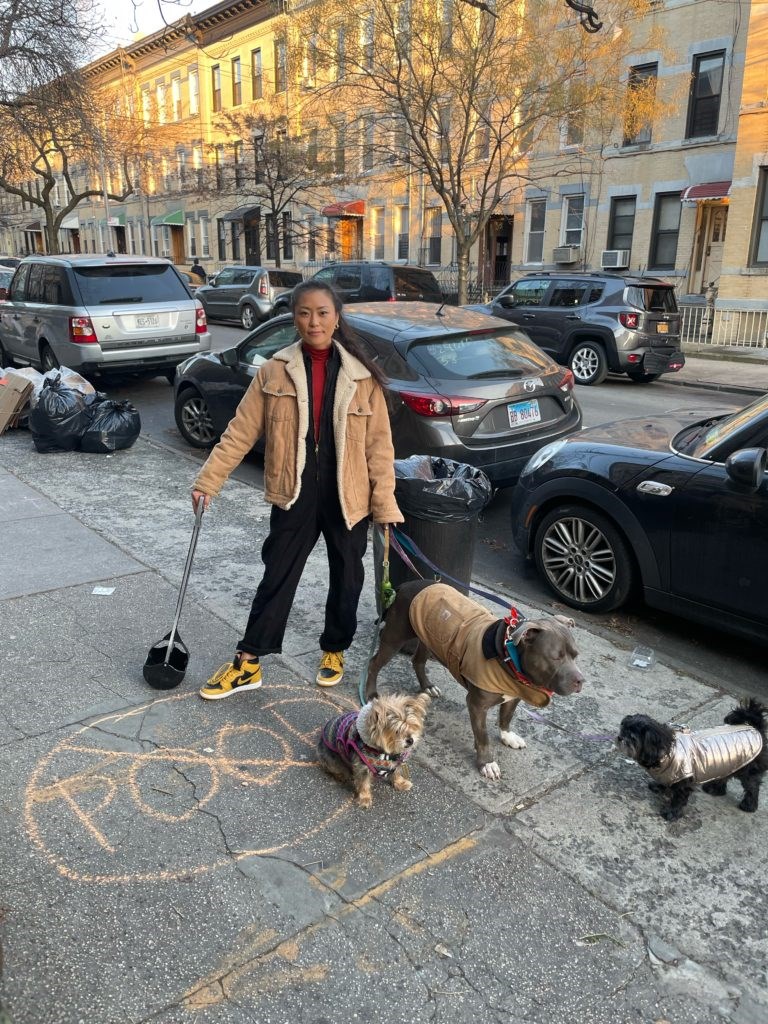 Kim, who has two dogs, is motivating other dog owners on local Facebook groups and at the dog park to take responsibility for their dogs and help clean the poopy sidewalks. She's also spreading her message on the sidewalk in colorful chalk.
"Ever since I started writing in chalk on my block, we haven't really seen any dog poop here, so I guess it works."
In addition to individual neglect by pet owners, the increase of dog poop is likely a result of the citywide puppy boom, as well as cuts to the street cleaning budget due to the pandemic, she said.
She added she had also heard a rumor from a neighbor that people were leaving dog poop on the streets on purpose to drive property value down. But there's no evidence yet the tactic is working or is even true.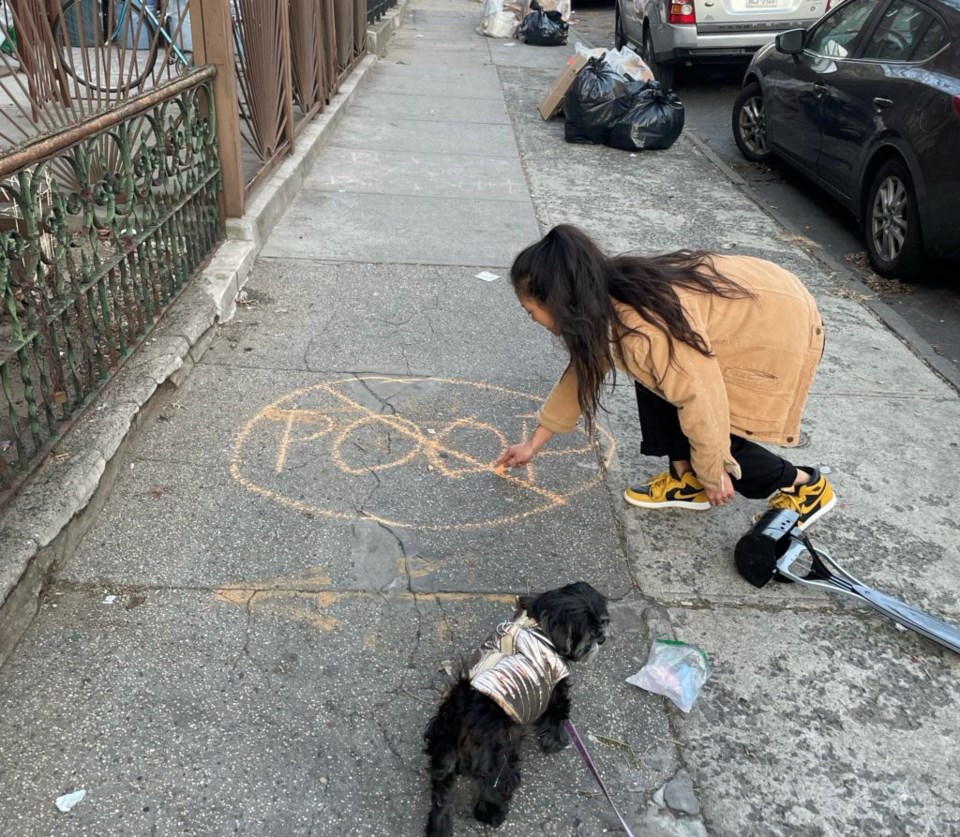 The dog poop isn't just gross to look at — poop on the streets can carry viruses and bacteria that can seep into the groundwater. The Department of Sanitation enforces the Pooper Scooper Law in the city and investigates locations where dog walkers often fail to pick up after their dogs, but to issue a violation they have to catch the offender in the act.
Kim is not the only one concerned about the crappy situation on the sidewalks. Other groups like the Clean Bushwick Initiative have taken matters into their own hands and organized litter pickup events.
On her original post in the Bushwick Mutual Aid Facebook group, over 20 people responded saying they felt the same way about the dog poop problem and wanted to take action.
In the past two weeks alone, 311 has received nearly 100 complaints filed by civilians regarding litter and dog waste in Brooklyn.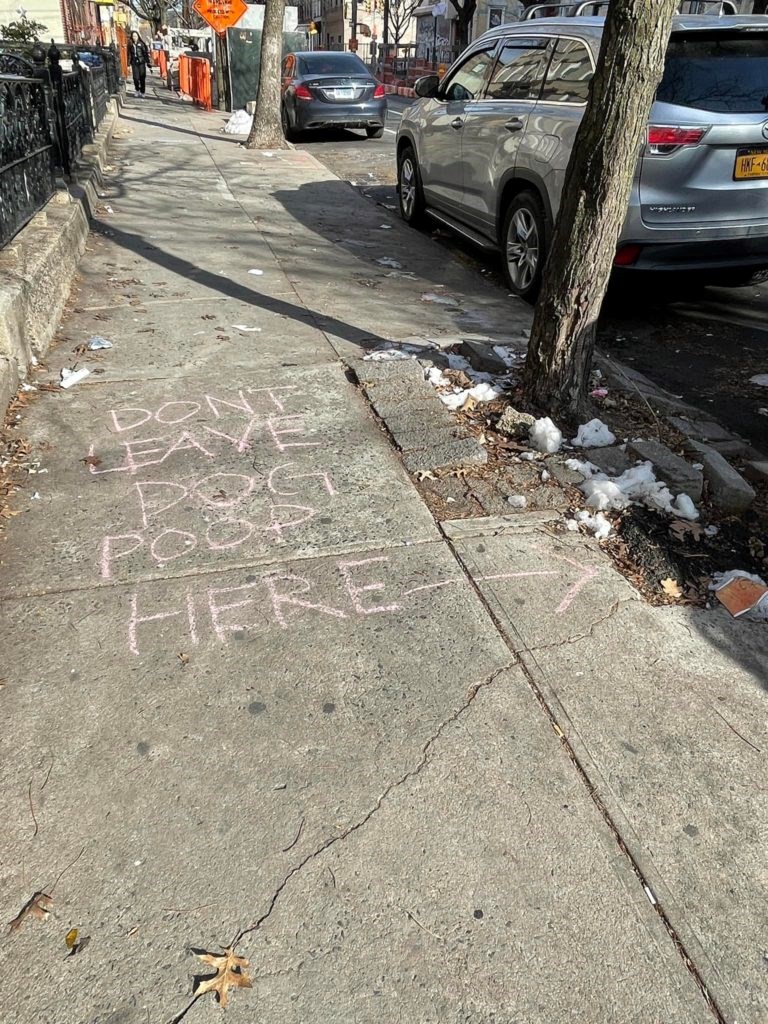 Kim said she may soon start collecting plastic bags to create pet waste bag stations around the neighborhood.
"Since I'm a gentrifier, I want to make sure to support the people who have been here much longer and I want to make sure to keep the neighborhood clean because it's an environment where a lot of families live as well," Kim said.
Kim moved to Bushwick from Queens, where she's originally from, six years ago with her two dogs Ham and Kiki. Kim brings extra bags on her walk to pick up the poop left behind by other people so that her pets don't step into a mess.
Community involvement was just one way to fix the situation, but local politicians should get involved as well, Kim said.
"It really affects the whole community whether people know it or not. It's also just not pleasant, and it keeps getting worse," Kim said.
"We need to start making a difference."