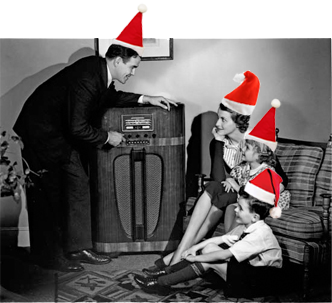 Bah humbug! It's cold and wet outside, and your mother-in-law is coming to visit, and the house is a mess, and you're flat broke again after buying into this "hyper-commercialized holiday" known as "Christmas!"
Feeling Christmas Cranky? Well, slow down, take a deep breath, and listen to this: the Best Christmas Playlist Ever!
These songs will take you back to your childhood and help you remember and recapture the special magic of Christmas. And yes, despite how it feels right now, there's still magic in Christmas.
10. It's Beginning to Look a lot Like Christmas, Perry Como— Does this not remind you of shopping in a department store during Christmas? You remember those days, making your way inside of Macy's from a fresh blizzard only to meet a flurry of people inside the store doing their last minute shopping. Perry Como's voice on this song truly is quintessential Christmas.
9. Handel's Messiah, Robert Shaw, Atlanta Symphony Orchestra and Chamber Choir— The lush blend of melodies on this song are enough to give you chills. The repetitive chorus of "Hallelujah" (Praise God!) is so rousing, it reminds us all of the true meaning of Christmas.
8. Let it Snow, Boys II Men— Ah, the 90s… Boys II Men hit a high note with this Christmas album, and this song became an instant hit! Not only did it make snow seem sexy, it inspired you to whip up some hot chocolate, grab a warm blanket and settle in close with the one you love.
7. I Saw Mommy Kissing Santa Claus, The Jackson Five— This has got to be one of radio's favorite fun tunes for Christmas. I don't recall a single Christmas when this song wasn't played ad nauseum. Yet every time, you managed to smile from ear to ear! R.I.P. Michael, you gave us countless gems, and this is certainly one of them!
6. Christmas Time is Here, Vince Guaraldi Trio— This song undoubtedly will evoke memories of watching "Charlie Brown's Christmas." This tune, played beautifully by a single piano and snare symbol evokes a stillness, a quiet reflection on the importance of humanity. This year, in particular, it's a reminder that #alllivesmatter.
5. All I Want for Christmas is You, Mariah Carey— Since its release in the early 90s, Mariah Carey's Christmas album remains one of the biggest-selling Christmas compilations of all time. And this song is one of the most popular off of that album. In fact, Mariah Carey's rendition of this song has become an irrevocable part of Christmas for the last two decades-- so much so, beginning December 1 of every year, this song will play on the radio no less than 1.32 millions times (a day!). Don't try to escape it. Your efforts will be futile. It's inside of Christmas's DNA.
4."Silver Bells," by Bing Crosby & Carol Richards. Actually, it was a toss up between this version of "Silver Bells" and Johnny Mathis' rendition, which is also an indisputable classic. But this song, in my opinion, is done best as a duo with alto and soprano harmonies. Crosby and Richards nailed it with this one. One listen and you're not only in the Christmas spirit, you're yearning for the days of old, when everything just seemed so... black and white.
3. The Nutcracker Suite: Dance of the Sugar Plum Fairy, Royal Philharmonic Orchestra performs Tchaikovsky— Really, this entire album is a living classic, and this song is the definition of Christmas music. You never really slept on Christmas Eve… you just sort of tiptoed through an artificial dream state as you waited for the moment to open your presents. "The Dance of the Sugar Plum Fairy" defines that delicate and excitable moment.
2. This Christmas, Donny Hathaway— You hear it at every party, on every radio station and in every mall during this holiday. I even heard this song playing in an outdoor courtyard in Florence, Italy, one Christmas. You can be in the sourest of moods, but when "This Christmas" plays, it is guaranteed to lift your spirits every time!
1. The Christmas Song, Nat King Cole— All I can say is, this album is the classic of all classics. From the violin intro before Nat even utters the first words, the feeling of Christmas has filled the room. Even if you've never tasted a chestnut roasted on an open fire or felt Jack Frost nipping at your nose, you trust it must be something really good, simply because Nat said so!
Now, if you're still not feeling the spirit of Christmas after listening to this, then you're officially a Scrooge!
For those of you who feel a little lifted, Merry Christmas to you!