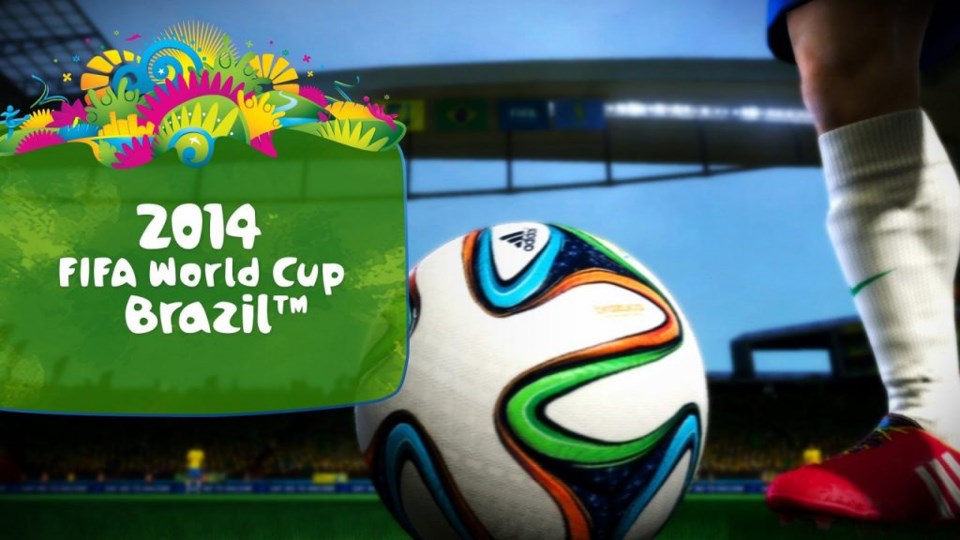 Still undecided about where to post up for the World Cup playoffs, kicking off today? The Reader has compiled a list of some great places to settle for playoffs series in Central Brooklyn, including Fort Green/Clinton Hill, Bedford-Stuyvesant and Crown Heights. Pick one place most convenient for you, or do a rotation each day to feel out the vibes. But first thing's first, the game schedule for this weekend:
THURSDAY, 06/12 WORLD CUP 2014 BEGINS
4:00pm Brazil vs Croatia
9:00pm Spurs vs Heat
FRIDAY, 06/13
12:00pm Mexico vs Cameroon
3:00pm Spain vs Netherlands
6:00pm Chile vs Australia
SATURDAY, 06/14
12:00pm Colombia vs Greece
3:00pm Uruguay vs Costa Rica
6:00pm England vs Italy
9:00pm Côte d'Ivoire vs Japan
Go here to see the full schedule.
WHAT: Vodou Bar—Opening game Thursday doors open at 2:00pm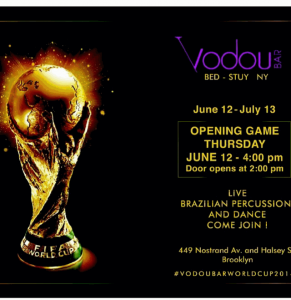 WHERE: 449 Nostrand Avenue (Bedford-Stuyvesant)
WHAT ELSE: Live Brazilian percussion and dance! Happy Hour specials! Two floors, 6 screens. Don't miss what will be the coolest scene in Bed-Stuy!

WHAT: Bedford Hall
WHERE: 1177 Beford Avenue (Bedford-Stuyvesant)
WHAT ELSE: With Bed-Stuy authenticity literally dripping off the walls, this laid back restaurant is perfect for game-watching with couches a-plenty! Bedford Hall is a cross breed between new and old BedStuy. Take part in their laid-back, easy-going energy and enjoy the ambiance!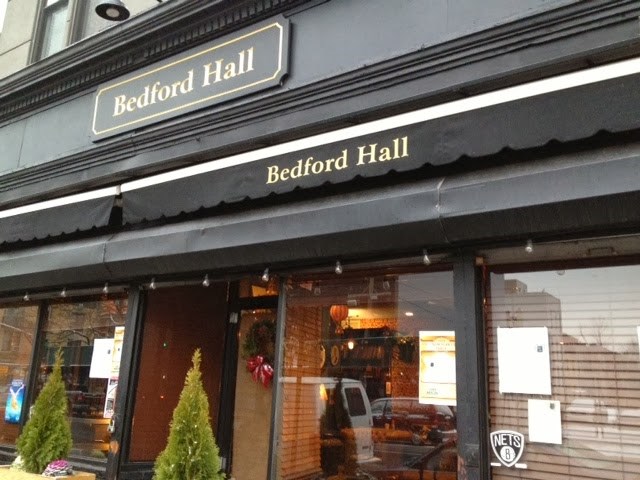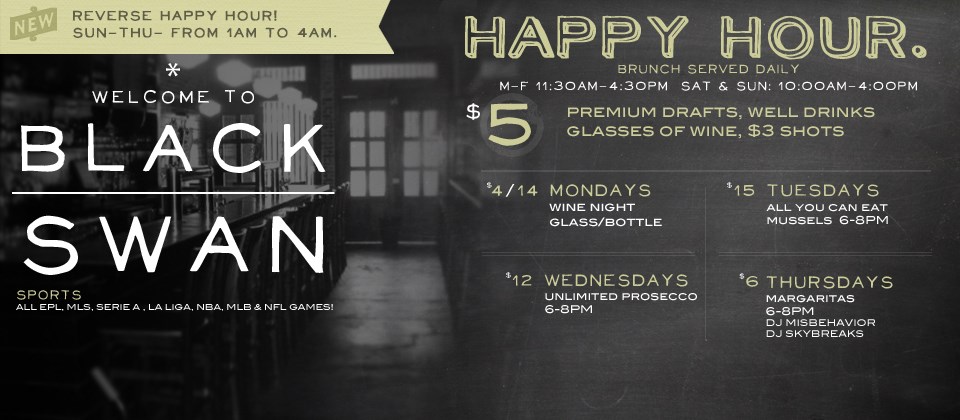 WHAT: Black Swan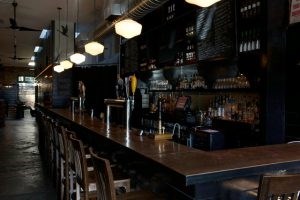 WHERE: 1048 Bedford Avenue (Bedford-Stuyvesant)
WHAT ELSE: This British-inspired pub is always jumping with the most diverse crowds. Also, they're usually showing soccer matches on all of their t.v.s, even when it's not World Cup time… so you can only imagine what the scene will be like in the coming days…
WHAT: Brooklyn Tap House
WHERE: 590 Myrtle Avenue (Clinton Hill/Bed-Stuy)
WHAT ELSE: If you don't have a ticket, reserve a table at Brooklyn Tap House and enjoy the game on any of the 9 indoor/outdoor HD screens, 3 HD projector screens, and outdoor backyard projector screen, in full stereo surround sound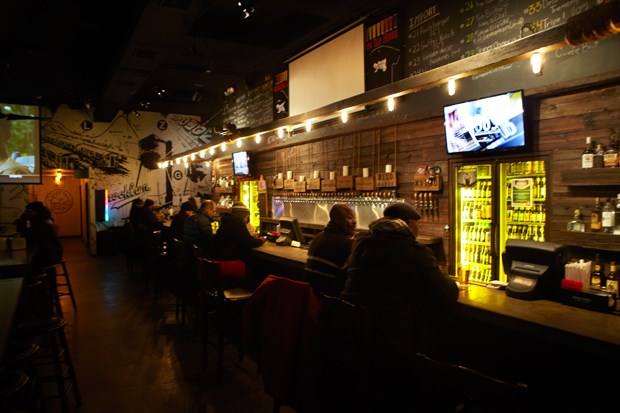 WHAT: Franklin Park—Franklin Park draws a very diverse crowd; big-screen t.v.s; two bars; good beer list, great crowd, amazing staff, Dj's on most Thursdays and Fridays.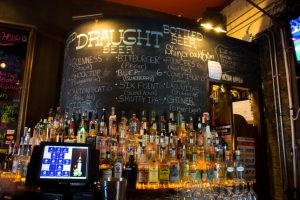 WHERE: 618 St. John's Place (Crown Heights)
WHAT ELSE: On match days both bars be open early, with a full menu and selection of the best craft brews!

WHAT: Mullanes Bar & Grill—this spot has a lot of t.v.'s, ample space and plenty of happy our specials!
WHERE: 71 Lafayette Ave (Fort Greene)
WHAT ELSE: "Go for the black and blue burger, or veggie burger, and sweet potato fries, all REALLY good."

WHAT: Black Forest
WHERE: 733 Fulton St. (Fort Greene)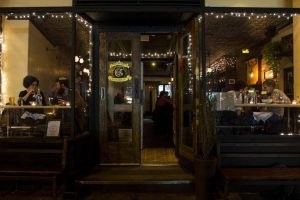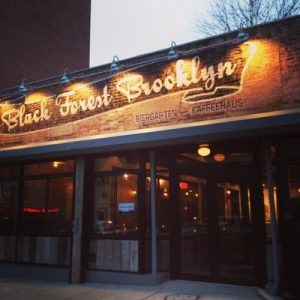 WHAT ELSE: Black Forest Brooklyn, an authentic German Indoor Biergarten and Kaffeehaus in Fort Greene, soft-opened late last year and became an instant neighborhood favorite, serving lunch, brunch and dinner. Now BFB will make the World Cup its official coming-out party, showing all 64 matches on a giant HD screen and featuring surprise events, game time drink specials, and a special World Cup menu. When Brazil kicks off against Croatia on June 12th, 4pm, join us for the kick-off party, featuring a live samba band!
WHAT: Miss Favela
WHERE: 57 S 5th St (Williamsburg)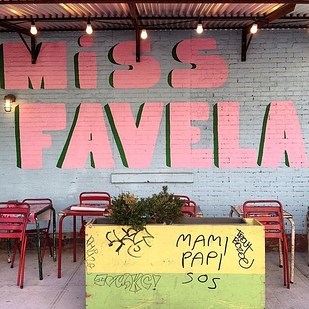 WHAT ELSE: Miss Favela is located in Williamsburg, Brooklyn on the corner of South Fifth Street and Wythe. They're open 7 days a week, from 12noon to 12midnight, except Friday and Saturday until 1am for food, but the bar stays open late
WHAT: Woodwork-- It's almost time! KINGS COUNTY STAND UP! The 2014 World Cup is upon us, and just like our USA squad, WE ARE READY! In a fancy new kit, no less! It all begins 4pm June 12; just days away! And they were even nice enough to have it In our time zone! So start planning ahead, come early and come thirsty! We're here for all your world cup needs and enjoyment!
WHERE: 583 Vanderbilt Ave (Prospect Heights)
WHAT ELSE: EVERYDAY SPECIALS: The Fuckit Bucket: $15. All 6 of our $3 beers for the price of 5; Choose your own adventure: Any of our $3 beers with any well shot for just $6. NO RESERVATIONS. FIRST COME FIRST SERVE. NO OUTSIDE FOOD