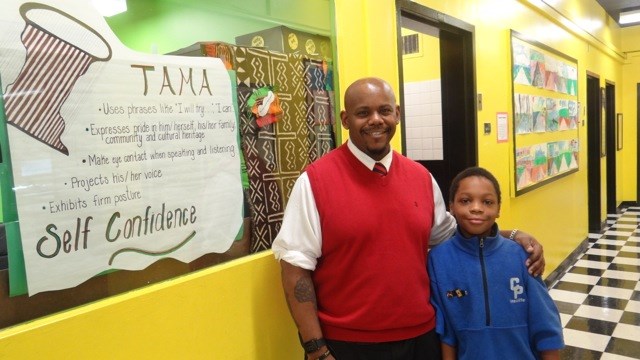 Teaching Firms of America Professional Preparatory Charter School, on the surface, seems not unlike the dozens of other charter schools opened in Bedford-Stuyvesant in the last five years.
At the public charter, located at 616 Quincy Street, the children wear uniforms; it shares space and resources with The Clara Cardwell School, where it occupies the entire 3rd floor;
The school of kindergarteners through third-graders is in its third year. And its motto, "21st Century Schools for 21st Century Students," echoes the standard charter school manifesto that promises change in a changing world.
However, if you scratch the surface a little harder, you'll find that TFOA Professional Prep probably is unlike any charter you've seen before.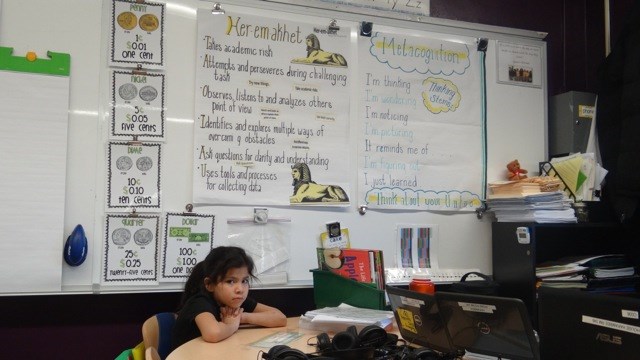 "Close the gap. Close the gap," said a teacher, as she led her classroom of first-graders in a straight line down the hall. The group of 20 or so 6-year-olds was quiet, orderly, and the child who fell behind three or four paces immediately rushed to catch up.
All of the teachers, administrators and the students refer to each other by their first or last name, preceded by "sister" or "brother." Along most of the walls, next to kindergarten artwork, hang framed photos of historical world leaders, including Rosa Parks, Desmond Tutu and Sonia Sotomayor, as well as a 1980s photo of Argentinian mothers marching with signs for "Los Desaparecidos."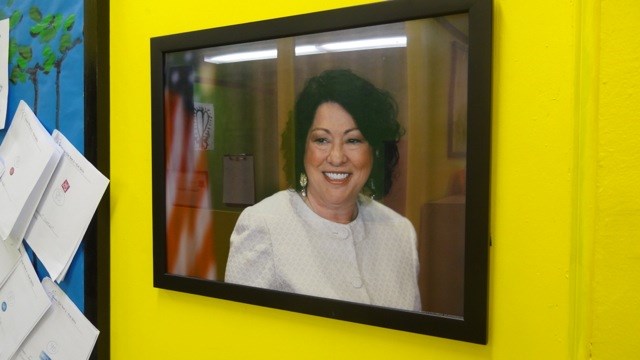 However, the school's founder and co-leader Rafiq Kalam Id-Din II will tell you, at the core of what makes Professional Prep so different are six value-driven symbols that shape the school's pedagogy, an entirely distinct model for teaching and learning:
Sankofa— The reflection on history and past actions, learning from mistakes
Tama Drum—Self esteem, self-identity and finding your voice
Heremakhet—Symbol for memory and critical thinking
Banyan Tree—How a community is built and how we engage with one another
Djed- Focus; symbolizes the spine as the conduit for information
Ma'at—The quest for purpose and balance
"These are attributes that drive the powerful learning behaviors that help students realize their potential," said Kalam Id-Din, a former lawyer. "One of the things we look for in our instructors is a sign they are open to new methods of teaching and learning. Our summers, we spend a lot of time focused and studying these underlying principles, so through the year, this is something we constantly cycle back to."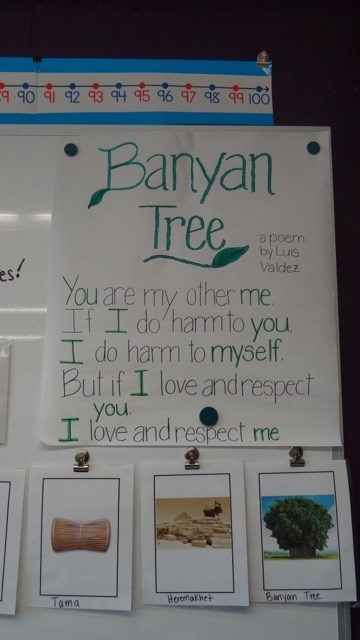 Damien Dunkley, the school's other co-leader, adds, "Sankofa and Ma'at are two we emphasize. Ma'at, for example, is the symbol of the heart and the feather: Your heart is on one side and the feather, the other. In kindergarten, we use this concept a lot because it relates to how you feel when you make poor choices; you feel a heaviness, like you're weighed down.
"It's playing with that feeling, so they have a visual imagery. And over time, if I just do this," he gestures by showing his two hands balancing like a scale, "they already know it's involving a decision from within."
"They're just thinking skills," said Dunkley. "When you think about analysis through any curricular lens, it all connects to how you look at information. Analysis only works if you understand how the parts relate to the whole. So as we're planning, we're using this layered on top of the curriculum and the content and the standards."
"We know it's a paradigm shift, but it's an ongoing process," said Kalam Id-Din. "And it's not to say this is the only way. But it's an openness and an attempt to grow in your own path."
Classes are "looped," so that students remain with the same teacher from kindergarten through fifth grade. Because of this, there's a sense of camaraderie, a calm and familiarity that embodies each classroom.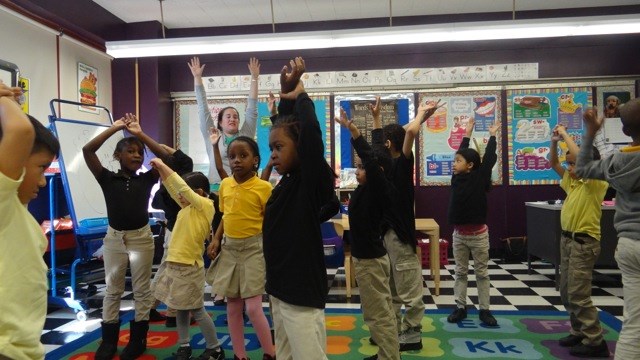 Dunkley and Kalam Id-Din also both teach a class of third-graders they've each had since the first grade. They say they can give numerous anecdotes about how the students have learned to apply the six tenants to effectively problem solve in any situation.
One story Dunkley tells is of a girl who came to them in first grade and could not read or write. She had issues with anger, and she intimidated kids twice her size. She didn't seem to respond to the core values at all in the first two years.
But by the third year, everyone on the staff began to observe a big change in her. She learned to read and so began reading a lot. Dunkley said, after she crossed the academic bridge, she walked differently, smiles a lot more.
"Now, when she finds herself growing frustrated about something, she stops and says, 'Oh no, I didn't take the information I got and do anything different with it.' And that alone is so powerful," said Dunkley. "When kids get into that level of granularity in their thinking, they realize they can be the agents of change in their life, for good or bad. So now, she's leading. And people listen to her."
Although unique in its approach, Professional Prep borrows some of its methodology for teaching and learning from the International Bacccaulaureate approach, as well as the Waldorf schools, with an emphasis on "fun and love," according to Kalam Id-Din.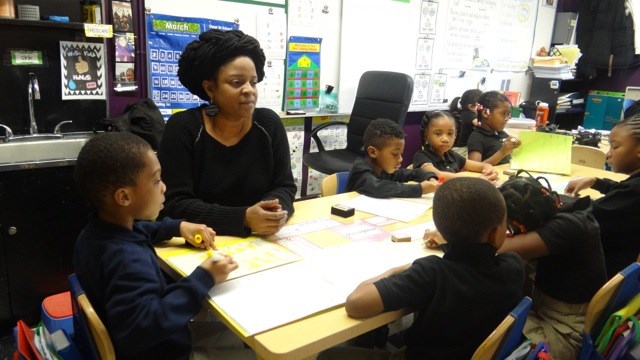 And the school is diverse. Well, sort of: According to InsideSchools.org, 77 percent of the students are black, 21 percent are Hispanic and 2 percent, other. But to see the school of 270 students, the mix of backgrounds appears to be far more varied.
"It's multicultural. So the goal is to make sure we are teaching in a way that is culturally responsive to our kids," said Kalam Id-Din. "We have about 30 or so countries represented: the United Sates, Ecuador, Haiti, Cote D'Ivoire, Senegal, China, India…
"Our job is to make sure our kids have a strong sense of self. So there's a commitment to seek out the cultural contributions that different people have made to our global society."
Sense of self is important. But how are the students performing academically? It's too early to tell. The students will take their first English Language Arts exam this year. Interestingly, however, Kalam Id-Din says they do not spend class time studying for the ELA.
"We don't really believe in test prep during the school day at all," he said. "But Friday afternoons and Saturdays, we have a prep program available for our the 3rd grade students."
He said about 70 percent of students participate in the weekend test prep. How the school fares regarding the Common Core standards remains to be seen.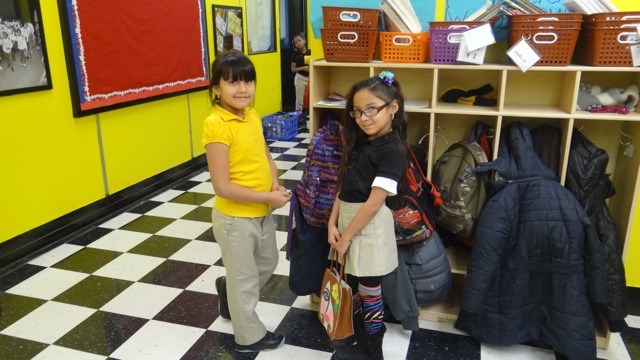 Meanwhile, another class walks past in an orderly line. They are on their way to lunch. And this time, they appear to be kindergarteners. It seems highly unusual that so many five-year-olds could remain so disciplined and quiet. Is it even normal?
One little student was distracted by an unfamiliar woman standing in the hallway holding a camera (me). She turned around to smile and lagged slightly behind. "Close the gap," says the teacher to her. The teacher is firm yet gentle in her insistence, and the student has no problem conforming.
As far as where Kalam Id-Din thinks charter schools stand with the new mayor, he said, "I trust the people we're working with and the mayor's team. We want to get to the conversation about good schools—moving schools that are okay to good, and those that are good to great.'"
That seems the end goal of both co-leaders, the teachers and the staff at Professional Prep: moving the current generation of urban kids—mostly black and brown—further along faster, in a way that's meaningful and lasting.
Given the current state of education, nothing is thrown out the window with some charters. All options are on the table.
In the case of Professional Prep, Sankofa and Ma'at rise high as paradigms for "closing the gap" in education.