Telehealth (also known as telemedicine) has become a buzzword in our new pandemic reality, as healthcare services are moved online to avoid social interactions and limit the spread of the COVID-19 virus.
Through this new distance method of diagnosis, doctors are now largely taking appointments and meeting patients over the phone, on a computer through a voice or video call, allowing for remote care, diagnosis and treatment.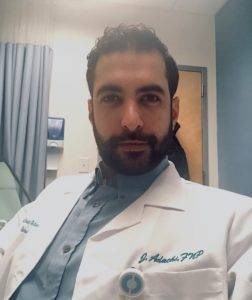 Dr. Bryan Tolentino of the Community Healthcare Network (CHN), which has two clinics in East New York, one in Crown Heights and one in Williamsburg, said the transition from in-person visits to over-the-phone has proved better than expected.
"There's a lot of information we can gather from patients' current situation and status by listening to their voice," he said. Even with in-person appointments, many diagnostic and clinical decisions were made by talking with patients, and based off their medical histories —all accessible through telemedicine, he said. He added many patients have the ability to take their temperature and blood pressure and sugar levels at home.
"It's been straightforward, some things have even been better and more streamlined with patients home," he said. "We can document with them everything they're taking, and go over doses and instructions, because they often forget to bring those into the clinic."
Medicare has changed its rules allowing patients to replace in-person visits with Telehealth at the same cost — previously it had strict requirements on Telehealth. The Department of Health and Human Services announced some video platforms, including Zoom and Skype, were temporarily acceptable for healthcare providers to use. At the moment the CHN is using voice calls for medical visits and video calls for mental health services.
Tolentino said the majority of appointments he was getting were followups for existing patients. Most calls from new patients were related to the COVID-19 virus, he said.
"Whether that's symptoms per se, shortness of breath, coughing, things like that; or whether it's just anxiety over the whole situation and they need someone to talk to."
Tolentino said there were a lot of staff, including nurses who had been based at school clinics, triaging patients over the phone, doing initial assessments, and referring them on to the right service — be it psychical or mental health — where they could get an appointment that day or the next. He said so far it had been efficient and effective.
CHN was still seeing some patients in-person for lab tests and treatments, and the network had come up with guidelines across specialties for who should come in to clinics.
"That way we can still do social distancing, but we can see the patients that need to be seen."
The clinics were still offering in-person sexual health services, if patients needed testing, treatment or Plan B.
Tolentino said his patients were responding well to the new way of seeing him, and many had much shorter wait times to get an appointment. Although there were constraints around some testing, he said there were workarounds where patients could come on-site if needed.
"We see a lot of elderly people and patients with issues they can describe over the phone, so most of them have been appreciative of the transition," he said.
When the COVID-19 pandemic is over, it's hard to imagine the shift we have had to virtual healthcare will be eliminated, given the benefits with timesaving, real-time diagnosis, and more integrated and intimate appointments.
Tolentino said healthcare, like all facets of society, would be seen differently pre-and post-COVID-19, and it was likely CHN would continue with Telehealth in the appropriate settings.
"We are hopeful that the advances in technology allow us to continue providing care for our patients in the safest way possible," he said.