Brooklyn nonprofit Seeds in the Middle is hosting the first Tastes of Franklin Avenue food stroll in Crown Heights on Sunday, June 2.
The foodie event will invite Brooklynites to saunter along Franklin Avenue, between Eastern Parkway and Atlantic Avenue, while sampling bites and pours from 14 local eateries, bars and cafes, including The Crabby Shack, Barboncino, Memphis Seoul and Hunky Dory.
This is the organization's third "Tastes of Brooklyn" festival, a series of foodie events celebrating Brooklyn's diverse cuisines. Previous installments took place in Gowanus and Cobbe Hill - Carroll Gardens.
As part of the inaugural Crown Heights edition, Tastes of Brooklyn will collaborate with Brooklyn Celebrity and Crow Hill Community Association for a craft fair and neighborhood block party that will offer plenty of free, family fun.
The stroll also doubles as a fundraiser to support Seeds in the Middle's efforts of promoting the health, nutrition and physical well-being of underserved youth in Central Brooklyn, an area that has some of the city's highest rates of obesity, diabetes, heart disease. The organization also provides arts and cultural enrichment programming, parent and community empowerment support services, as well as community gardening to support healthy food choices.
"We have gathered diverse, creative culinary and artistic talents working together to benefit underserved kids - an authentic representation of New York and Brooklyn at its finest!" said Nancie Katz, executive director of Seeds in the Middle.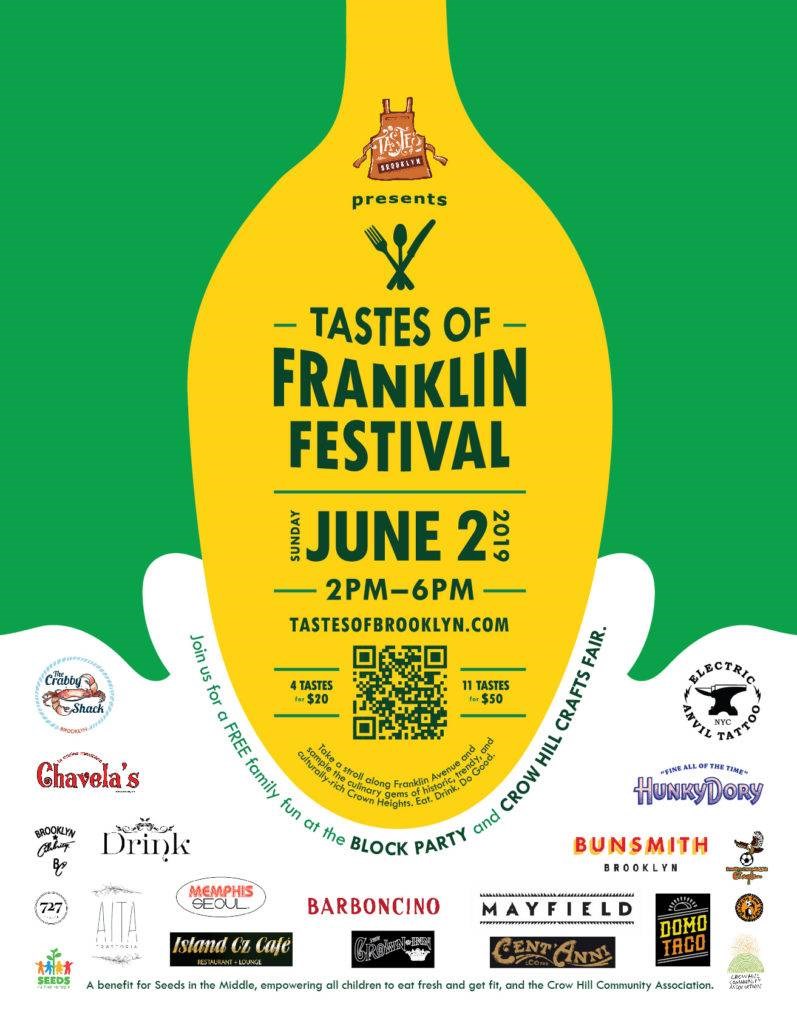 Attendees can choose between two ticket options: $20 will get you four tastes and $50 will cover 11 tastes. Go here for more information, tickets and a map listing all participating eateries.
Tastes of Franklin Avenue
When: Sunday, June 2 | 2:00pm - 6:00pm
Where: Franklin Avenue, between Eastern Parkway and Atlantic Avenue, Brooklyn, NY 11238
How much: 4 tastes for $20, 11 tastes for $50. For tickets, go here.