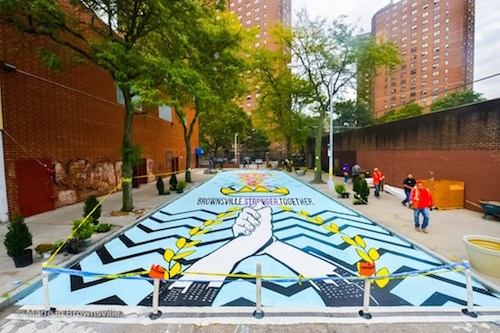 Mayor Bill de Blasio's plan to make Brownsville the city's first Neighborhood Innovation Lab will bring you talking trash that tells you when it's "had enough" and park benches that will recharge your cell phones, Kings County Politics reports.
In an initial, conceptual phase, community advisors including tech companies, government, community members and educators will spend the next four months identifying ways technology can improve the quality of life and economic development of local municipalities while addressing needs and concerns of the neighborhood.
"New York is a city of neighborhoods, and there is no better way to prepare communities for the future than by empowering residents to define their needs and help our shape technology investments," said de Blasio. "Neighborhood Innovation Labs provide a unique opportunity to strengthen our collaboration with community, and also open new doors for local residents to learn about careers in technology, a fast-growing sector of our economy."
The program is scheduled to roll out in the summer. Osborn Plaza in Brownsville will be the first new home for talking trash cans, solar-powered benches and interactive digital kiosks. To familiarize the residents with the installments, public programs including technology demonstrations are planned. The kick-off event is community forum on May 2017. Neighborhood Innovation Labs receive an initial $250,000 annual allocation from the City.
Erica Mateo, deputy director of Brownsville Community Justice Center concludes: "As our City becomes smarter, tech equity across NYC becomes even more important to growing local economies. Equity is present when residents and stakeholders are defining problems, using data, creating feedback loops and government is shepherding in relevant resources — this is what the Neighborhood Innovation Labs attempts to do."