In response to the New York State Public Service Commission's order, National Grid has taken immediate steps to re-connect over 1,100 residential natural gas customers in Kings, Queens, Nassau and Suffolk Counties-- customers who once had active accounts but were denied applications to have service resumed following claims by National Grid of a natural gas shortage.
"We are obviously disappointed in the NY PSC's Order issued today," said National Grid spokeswoman Karen Young. "We stand by our analysis and there are very real gas supply constraints in the northeast. In the meantime, we have been working to identify unprecedented temporary solutions to help mitigate this situation and will immediately begin connecting the more than 1,100 applicants who have been identified in the order."
The issue surrounds the Williams Transco pipeline, a 24-mile underwater gas pipeline from the New Jersey coast, to a connection with an existing pipeline off the coast of Queens, known at the Northeast Supply Enhancement or NESE. National Grid had agreed to buy all the gas the Williams Pipeline pumps to the city, claiming it was low on gas access and predicting an even further shortage, hence, the refusal to reconnect customers disconnected over the past two years across New York City and the denial of thousands more new applicants.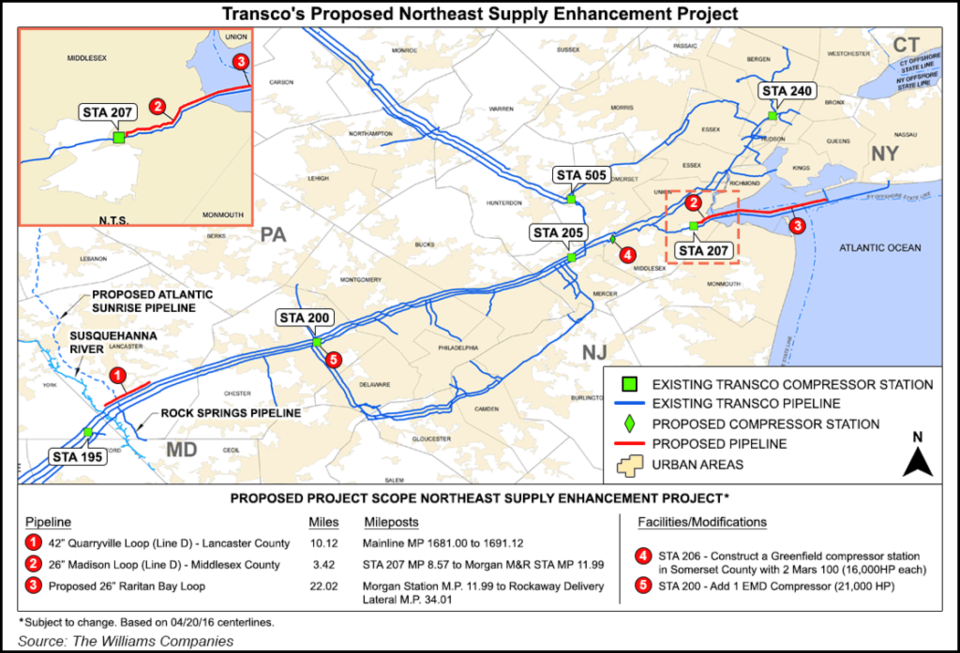 However, opponents of the project have questioned National Grid's claim that it actually needs the new supply to keep up with rising demand, reported City Limits. In 2016, the company said that it would deliver 3.9 billions therms (a heating measure) in 2017. Yet, back then, the company sounded no alarms about pending shortages nor of the possible Transco pipeline (then in the planning stages). In reality, the company only supplied 2.6 billion therms in 2017—meaning its projection was off by about 35 percent.
So green lobbyists appealed to Gov. Cuomo to reject the plan, arguing that the state, in 2014, already had banned hydraulic fracking and also raised concerns about the impact of pipeline construction on wildlife, questioning how a state committed to a "green new deal" could allow new facilities for fossil fuels.
On May 15, Gov. Cuomo denied the pipeline's parent company Transco's application for state permits to build. And four months later, this past Friday, ordered the natural gas company to immediately turn on the hookups for 1,157 customers in Brooklyn, Queens and Long Island customers presently without service.
Following PSC's order, National Grid will begin, effective immediately, reconnecting all previously disconnected customers who had applied for gas service and were denied during the connection restrictions policy.
But restriction guidelines for all other customers requesting new or expanded service will remain.
"Our objective is to contact all customers outlined in the order by the end of this week and schedule a re-connection appointment based on their needs. Our goal is to re-connect the majority of these customers within the mid-November timeframe."
"We know how frustrating this situation has been for customers that have been waiting to be approved for gas service. We've been in this business for more than 100 years and there's nothing we want more than to satisfy every customer request for gas service," says Bruckner. "Unfortunately, that's not possible given the current constraints on gas supply."